originally published: 04/11/2023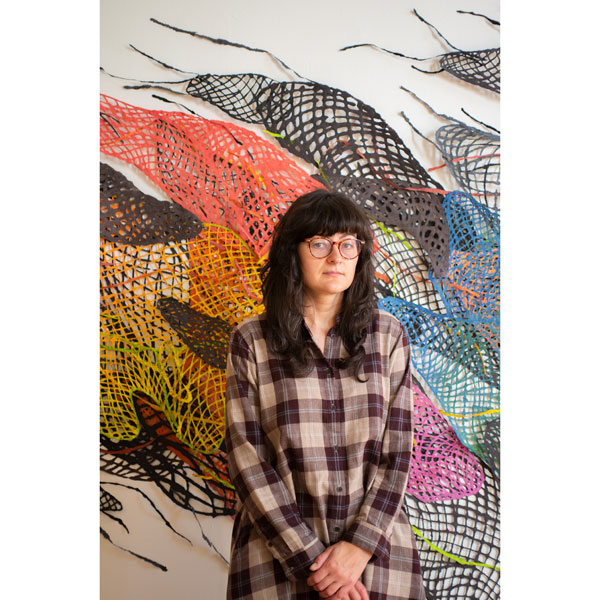 (LINCROFT, NJ) — The Center for the Visual Arts Gallery presents "Entanglements," an exhibition highlighting the transformative and thought-provoking work of ecofeminist artist-educator Amanda Thackray. The exhibit will run until April 28th and feature several of Thackray's multidisciplinary pieces.
On Friday, April 14th, visitors can attend a Weaving Demonstration at 2:00 pm, followed by an Artist Talk at 6:00pm. "Entanglements" celebrates the intersection of art and social justice and promises to engage and inspire viewers of all backgrounds.
As an ecofeminist artist-educator, Thackray collaborates with biologists, ethnographers, natural and found fibers, and site-specific water to create objects and tableaus that inspire environmentally centered conversations. The artist often stages projects that engage the public through participatory, perfunctory projects that combine art, science, and community, specifically focusing on the human connection to waterways.
"Initially, I created work about vast oceans — plastics & microplastics in the ocean and the phenomenon of ghost nets," said Thackray. "Recently, I am interested in hyper-local water, specifically the Passaic River."
The artist's work is foregrounded in traditional/experimental drawing, printmaking, and papermaking processes.
Advertise with New Jersey Stage for $50-$100 per month, click here for info
---
"Notably, I employ hand papermaking processes to create complex forms referencing abandoned, lyrically floating, tangled netting," Thackray said. "When creating handmade paper, I engage with water — often site-specific water — to create imagery that is directly tied, both materially & conceptually, to that same water. Traces of site-specificity remain in the paper object long after the individual fibers of pulp have coalesced & dried."
During the exhibition's tenure, there will be paper painting and paper twining stations so visitors can share in creating colored, twisted paper rope. On the day of the artist talk, the artist will work with the completed twisted paper rope to create a woven sculpture that references the reservoir on campus. The thread of connective labor runs throughout the exhibition and will be embedded in the final woven sculpture.
Thackray is the recipient of an artist-in-residence at the Museum of Art and Design (MAD) in NYC, the New Jersey State Council on the Arts Individual Artist Fellowship in 2022, and the Arctic Circle in Svalbard, Norway, Artists' residencies. Her work is in over a dozen public collections, including The Metropolitan Museum of Art Watson Library in NYC; Mediatheque Andre Malraux, France; Yale University and The Library of Congress. Thackray teaches printmaking, artist's books, and papermaking at SUNY Purchase and Rutgers University. She earned her MFA (Master of Fine Arts) from the Rhode Island School of Design and her BFA (Bachelor of Fine Arts) (Bachelor of Fine Arts) from the Mason Gross School of the Arts at Rutgers University.
The exhibition is free and open to the public. The Center for the Visual Arts Gallery is located at 765 Newman Springs Road, Lincroft, NJ, parking in lot #2, and its hours are located on the website.  
ART | COMEDY | DANCE | MUSIC | THEATRE | COMMUNITY
The Monkees Celebrated by Micky Dolenz
Wednesday, April 12, 2023 @ 8:00pm
Bergen Performing Arts Center (bergenPAC)
30 North Van Brunt Street, Englewood, NJ 07631
category: music
---
Emily Grove
Wednesday, April 12, 2023 @ 7:30pm
State Theatre Studio
15 Livingston Avenue, New Brunswick, NJ 08901
category: music
---
Blind Visionaries – The Multimedia Performance
Wednesday, April 12, 2023 @ 7:00pm
Shea Center for Performing Arts
300 Pompton Rd, Wayne, NJ 07470
category: music
---
DIAVOLO
Thursday, April 13, 2023 @ 8:00pm
State Theatre New Jersey
15 Livingston Avenue, New Brunswick, NJ 08901
category: dance
---
Paula Poundstone
Thursday, April 13, 2023 @ 7:00pm
Grunin Center
1 College Drive, Toms River, NJ 08754
category: comedy
---
Johnny Mathis: The Voice of Romance
Thursday, April 13, 2023 @ 7:30pm
Mayo Performing Arts Center (MPAC)
100 South Street, Morristown, NJ 07960
category: music
---
Vivid Stage presents "101 Humiliating Stories"
Thursday, April 13, 2023 @ 8:00pm
Oakes Center
120 Morris Avenue, Summit, NJ 07901
category: theatre
---
On Your Feet!
Thursday, April 13, 2023 @ 8:00pm
Count Basie Center for the Arts
99 Monmouth Street, Red Bank, NJ 07701
category: theatre
---
---
For more event listings, click here
---