Published on October 12, 2022
Celebration Held at Montville Memorial VFW Post 5481
Gerald "Gerry" Gemian, a World War II veteran who turned 100 years old this past summer, was honored today by the Morris County Board of County Commissioners at a celebration organized by more than two dozen friends and fellow veterans at the Montville Memorial VFW Post 5481.
Commissioner Thomas Mastrangelo presented the veteran with a special Morris County "Resolution of Honor" that recognized not only his 100th Birthday on Aug. 25, but also his military service to the people of the United States.
"Thank you. Thank you very much. I'm honored," Mr. Gemian said, as the group sat down to a luncheon hosted by the Commissioner.
"We need to thank you, Gerry. We need to thank you and your entire generation for the sacrifices you made in defense of our nation," said Commissioner Mastrangelo. "On behalf of the County Board of Commissioners, I present you with this resolution."
Mr. Gemian was joined by his son, Gary Gemian, a Lincoln Park councilman. The group of friends and fellow veterans also posed for photos next to a tank outside the VFW Hall.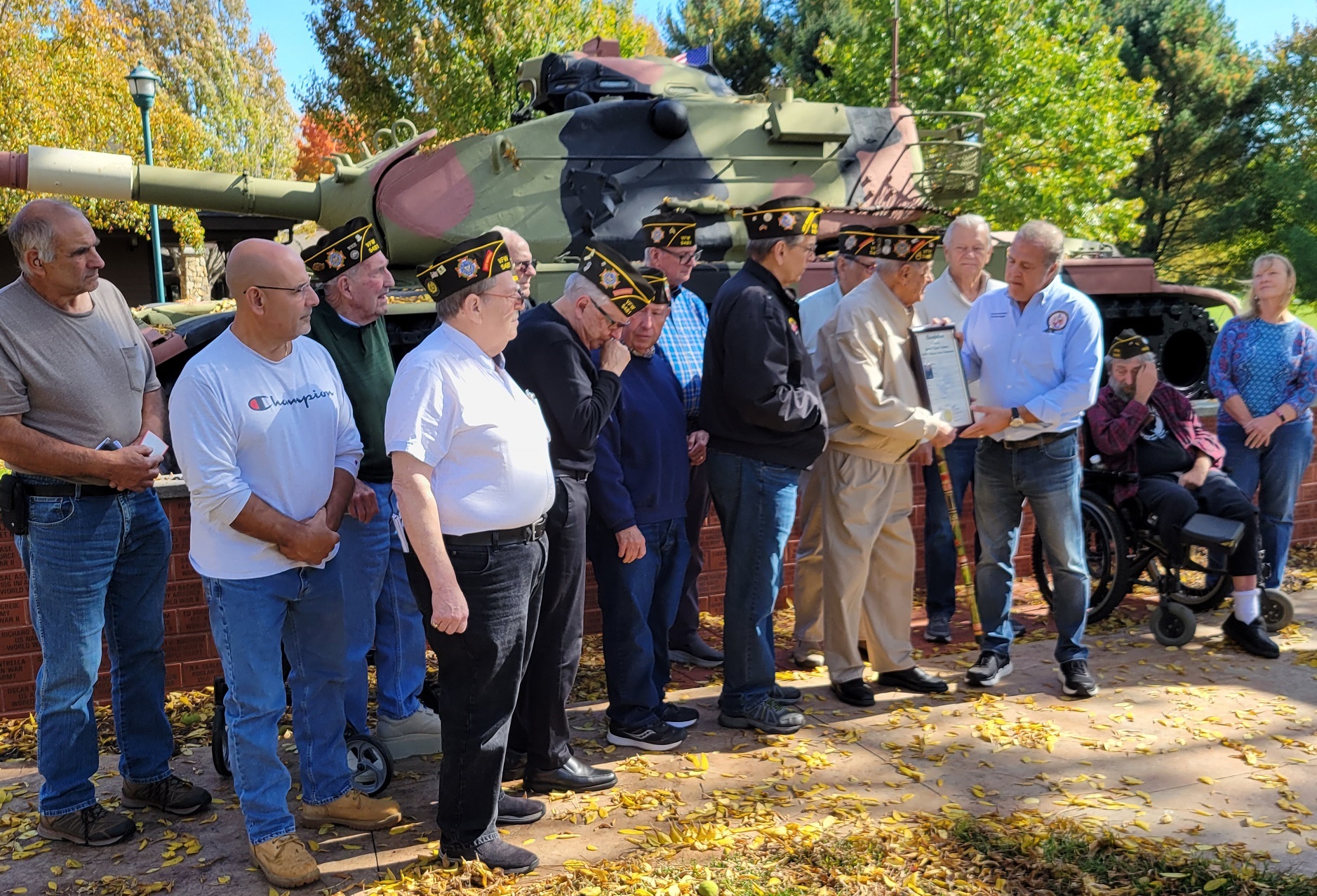 Mr. Gemian enlisted in the U.S. Army in 1942, and served in WWII as a combat radio operator, Staff Sergeant Technician 3rd Grade in the Central Pacific theater from 1942 to 1945 with the Joint Assault Signal Company. He was attached to the 7th, 27th and 81st U.S. Army Divisions, as well as with the 1st, 2nd and 4th U.S. Marine Divisions during his tours against Japanese forces, which included the Marshall Islands Campaign and the invasions of both the Kwajalein and Eniwetok Atoll Groups.
It was some of the bloodiest and deadliest episodes of the entire war,  and Mr. Gemian's service included landings in the Mariana Islands and Palau Islands during the "Island Hopping" campaign of Admiral Chester William Nimitz, Commander in Chief of the Pacific Ocean Areas. But Mr. Gemian managed to survive without being wounded.
When asked by a CBS News reporter this summer about his longevity and never being wounded, despite multiple battles, Mr. Gemian said: "One thing that always sustained me is: keep going, keep going. No matter what happens, or what the hell happened, I always managed to move somehow or another."
While transitioning out of military service, Mr. Gemian married his wife, Liz, and the couple moved in 1977 to Montville, , where she later passed in 2021 at the age of 98. Mr. Gemian worked in the defense industry after the war, establishing a career at Curtis-Wright Corporation and ITT Avionics in contract administration.
The Board of County Commissioners "Resolution of Honor" declared that Mr. Gemian's words about "keep going" should serve as an inspiration to us all. The resolution also said he must be congratulated on his longevity, commended for his distinguished military service and blessed with continued long life and happiness.
Photos:
Top Right: Commissioner Mastrangelo talks to the gathering of veterans and friends after presenting Mr. Gemian (center) with a Morris County "Resolution of Honor."
Center Left: Many of Mr. Gemians fellow veterans and friends joined him as Commissioner Mastrangelo presented the Morris County "Resolution of Honor."
Bottom Right:  Mr. Gemian (seated at the rear, right end of the table) was joined by a host of friends and veterans for lunch inside the Montville Memorial VFW Post 5481.