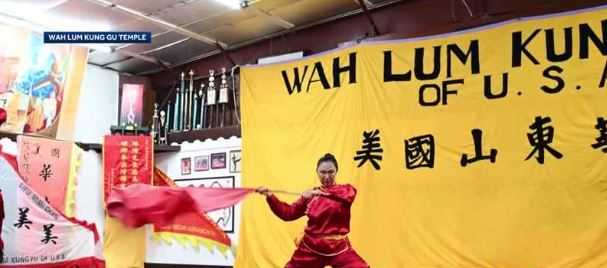 May is Asian American and Pacific Islander Heritage Month. Just in time for the celebrations, Florida is set to become the fifth state to require K-12 public schools to teach AAPI history. Mimi Chan is the state director for Make Us Visible Florida, a nonprofit organization that empowers communities to build curriculum and advocate for the integration of Asian American contributions, experiences and histories. She is also the chief instructor and operations manager at Wah Lum Kung Fu Temple in Orlando. Chan is most popularly known as the body double for the famous character Mulan.In 1995, she was chosen to model for the character at the MGM Studios in Orlando, and Disney's "Mulan" was animated in her likeness. Lately, when Chan is not teaching martial arts, she is in Tallahassee, Florida, advocating for the AAPI community. This week, she clinched a major AAPI victory. Florida could soon require K-12 public schools to teach AAPI history."Asian American history is American history," Chan said.Chan spearheaded the effort. The proposal she first started two years ago was rolled into the sweeping education bill that lawmakers passed on Wednesday. "So that means that children are going to get to learn about Asian-American history," Chan said. Chan said the legislation will help combat the "perpetual foreigner" syndrome."Children often feel like 'other' or 'not American,' get asked questions, get made fun of, get discriminated against. And if we learn about the civic contributions of Asian Americans, we will be seen as Americans," she said. One example Chan gave was the impact of Chinese American Lue Gim Gong in DeLand, Florida. "He's known as the Citrus Wizard of Florida. And he's a Chinese American horticulturist that developed a cold-resistant orange strain now known as the Valencia orange strain," she said. "Had I seen myself reflected in history and been able to take pride in that and other children seeing that, that's an American that was doing that. And I think it would change our perceptions. And that ignorance equals hate, and knowledge is the solution to combat that."Throughout the pandemic, Chan has taken a stand against the rise in Asian American hate crimes. She said the legislation is one step toward a long-term solution. "Education is the number one preventative solution," she said. "What will happen is children will learn, adults will learn alongside them that Asian Americans are American. We won't be stereotyped. We will be seen as Americans."Both the Florida House and Senate passed the education bill. It now awaits Gov. Ron DeSantis' signature. "The fact that the governor will be signing this bill into law during AAPI Heritage Month is very significant and symbolic for us, but also exciting," Chan said. "Hopefully this will be a big celebration for all."
ORLANDO, Fla. —
May is Asian American and Pacific Islander Heritage Month.
Just in time for the celebrations, Florida is set to become the fifth state to require K-12 public schools to teach AAPI history. Mimi Chan is the state director for Make Us Visible Florida, a nonprofit organization that empowers communities to build curriculum and advocate for the integration of Asian American contributions, experiences and histories. She is also the chief instructor and operations manager at Wah Lum Kung Fu Temple in Orlando.
Chan is most popularly known as the body double for the famous character Mulan.
In 1995, she was chosen to model for the character at the MGM Studios in Orlando, and Disney's "Mulan" was animated in her likeness.
Lately, when Chan is not teaching martial arts, she is in Tallahassee, Florida, advocating for the AAPI community.
This week, she clinched a major AAPI victory. Florida could soon require K-12 public schools to teach AAPI history.
"Asian American history is American history," Chan said.
Chan spearheaded the effort. The proposal she first started two years ago was rolled into the sweeping education bill that lawmakers passed on Wednesday.
"So that means that children are going to get to learn about Asian-American history," Chan said.
Chan said the legislation will help combat the "perpetual foreigner" syndrome.
"Children often feel like 'other' or 'not American,' get asked questions, get made fun of, get discriminated against. And if we learn about the civic contributions of Asian Americans, we will be seen as Americans," she said.
One example Chan gave was the impact of Chinese American Lue Gim Gong in DeLand, Florida.
"He's known as the Citrus Wizard of Florida. And he's a Chinese American horticulturist that developed a cold-resistant orange strain now known as the Valencia orange strain," she said. "Had I seen myself reflected in history and been able to take pride in that and other children seeing that, that's an American that was doing that. And I think it would change our perceptions. And that ignorance equals hate, and knowledge is the solution to combat that."
Throughout the pandemic, Chan has taken a stand against the rise in Asian American hate crimes. She said the legislation is one step toward a long-term solution.
"Education is the number one preventative solution," she said. "What will happen is children will learn, adults will learn alongside them that Asian Americans are American. We won't be stereotyped. We will be seen as Americans."
Both the Florida House and Senate passed the education bill. It now awaits Gov. Ron DeSantis' signature.
"The fact that the governor will be signing this bill into law during AAPI Heritage Month is very significant and symbolic for us, but also exciting," Chan said. "Hopefully this will be a big celebration for all."