originally published: 03/13/2023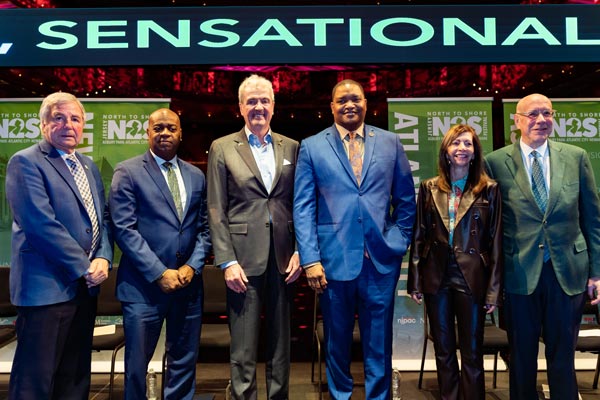 PHOTO: Shakiru Bola Okoya 2023
(NEWARK, NJ) — Governor Phil Murphy and First Lady Tammy Murphy took the stage at NJPAC's Prudential Hall on March 13th alongside NJPAC President and CEO John Schreiber, Newark Mayor Ras J. Baraka, Asbury Park Mayor John Moor, and Atlantic City Mayor Marty Small to announce the North to Shore Festival, an extraordinary three-city celebration of arts and technology kicking off on June 7.
This inaugural, month-long festival will showcase the talent, diversity and creativity this great state has to offer. Hosted by three incredible and unique cities, Atlantic City (June 7–11), Asbury Park (June 14–18) and Newark (June 21–25), the North to Shore Festival will bring together 50+ venues for an unprecedented celebration of Jersey-wide excellence, aligned with Governor Phil Murphy and First Lady Tammy Murphy's vision for a festival worthy of the Garden State's legacy in the arts and innovation.
"Today, we are thrilled to announce North to Shore — New Jersey's first multi-city festival celebrating the very best of music, comedy, film, and technology," said Governor Phil Murphy. "This superstar event, held over three weekends in June, will attract folks from all over, creating another great reason for tourists to visit the Garden State as well as opportunities for local businesses in three of our iconic cities to shine. These festivals will generate economic activity and have a significant impact on our region and we look forward to shining a light on the diversity, creativity, and energy that makes New Jersey unique this summer."
"Beyond our global superstar headliners, North to Shore will also showcase the headliners of tomorrow. From producers to artists, filmmakers to comedians, this month-long celebration will also serve as an opportunity to elevate dozens of local performers and talent," said First Lady Tammy Murphy. "We look forward to sharing New Jersey's exceptional culture with the rest of the country and enjoying a festival that will undoubtedly be like no other."
From concerts, to comedy, to movies, to presentations from leaders in tech and business, North to Shore's offers it all. Best of all, the festival will also feature New Jersey's homegrown talents who deliver their own brand of artistic excellence in the Garden State all year round.
Advertise with New Jersey Stage for $50-$100 per month, click here for info
---
These local favorites will be joined by global headliners including Halsey, Santana, the B52s, Remember Jones, Bill Burr, Jay Wheeler, Stephen Colbert with Jim Gaffigan, Alanis Morissette with Aimee Mann, Marisa Monte, Daymond John, Gavin DeGraw, Colbie Caillat, Natalie Merchant, The Smithereens, Brian Fallon, Southside Johnny and dozens more. This lineup highlights both New Jersey's own and those who know that our state is the place to be seen. More artists are being added to the Festival schedule daily. In addition to musical performances, the festival will include stand-up comedy shows, thought-provoking conversations with leaders in business, technology and clean energy, and film screenings.
NJPAC will produce this three-weekend extravaganza in collaboration with partners including Montclair Film, Newark International Film Festival, Tech United/Propelify and MediaSense.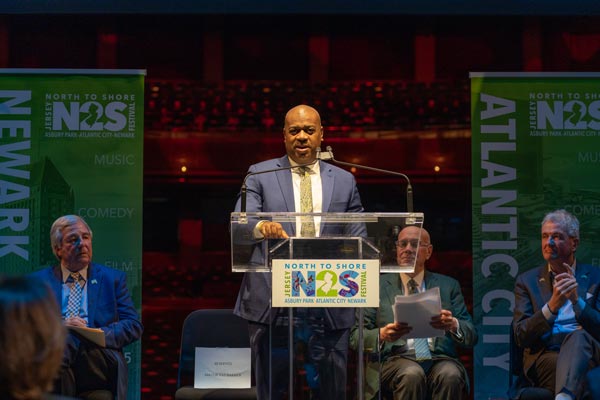 PHOTO: Shakiru Bola Okoya 2023
Music and comedy programming will be produced in collaboration with a cohort of other presenters, including SJ Presents, Madison Marquette, Live Nation, Platinum Productions and Absolutely Live!
For cinephiles, a North to Shore Film Pass offers access to multiple screenings. Technology enthusiasts can use a Tech Pass to take in every one of the demonstrations of New Jersey's newest inventions from its next generation of Edisons, with a focus on those developing sustainable, Earth-friendly new innovations.
"Newark has a long history of launching brilliance into the world.  It's the birthplace of passionate artists of every stripe, stellar innovators in industry and science, celebrated intellects in education and philosophy, and valiant hearts spearheading social progress," said Newark Mayor Ras J. Baraka.  "With so much celebrity and inventiveness, Newark's vitality makes it the premier location for hosting North To Shore June 21-25.
"We're thrilled to welcome so many uniquely creative talents to perform in our world-class venues and storied stages, and we open our arms to visitors from around the world to enjoy North To Shore's exciting display of expression and ideas, and experience firsthand the vibrant energy that makes the City of Newark wonderfully unique."
"We are big fans of the work the New Jersey Performing Arts Center does connecting communities to culture and we are grateful to be one of three cities partnering with them for the North to Shore Festival highlighting the arts, innovation and creativity," said City of Asbury Park Mayor John Moor.
"Asbury Park has a prolific arts scene — and while we are best known for our musical history, we are also home to a wealth of creators in all art forms including film, dance, theater and the visual arts. Asbury Park's creative spirit and diverse talent makes us the perfect place to show off both local artists and artists from around the great State of New Jersey."
"As I like to say, 'We Live, We Lit, We Outside!' in Atlantic City and this festival proves it," said City of Atlantic City Mayor Marty Small, Sr.  "We have such a rich history when it comes to arts and entertainment in the great City of Atlantic City. Not only is our city a prime location for filming award-winning productions, but our legacy is built upon groundbreaking artistry. We are honored to be chosen by Governor Murphy as one of the hosts of the North to Shore Festival and cannot wait to welcome even more diverse talents to our beautiful city this summer."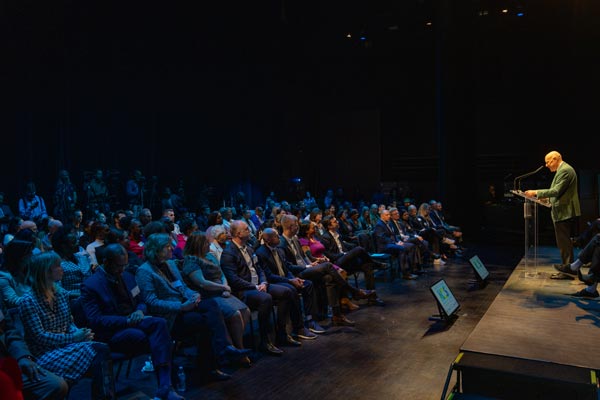 PHOTO: Shakiru Bola Okoya 2023
The North to Shore Festival is expected to both shine a spotlight on the state's artistic and technological prowess, and boost its economy at the start of the summer season.
"The New Jersey Economic Development Authority is proud to support the North to Shore Festival, which will celebrate New Jersey's cultural diversity and legacy of innovation," said NJEDA Chief Executive Officer Tim Sullivan. "This festival aligns with Governor Murphy's mission to make New Jersey the best state in the nation to live, work, and play all while providing an economic boost to Newark, Asbury Park, and Atlantic City, by attracting visitors, generating spending, and showcasing the strength of New Jersey's arts, culture, and innovation scenes."
Advertise with New Jersey Stage for $50-$100 per month, click here for info
---
"The diversity, the excellence, the breadth of artistic disciplines, the fun – North to Shore is a festival experience entirely unique to the combination of creativity, imagination and talent only present in New Jersey," said John Schreiber, President and CEO of NJPAC.
Leadership support for North to Shore has been generously provided by Horizon Blue Cross Blue Shield of New Jersey, the New Jersey Casino Reinvestment Development Authority, New Jersey Travel and Tourism, NJM Insurance, PSEG and RWJBarnabas Health.
Local producers and art organizations in all three cities are invited to apply for funding to present events showcasing their city's unique cultural community; applications will be accepted through March 24 at njpac.submittable.com.
Tickets for the North to Shore Festival will go on sale on Friday, March 17, 2023, at NorthtoShore.com. For the latest updates on festival concerts, screenings and more, follow the Festival on Instagram, Twitter, Facebook, and TikTok.
ART | COMEDY | DANCE | MUSIC | THEATRE | COMMUNITY
Stephen Marley – Old Soul Unplugged 2023
Tuesday, March 14, 2023 @ 8:00pm
Bergen Performing Arts Center (bergenPAC)
30 North Van Brunt Street, Englewood, NJ 07631
category: music
Click here for full description
---
George Street Playhouse presents "The 25th Annual Putnam County Spelling Bee"
Tuesday, March 14, 2023 @ 8:00pm
New Brunswick Performing Arts Center (NBPAC) – The Arthur Laurents Theater
11 Livingston Avenue, New Brunswick, NJ 08901
category: theatre
Click here for full description
---
The Simon & Garfunkel Story
Tuesday, March 14, 2023 @ 7:30pm
Count Basie Center for the Arts
99 Monmouth Street, Red Bank, NJ 07701
category: music
Click here for full description
---
"Beware the Ides of March" Sonnet Slam
Tuesday, March 14, 2023 @ 7:00pm
The Princeton Public Library – Community Room
65 Witherspoon Street, Princeton, NJ 08542
category: community
Click here for full description
---
Tuesday Night Book Club – Edith Wharton's The Custom of the Country
Tuesday, March 14, 2023 @ 7:30pm
VIRTUAL
400 Cedar Avenue, West Long Branch, NJ 07764
category: community
Click here for full description
---
Ragamala Dance Company: The Fires of Varanasi
Wednesday, March 15, 2023 @ 7:30pm
McCarter Theatre Center (Matthews Theater)
91 University Place, Princeton, NJ 08540
category: dance
Click here for full description
---
Emmet Cahill: World Acclaimed Irish Tenor
Wednesday, March 15, 2023 @ 7:00pm
Avenel Performing Arts Center
150 Avenel Street, Avenel, NJ 07001
category: music
Click here for full description
---
Blue October
Wednesday, March 15, 2023 @ 8:00pm
Bergen Performing Arts Center (bergenPAC)
30 North Van Brunt Street, Englewood, NJ 07631
category: music
Click here for full description
---
George Street Playhouse presents "The 25th Annual Putnam County Spelling Bee"
Wednesday, March 15, 2023 @ 8:00pm
New Brunswick Performing Arts Center (NBPAC) – The Arthur Laurents Theater
11 Livingston Avenue, New Brunswick, NJ 08901
category: theatre
Click here for full description
---
Teaneck International Film Festival presents "Storming Caesars Palace"
Wednesday, March 15, 2023 @ 7:30pm
VIRTUAL
, category: film
Click here for full description
---
DUBLIN IRISH DANCE PRESENTS "WINGS"
Thursday, March 16, 2023 @ 7:30pm
Mayo Performing Arts Center (MPAC)
100 South Street, Morristown, NJ 07960
category: dance
Click here for full description
---
Menopause The Musical(R)
Thursday, March 16, 2023 @ 8:00pm
Bergen Performing Arts Center (bergenPAC)
30 North Van Brunt Street, Englewood, NJ 07631
category: theatre
Click here for full description
---
---
For more event listings, click here
---