"Lucky," the dog left to die on the train tracks of Philadelphia back in November 2022, has found a forever home.
The dog was adopted by one of his rescuers, Sidara Son, who works with Philly Rescue Angels.
Lucky now has brothers and sisters and as his new owner put it is, "thriving & knowing nothing but love for the rest of his life."
"We know so many people have been waiting for this update, we had some understandable behavioral issues we needed to address with Lucky, as it is a life changing transition for him to go through," Philly Rescue Angels posted. "This was a long process, but we know Lucky…is where he belongs."
Nearly two months after being found abandoned and injured on train tracks in Montgomery County, Pennsylvania, "Lucky" the dog was in need of a forever or foster home.
"We would like the thank the thousands of people who have supported Lucky, [and] our rescue efforts to save him. [And] of course everyone who was involved in getting Lucky to where he is today. We hope the person who did this to him sees the life he is living now and sees that their actions were not a success. Lucky has overcame everything you put him through [and] he will live a beautiful life now," Philly Rescue Angels posted on Facebook.
Members of the Philly Rescue Angels found the pit mix back on November 29, 2022, on the train tracks near the Lawndale SEPTA station in Montgomery County. 
"When we got there, he wasn't able to move. His back leg was immobile," Son told NBC10. 
They also found a leash and unclipped collar nearby. 
"This kind of makes me feel as though someone actually brought him here and dumped him," Son said. 
At first the rescuers thought the dog, who they named "Lucky," had been struck by a train. They later concluded he was abused however. The medical staff at Penn Vet found that the pup also had broken teeth and deep scrapes.
"So I think that they dumped him to hide the fact that they broke his back," Son said. "And used the train to cover up the fact that they hurt him." 
Lucky was taken to Penn Vet where he was treated for a severe spinal cord injury.
After undergoing surgery, the dog was released from the hospital on December 12 and sent to a foster home.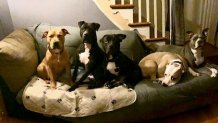 Lucky was paralyzed due to the injuries he sustained and in need of bladder expression and bowel assistance at least four times a day. Per the last update from Philly Rescue Angels, Lucky was showing great improvement and was able to stand, hold his hind legs up some with minimal assistance and showing movement in his tail.
Despite his improvement, a spokesperson said Lucky will need continued physical therapy and is also receiving laser therapy.
Since Lucky needs monthly medical care, monthly prescriptions filled along with many items in the home, Philly Rescue Angels will be covering Lucky's financials for the rest of his life in his adoptive home as his expenses are extremely high.
If you would like to send Lucky a present in his new home, you can do so here.