originally published: 03/27/2023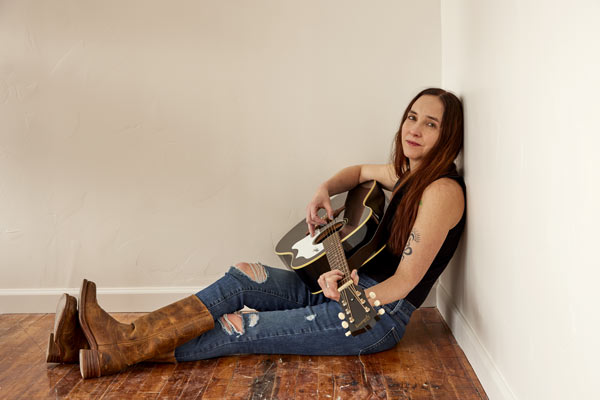 Photo by Jason Varney
Erika Sherger has announced the independent release of her new indie-folk album, Bad Wolf, now available on all major streaming channels. Bad Wolf includes 12 original songs that were written and recorded by Sherger in New Jersey between 2021 and 2023. The tracks were recorded at GD PonderRosa Studios in Lafayette, the County College of Morris in Randolph and in Sherger's home in Boonton Township. This release also features tracks by several talented local musicians, including Maribyrd, Joe Biglin and Joe Cirrotti.
Co-produced by Sherger and Victor Phillips of Sonic Fix Studios, the album blends indie-folk, Americana and alt-country sensibilities. The songs are an embodiment of Sherger's exploration and processing of the wide range of emotional terrain she has traversed. Sherger's raw and honest lyrics and vocals convey an inner strength and willingness to grow, as she tackles topics such as; struggling with relationships, shining a light on her own shortcomings, riding her blind horse, grappling with the suicide of a friend and fellow musician, but still living hopefully and joyfully in her own truth.
Bad Wolf is the sophomore release for Sherger, who released an 8-track EP called 'Like Birds' in 2021, also co-produced by Phillips. "I love how all the parts of this second album came together from different studios and guest performances, making it more engaging to listeners," said Phillips.
"Writing songs is like therapy for me. It's a big part of how I process the things that happen and the tangle of emotions that accompany each experience. I like how a song and especially an entire record can encapsulate a period in my life. I have a lot to learn about recording, but I feel like I began to hit my stride with this album," said Sherger. "I'm still getting a feel for what 'my sound' is and I'm excited to hone in on it even more with future recordings!"
Sherger happens to be a dedicated veteran high school physics teacher by day, but her love for writing and playing music keeps her busy in her spare time. She's managed to play gigs almost every weekend and write and record Bad Wolf during her nights, weekends and summers off.
Erika Sherger is a singer-songwriter and guitarist from Boonton Township, New Jersey. Erika's songs are honest and raw responses to the different emotional terrain she's traversed, from losing her mother to ALS to riding her blind horse, Levon. Erika openly embraces the beauty and pain of life. 
​Erika grew up listening to the Beatles, the classic rock of the 60's and 70's, Neil Young, 80's pop (Pat Benatar and Cyndi Lauper), Peter Gabriel, the Grateful Dead. Her vocal style is most often compared to Natalie Merchant and Linda Rondstadt. Her songwriting is heavily informed by Americana, indie folk and alt country (Ryan Adams, Wilco, Iron and Wine, etc).
Erika is often found playing songwriter shows and at bars, restaurants and coffee houses in New Jersey and Pennsylania. She released her first EP, Like Birds, in March 2021, a complication of 8 songs she wrote during COVID. Her second release, a full-length album of 12 songs called Bad Wolf, was released in March 2023.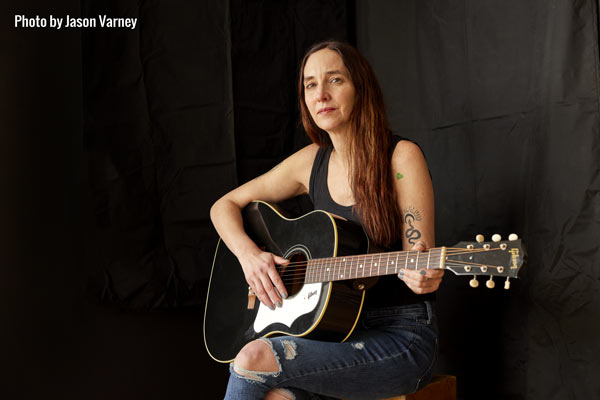 Advertise with New Jersey Stage for $50-$100 per month, click here for info
---
ART | COMEDY | DANCE | MUSIC | THEATRE | COMMUNITY
Kenny Wayne Shepherd Band: 25th Anniversary of Trouble Is
Tuesday, March 28, 2023 @ 7:30pm
Count Basie Center for the Arts
99 Monmouth Street, Red Bank, NJ 07701
category: music
---
Disney's The Lion King Jr.
Tuesday, March 28, 2023 @ 7:00pm
The Vogel
99 Monmouth Street, Red Bank, NJ 07701
category: theatre
---
George Street Playhouse presents "The 25th Annual Putnam County Spelling Bee"
Wednesday, March 29, 2023 @ 8:00pm
New Brunswick Performing Arts Center (NBPAC) – The Arthur Laurents Theater
11 Livingston Avenue, New Brunswick, NJ 08901
category: theatre
---
The Rush Tribute Project
Wednesday, March 29, 2023 @ 7:30pm
Count Basie Center for the Arts
99 Monmouth Street, Red Bank, NJ 07701
category: music
---
Disney's The Lion King Jr.
Wednesday, March 29, 2023 @ 7:00pm
The Vogel
99 Monmouth Street, Red Bank, NJ 07701
category: theatre
---
Literature to Life's Staged Adaptation of The Brief Wondrous Life of Oscar Wao
Wednesday, March 29, 2023 @ 10:30am
Shea Center for Performing Arts
300 Pompton Rd, Wayne, NJ 07470
category: theatre
---
WP New Music Series • James Romig – The Fragility of Time, w/Matt Sargent, Electric Guitar
Wednesday, March 29, 2023 @ 7:00pm
Shea Recital Hall 101
300 Pompton Rd, Wayne, NJ 07470
category: music
---
Jazz973 at Clements Place Jazz Presents the Benito Gonzalez Trio
Wednesday, March 29, 2023 @ 7:00pm
Clement's Place
15 Washington Street, Newark, NJ 07102
category: music
---
---
For more event listings, click here
---