originally published: 04/06/2023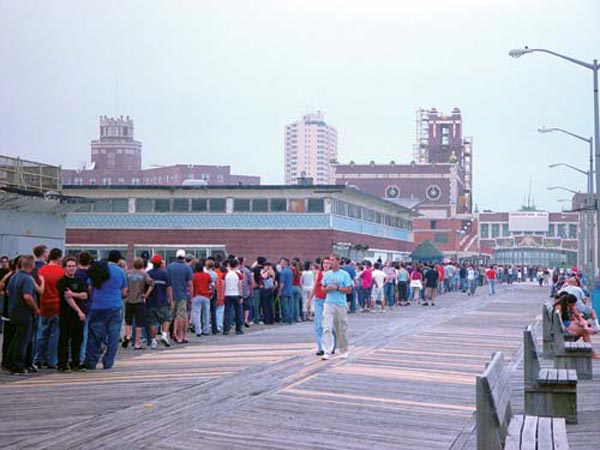 Lee Mrowicki was nicknamed "The Voice of the Stone Pony" by Rolling Stone Magazine and has been associated with the legendary Asbury Park club and the rock and roll city for decades. He currently can be heard each week spinning the best of New Jersey music with Radio Jersey. This is part of an ongoing series entitled, "Remember When".
The lyrics to Tom Waits song, "Jersey Girl"…"cause down the shore everything's alright" brings thoughts of a NJ boardwalk in the summertime.
Now, how does a guy from Los Angeles know anything about the Jersey Shore?

As most people know by now, Bruce Springsteen didn't write "Jersey Girl"… but wishes he had.
His is the more famous version and one of the most loved songs when he sings it in concert and one of the most requested songs when I would deejay at the Stone Pony in Asbury Park. It just seems like the song was written about Asbury Park and its boardwalk before the days of redevelopment.
Advertise with New Jersey Stage for $50-$100 per month, click here for info
---
In fact, it was written by Waits for his soon-to-be wife Kathleen who lived in Morristown. No boardwalk there.
No doubt that Tom Waits is a brilliant performer and in this case a brilliant songwriter. It captures the feel of the boardwalk, although I think it was actually written about going to a carnival I'm told.
No matter, we can think how we want about this song.
So… "Cause Down the Shore Everything's Alright" couldn't really be about Asbury Park because it was written in 1980 and there wasn't much to like about Asbury Park then…except the music.
I know I was there.
It was wishful thinking for Asbury Park but it was actually true for the rest of the Jersey Shore, from Sandy Hook to Cape May.
Now, people think it incorrect to say you were going "down the shore". We don't say going to the shore, or going to the ocean, or going to the sea like they do in Britain… we say "down the shore".
Look at the map!!! From wherever you are in the state, you gotta go "Down the Shore"!
And it's been like that since I can remember… when the family would pile into my grandfather's black 1949 Pontiac with the cream colored seats, heading down to Point Pleasant, eating the ham sandwiches and drinking the ice tea made by my grandmother—we all drank from the same thermos bottle…a couple sips here and there…somehow enough for everyone. And I think it was the same thermos bottle my grandfather took to work everyday. (And speaking of thermos bottles, did you ever try to pour out your drink at lunchtime and the glass inside broke and you were devastated! From that day on, you got an extra orange drink at recess so you could have something at lunch.)
Down the Shore… only down the shore…even if you were traveling east on Route 33, or east on the Black or White Horse Pike, or down Route 36 towards Sandy Hook… you always went "Down the Shore."
Friends would ask, "What are you doing this weekend?" "Going Down the Shore"… (sounded more like gonna go down da shaw, if you were from "up north")
Advertise with New Jersey Stage for $50-$100 per month, click here for info
---
So why was everything alright…down the shore?
You were able to get away from the smokey skies in Linden, you could dream of all the guys and girls worshipping the sun and heading into the surf… and poking your umbrella into the sand and spreading out your old blanket and saying "Aaaahhhh, this is the life!"
And at night, you went on the rides…or played miniature golf…or if you were old enough to drink, you went to D'Jais to see all the girls from North Jersey (who no doubt could be found on the 18th Avenue Beach) and pay $1 for seven glasses of beer. (I was told it was Rheingold—but you could be a big shot buying a round for all of your friends and potential partners…the glasses still had soap in them from the bartenders washing them)
Or… if you were already "Down the Shore", you could go hang out on the Seaside boardwalk and listen to the music coming out of the bars, like the Chatterbox, where the sandwich sign out front said "Nicky Addeo" on it. Every once in a while when we were in high school, we would take a trip—yes, down the shore, to see what Atlantic City was like, where the beaches were free! Way before gambling came!
Free beaches, what a concept. You remember how much you had to pay for your season badge for the Avon beach we went to (nobody we knew called it Avon-by-the-Sea!)
Did you ever go to the beach in Ocean Grove??? You had to dress in the bathhouses on Sunday because you couldn't walk the streets in your bathing suit! (And the chains went up at midnight Saturday night-when you had to move your car to Bradley Beach till midnight Sunday! What a pain that was in the winter in the snow!)
You know people in South Jersey also went "Down the shore" but their shore was Wildwood. It was still "Down". Not "To"… or "over to" or "east to the ocean"… No, indeed, it was still "Down the Shore".
Why… "cause Down the Shore, Everything's Alright!"  And Yes it was…Definitely! Right?
ART | COMEDY | DANCE | MUSIC | THEATRE | COMMUNITY
MANHATTAN COMEDY NIGHT APRIL
Friday, April 07, 2023 @ 8:00pm
Mayo Performing Arts Center (MPAC)
100 South Street, Morristown, NJ 07960
category: comedy
---
THE CONCERT: A TRIBUTE TO ABBA
Friday, April 07, 2023 @ 8:00pm
State Theatre New Jersey
15 Livingston Avenue, New Brunswick, NJ 08901
category: music
---
Boney James
Friday, April 07, 2023 @ 8:00pm
Bergen Performing Arts Center (bergenPAC)
30 North Van Brunt Street, Englewood, NJ 07631
category: music
---
George Street Playhouse presents "The 25th Annual Putnam County Spelling Bee"
Friday, April 07, 2023 @ 8:00pm
New Brunswick Performing Arts Center (NBPAC) – The Arthur Laurents Theater
11 Livingston Avenue, New Brunswick, NJ 08901
category: theatre
---
Bored Teachers: We Can't Make This Stuff Up!
Friday, April 07, 2023 @ 7:00pm
Count Basie Center for the Arts
99 Monmouth Street, Red Bank, NJ 07701
category: comedy
---
The Folk Project presents Christine Lavin with Bill Hall
Friday, April 07, 2023 @ 7:30pm
Morristown Unitarian Fellowship
21 Normandy Heights Rd,, Morristown, NJ 07960
category: music
---
Jay Leno
Saturday, April 08, 2023 @ 8:00pm
Bergen Performing Arts Center (bergenPAC)
30 North Van Brunt Street, Englewood, NJ 07631
category: comedy
---
The Rascals Featuring Felix Cavaliere & Gene Cornish: Time Peace Tour
Saturday, April 08, 2023 @ 8:00pm
State Theatre New Jersey
15 Livingston Avenue, New Brunswick, NJ 08901
category: music
---
---
For more event listings, click here
---