originally published: 04/14/2023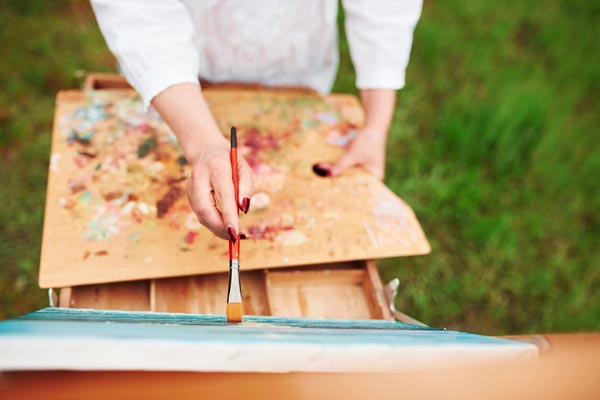 (HAWTHORNE, NJ) — The County of Passaic will host Art in the Park on Saturday, April 29th from 11:00am to 7:00pm and Sunday, April 30th from 11:00am to 4:00pm at Goffle Brook Park in Hawthorne, New Jersey.
This free two-day event will feature fun and engaging activities for the entire family such as vendors, live music, art activities, demonstrations, food trucks and a beer garden. In addition, tours of the park and its history will take place throughout the day.
"The Passaic County Board of County Commissioners is proud to support Passaic County's annual Art in the Park event," said Commissioner Director Pat Lepore. "My colleagues and I have prioritized and invested in beautifying our county parks over the last two decades, and this event is a great way for residents to checkout everything our beautiful county parks have to offer whilst enjoying art, activities, live music, and food."
Designed by the Olmsted Brothers firm, Goffle Brook Park is a 103-acre park featuring a brook, picnic areas, playgrounds, a dog park, fitness equipment, and multiple athletic fields. The park is also home to the Passaic County Arts Center at the John W. Rea House.
The Arts Center will be open during Art in the Park, featuring the following exhibits: "Breathe," by Soo Kim, "Everything's Fine," by Gwenn Seemel, "Calling Me Home" by Michael Wolf, and "New Works," by Hawthorne residents Elaine Lorenz and Howard Nathenson.
Advertise with New Jersey Stage for $50-$100 per month, click here for info
---
Schedule for Saturday, April 29th
11:00am – 12:00pm – Walking Tour of Goffle Brook Park (Meet at park sign next to the baseball field)
11:00am – 12:30pm – Live music from Machines Never Forget
1:00pm – 2:00pm – Meditation Class at the Passaic County Arts Center at the John W. Rea House
1:00pm – 2:00pm – Walking Tour of Goffle Brook Park
1:00pm – 3:00pm – Live music from the Larry Stevens Band
2:00pm – 3:00pm – Walking Tour of Goffle Brook Park (Meet at park sign next to the baseball field)
2:30pm – 3:30pm – Poetry Corner: Rescue Poetix
3:30pm – 4:15pm – Live music from Jalese Ayana
4:00pm – 5:00pm – Master dance class with drums
4:30pm – 5:00pm- Live music from Najir Austin
5:30pm – 7:00pm – Live music from The Adventure Soundtrack 
---
Advertise with New Jersey Stage for $50-$100 per month, click here for info
---
Schedule for Sunday, April 30th
11:00am – 12:00pm – Walking Tour of Goffle Brook Park (Meet at park sign next to the baseball field)
11:00am – 12:00pm – Meditation Class at the Passaic County Arts Center at the John W. Rea House
11:30am – 1:00pm – Live music from Andrew Lobby
12:00pm – 4:00pm – Montclair Art Museum's Art Truck
1:00pm – 2:00pm – Walking Tour of Goffle Brook Park
1:30pm – 3:00pm – Live music from Bach to Rock
2:00pm – 3:00pm – Walking Tour of Goffle Brook Park (Meet at park sign next to the baseball field)
2:00pm – 5:00pm – Poetry Corner: Talena Queen
3:30pm – 5:00pm – Live music from Anthony Caggiano
4:00pm – 5:00pm – Master dance class with drums
ART | COMEDY | DANCE | MUSIC | THEATRE | COMMUNITY
Alex & The Kaleidoscope
Saturday, April 15, 2023 @ 10:00am
State Theatre Studio
15 Livingston Avenue, New Brunswick, NJ 08901
category: kids
---
Two One-Act Operas: Pagliacci and Cavalleria Rusticana
Saturday, April 15, 2023 @ 3:00pm
Algonquin Arts Theatre
60 Abe Voorhees, Manasquan, NJ 08736
category: music
---
ON YOUR FEET! THE STORY OF EMILIO & GLORIA ESTEFAN
Saturday, April 15, 2023 @ 8:00pm
Mayo Performing Arts Center (MPAC)
100 South Street, Morristown, NJ 07960
category: theatre
---
Vivid Stage presents "101 Humiliating Stories"
Saturday, April 15, 2023 @ 8:00pm
Oakes Center
120 Morris Avenue, Summit, NJ 07901
category: theatre
---
Johnny Mathis
Saturday, April 15, 2023 @ 7:30pm
Count Basie Center for the Arts
99 Monmouth Street, Red Bank, NJ 07701
category: music
---
New Jersey Ballet's New Direction
Saturday, April 15, 2023 @ 8:00pm
Bergen Performing Arts Center (bergenPAC)
30 North Van Brunt Street, Englewood, NJ 07631
category: dance
---
Tim Dillon
Saturday, April 15, 2023 @ 8:00pm
State Theatre New Jersey
15 Livingston Avenue, New Brunswick, NJ 08901
category: comedy
---
Tiffany
Saturday, April 15, 2023 @ 8:00pm
South Orange Performing Arts Center (SOPAC)
One Sopac Way, South Orange, NJ 07079
category: music
---
---
For more event listings, click here
---