originally published: 04/29/2023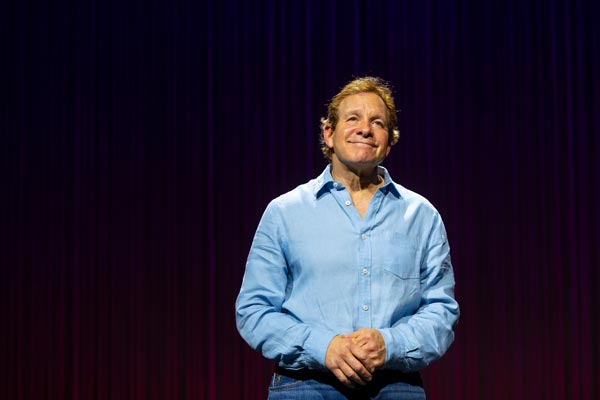 Ever wonder what it takes to make it in Hollywood? Steve Guttenberg took a very unique approach and his story is told in Tales from the Guttenberg Bible, currently having its World Premiere at George Street Playhouse in New Brunswick, NJ. The production runs through May 21st.
The play was written by and stars Steve Guttenberg, an actor who was seemingly everywhere for a ten year stretch in the 1980s once his breakout film, Diner, was released in 1982. Some of the films he was involved in during that timeframe include The Day After, Police Academy, Police Academy 2: Their First Assignment, Cocoon, Police Academy 3: Back in Training, Short Circuit, Police Academy 4: Citizens on Patrol, Three Men and a Baby, Cocoon: The Return, and Three Men and a Little Lady.
Before he became a movie star, he was just another guy dreaming of being an actor.  How he broke into the business and survived Tinseltown's quirks, temptations, and evils are the main parts of the story, but his relationships to his family and hometown of Massapequa, New York played major roles in helping him remain the nice guy that David Saint (George Street Playhouse's Artistic Director) spoke about prior to the show. Saint directs the production.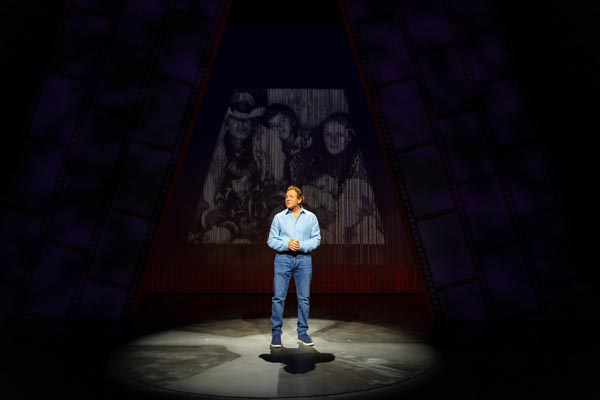 Tales From the Guttenberg Bible is a wonderful play about a guy who was like a real life Forrest Gump in Hollywood – except things didn't just fall into place for him, he made them happen and wanted them to happen.
The play begins with Guttenberg meeting his first agent who would be the first of many to advise him to stay away from acting.  "You are the last guy I would ever imagine as a movie star," said the agent.
Advertise with New Jersey Stage for $50-$100 per month, click here for info
---
It should be noted that the agent was just one of approximately 90 characters in the play! While Guttenberg is on stage the entire time, three actors (Carine Montbertrand, Arnie Burton, and Dan Domingues) race around the set with quick costume changes and utilize different voices and mannerisms to play everyone from Steve's parents to his agents to famous actors and directors, and old friends.  Some of the people portrayed include Merv Griffin, Jerry Seinfeld, Laurence Olivier, the Village People, Bruce (Caitlyn) Jenner, Barry Levinson, Ron Howard, Jessica Tandy, Leonard Nimoy, Tom Selleck, and Ted Danson.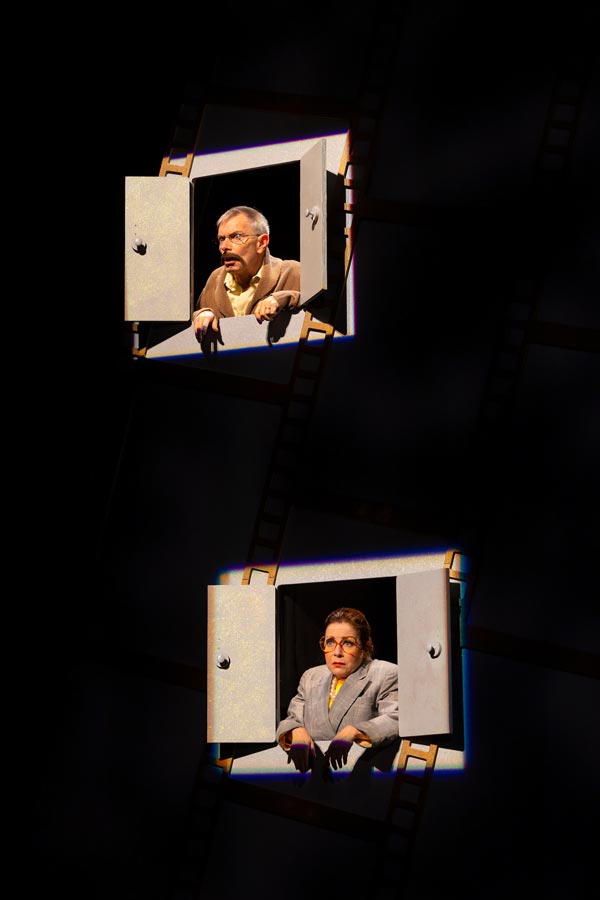 The three supporting actors bring a zany spirit to the production and take full advantage of the set, which has windows that open for them like on the 1960s tv show, Rowan & Martin's Laugh-In. The play pokes fun at their exploits as well with one actor late for his cue asking, "Would it kill you to hire another actor? Sorry Steven, I was changing" and another running across the stage stating, "I'm too old for this!" But the funniest line for me was an actor failing to remember who he was supposed to be playing at the time, "Hi, I'm…. who am I?" as someone announces his name. These three actors are brilliant in the play and credit to them for the amount of work they will have to put in each night.
Guttenberg left Long Island as a teenager and headed for Hollywood. At least he thought he was headed there.  He wound up in Burbank instead – at the Warner Brothers studio lot – and began learning how the industry ran by watching as character actors who all looked alike came for auditions. He recalled using a blank punch card as his time card and sneaking into the studio each day, even finding a room that he would use as his own office.  Whenever anyone pressed him for credentials, Guttenberg turned the tables on them by asking for their name so he could report them to his father who he said ran the studio.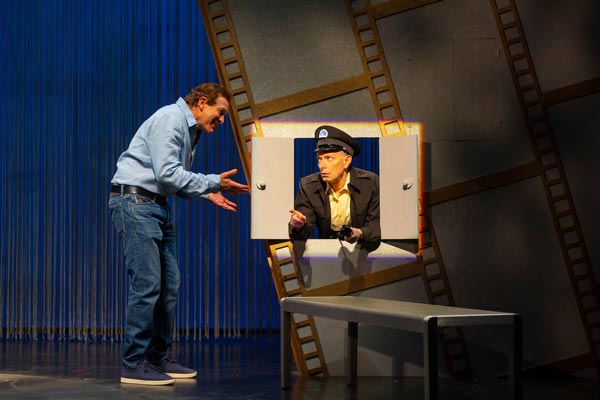 After landing a part in a Kentucky Fried Chicken commercial, his parents sent him the money needed to pay for his Screen Actor's Guild (SAG) card.  Excited at this step in his career, Steve asked if there was a ceremony for it.
"No ceremony, no confetti – just a lifetime of disappointment!" was the reply.
The audience learns two things from his early days in Hollywood – everyone uses the word "pronto" and that Steve sweats profusely when he is nervous and those early days included a lot of sweaty moments!
We see him struggle through shooting his first movie, agents trying to make his name sound more like a movie star, and watch him move from agent to agent.  At one point, the calls stop coming and he decides to return home and go to college.
It was at the University of Albany, while smoking from a large bong, that his life changed.  His agent called with a film role in The Boys From Brazil. Guttenberg would soon find himself alongside legendary actors like Laurence Olivier, Gregory Peck, and Uta Hagen. It was a baptism by fire for the young actor who impressed people with his confidence – even offering critical notes on the script and suggesting scenes.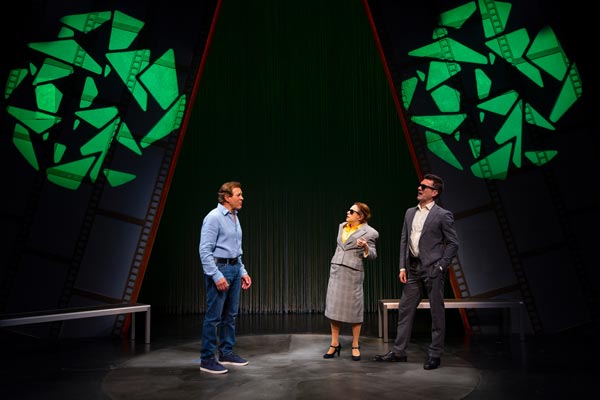 We see Guttenberg on the Merv Griffin Show months later where he thought the more airtime he got would lead to more opportunities. He recalls needing to basically be thrown off the show for talking too much.  Unfortunately, that appearance didn't help him much, but his career trajectory would change a few years later.
Succeeding in Hollywood takes luck as much as anything and the success of Diner is a good example.  Guttenberg takes a look back at meeting that film's director Barry Levinson and recalls how the studio wanted to shelve the film, fearing it would be a box office disaster.  Diner only got released after a film critic with a private screening loved it and told the studio she would write a glowing review for it.
Following Diner was Police Academy and the beginning of his rise to stardom.  We see him going to his first Academy Awards show, which he attended with Genie Francis (Laura from General Hospital's famous couple Luke & Laura).  The nervousness was there that night, along with the sweat!
Advertise with New Jersey Stage for $50-$100 per month, click here for info
---
It's hard not to smile throughout this play about a good guy who succeeded in a largely not so good industry.
"I always knew how lucky I was," admits Guttenberg at one point.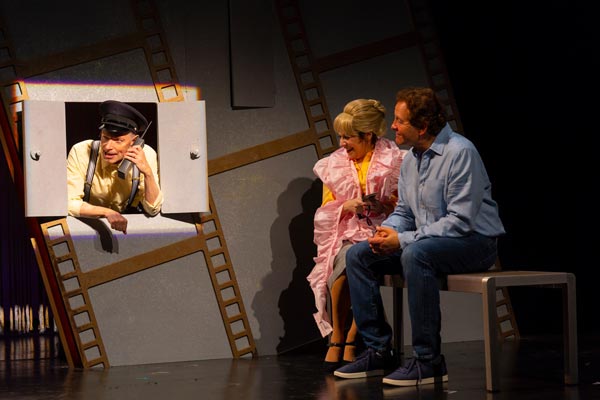 While the play is largely comical and light, there are some tender moments as well.  Guttenberg is able to deftly move between the laughs to the moments of sadness and isolation.
Guttenberg notes that the "glamour part is easy, but the self realization and the doubt" is much harder. His story includes disappointments and recognition of the life he was leading and the life he was missing while shooting films around the world.
I thought Tales from the Guttenberg Bible was wonderful. As a guy who grew up watching his films, learning the story of how he became a star was fascinating. David Saint announced that the play has already lined up its next home.  It will be presented at the Bay Street Theater in Sag Harbor, NY this August and likely continues on from there.
The play moves quickly, holds your attention, and has a terrific true story behind it. The only area that might need some changes is the final part.  I loved the bittersweet ending, but I think it could use a little more of a bridge to the closing scene. That part seemed a little rushed for me. Otherwise, the play is terrific and highly recommended.
"If you have a dream, you go after it, and you can get it," acknowledges Guttenberg in the end.
He certainly did.
Tales From the Guttenberg Bible runs through May 21st at George Street Playhouse, inside the beautiful New Brunswick Performing Arts Center (11 Livingston Avenue) in New Brunswick.  Click here for ticket information.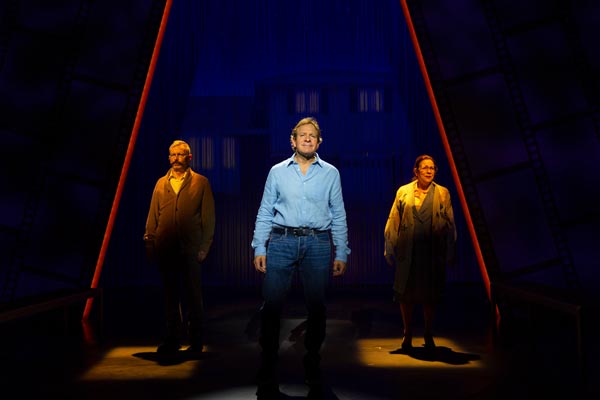 PHOTOS © T. Charles Erickson Photography
---
Gary Wien has been covering the arts since 2001 and has had work published with Jersey Arts, Elmore Magazine, Princeton Magazine, Backstreets and other publications. He is a three-time winner of the Asbury Music Award for Top Music Journalist and the author of Beyond the Palace (the first book on the history of rock and roll in Asbury Park) and Are You Listening? The Top 100 Albums of 2001-2010 by New Jersey Artists. In addition, he runs New Jersey Stage and the online radio station The Penguin Rocks. He can be contacted at gary@newjerseystage.com.
---
ART | COMEDY | DANCE | MUSIC | THEATRE | COMMUNITY
LEGALLY BLONDE—THE MUSICAL
Sunday, April 30, 2023 @ 2:00pm
State Theatre New Jersey
15 Livingston Avenue, New Brunswick, NJ 08901
category: theatre
Click here for full description
---
NEW JERSEY SYMPHONY: SYMPHONIE FANTASTIQUE
Sunday, April 30, 2023 @ 3:00pm
Mayo Performing Arts Center (MPAC)
100 South Street, Morristown, NJ 07960
category: music
Click here for full description
---
The Taming of the Shrew
Sunday, April 30, 2023 @ 2:00pm
Grunin Center – Black Box Theater
1 College Drive, Toms River, NJ 08754
category: theatre
Click here for full description
---
Vivid Stage presents "Harry Clarke"
Sunday, April 30, 2023 @ 2:00pm
Oakes Center
120 Morris Avenue, Summit, NJ 07901
category: theatre
Click here for full description
---
George Street Playhouse presents "Tales from the Guttenberg Bible"
Sunday, April 30, 2023 @ 2:00pm
New Brunswick Performing Arts Center (NBPAC) – The Arthur Laurents Theater
11 Livingston Avenue, New Brunswick, NJ 08901
category: theatre
Click here for full description
---
Ancient Aliens Live
Sunday, April 30, 2023 @ 7:00pm
Count Basie Center for the Arts
99 Monmouth Street, Red Bank, NJ 07701
category: community
Click here for full description
---
Art in the Park
Sunday, April 30, 2023 @ 11:00am
Goffle Brook Park
675 Goffle Road, Hawthorne, NJ 07506
category: art
Click here for full description
---
Reefer Madness
Sunday, April 30, 2023 @ 2:00pm
Brook Arts Center
10 Hamilton Street, Bound Brook, NJ 08805
category: theatre
Click here for full description
---
WP Presents! • Top Of The World: A Carpenters Tribute featuring DebbyTaylor
Sunday, April 30, 2023 @ 8:00pm
Shea Center for Performing Arts
300 Pompton Rd, Wayne, NJ 07470
category: music
Click here for full description
---
Seton Hall Theatre presents Disney's Freaky Friday
Sunday, April 30, 2023 @ 2:00pm
South Orange Performing Arts Center (SOPAC)
One Sopac Way, South Orange, NJ 07079
category: theatre
Click here for full description
---
Catapult
Sunday, April 30, 2023 @ 11:00am
Berrie Center for the Arts, Ramapo College of NJ
505 Ramapo Valley Rd, Mahwah, NJ 07430
category: dance
Click here for full description
---
Park Players Productions, Inc. Presents "Pippin"
Sunday, April 30, 2023 @ 5:00pm
The Church Of The Good Shepherd
1576 Palisade Avenue, Fort Lee, NJ 07024
category: theatre
Click here for full description
---
---
For more event listings, click here
---