originally published: 05/15/2023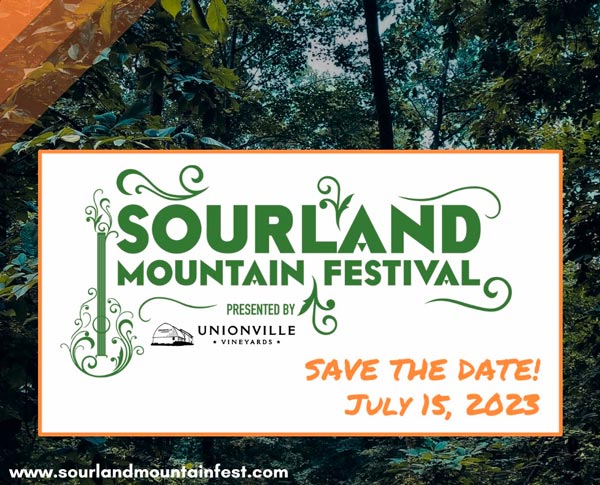 (RINGOES, NJ) — The Sourland Mountain Festival, presented by Unionville Vineyards, will be held on Saturday, July 15th, from 3:00pm to 8:30pm with a five-star VIP Experience provided by the spectacular Ryland Inn. The musical lineup includes The Outcrops, Mike Montrey Band, The Gumbo Gumbas, and Pepperwine.
The live music lineup is set: headliners, The Outcrops, hailing from North Jersey, will be treating attendees to the sound of original blues-infused rock and roll that will surely get folks moving. The catchy melodies, honest lyrics and lush harmonies of the Mike Montrey Band will give attendees a taste of authentic, edgy rock. The Gumbo Gumbas are back at the fest and have a new album out – Zydeland – do a little pre-festing and give it a listen; then, prepare to dance to a delicious medley of authentic New Orleans Jazz with a side of Creole. Rounding out what sounds like the best lineup yet is Pepperwine, a female-fronted independent, four-piece band from the shore producing hip-shaking rhythms, head-nodding tunes, and a whole lot of soul.
To start the "Best Fest", the Lenape Nation will give the blessing of the Mountain; this is a truly special – and important – experience to witness. Families may sign up for a super-fun Scavenger Hunt, get up close and personal with reptiles from the NJ Snake Man, and meet farm animals and their handlers who will give a glimpse into the rich farming community that surrounds the Sourland. Learn from the educators, partner organizations and nonprofits about the historical and ecological importance of the Sourlands and its surrounding area. There really is something for everyone at the Sourland Mountain Festival!
While listening (or dancing), attendees may shop carefully-curated Jersey-based vendors, imbibe in craft beer from Hillsborough's Flounder Brewing Co., wine from award-winning host Unionville Vineyards, and down-home spirits from Hopewell's Sourland Mountain Spirits. Don't fret, families; there will be family-friendly food and drink from our unique and delicious group of food vendors sure to please every palate.
Breona Pirrone, Sourland Conservancy Volunteer and Small Business Owner of the Wull and Oak in Hopewell states: "I cannot wait to hear the music echoing across the countryside as the sun sets. I cannot imagine a more perfect way to spend a summer eve; how lucky we are to live near the Sourland Mountain region."


---
Sourland Mountain Festival proceeds benefit the Sourland Conservancy, a nonprofit organization dedicated to protecting the history and ecology of the Sourland Mountain region of Central New Jersey. Proceeds from the Sourland Mountain Festival will support the Sourland Conservancy's mission to protect, promote and preserve the unique character of the Sourland Mountain region. The 90-square-mile Sourland region is home to the largest contiguous forest in Central New Jersey. It encompasses a complex ecosystem of forest, wetlands and grasslands, and is home to an incredibly rich diversity of animal and plant species, many rare or endangered. The forest is especially important as a breeding area for migratory songbirds, particularly those who nest only in large wooded areas.
The US Forest service estimates that over one million trees are dying in the region due to an invasive insect, the emerald ash borer. This loss will impact the forest's ability to prevent flooding, filter drinking water, produce oxygen, sequester carbon, and provide critical habitat for threatened and endangered species. The Conservancy is working to plant trees on public and private lands—and protect them from deer browse. Last year, SC volunteers and staff worked with its partners to plant over 10,000 trees in public parks and preserves throughout the region!
Advertise with New Jersey Stage for $50-$100 per month, click here for info
---
ART | COMEDY | DANCE | MUSIC | THEATRE | COMMUNITY
Blues for an Alabama Sky
Tuesday, May 16, 2023 @ 7:30pm
McCarter Theatre Center (Berlind Theater)
91 University Place, Princeton, NJ 08540
category: theatre
---
CHEAP TRICK
Wednesday, May 17, 2023 @ 8:00pm
Mayo Performing Arts Center (MPAC)
100 South Street, Morristown, NJ 07960
category: music
---
Blues for an Alabama Sky
Wednesday, May 17, 2023 @ 7:30pm
McCarter Theatre Center (Berlind Theater)
91 University Place, Princeton, NJ 08540
category: theatre
---
Motor City Revue – The Ultimate Motown Tribute
Wednesday, May 17, 2023 @ 2:00pm
South Orange Performing Arts Center (SOPAC)
One Sopac Way, South Orange, NJ 07079
category: music
---
The Righteous Brothers
Wednesday, May 17, 2023 @ 8:00pm
Bergen Performing Arts Center (bergenPAC)
30 North Van Brunt Street, Englewood, NJ 07631
category: music
---
George Street Playhouse presents "Tales from the Guttenberg Bible"
Wednesday, May 17, 2023 @ 8:00pm
New Brunswick Performing Arts Center (NBPAC) – The Arthur Laurents Theater
11 Livingston Avenue, New Brunswick, NJ 08901
category: theatre
---
Disney's Beauty and the Beast
Wednesday, May 17, 2023 @ 7:00pm
Count Basie Center for the Arts
99 Monmouth Street, Red Bank, NJ 07701
category: theatre
---
Music From the Sole: Partido
Wednesday, May 17, 2023 @ 8:00pm
McCarter Theatre Center (Matthews Theater)
91 University Place, Princeton, NJ 08540
category: dance
---
---
For more event listings, click here
---