originally published: 05/17/2023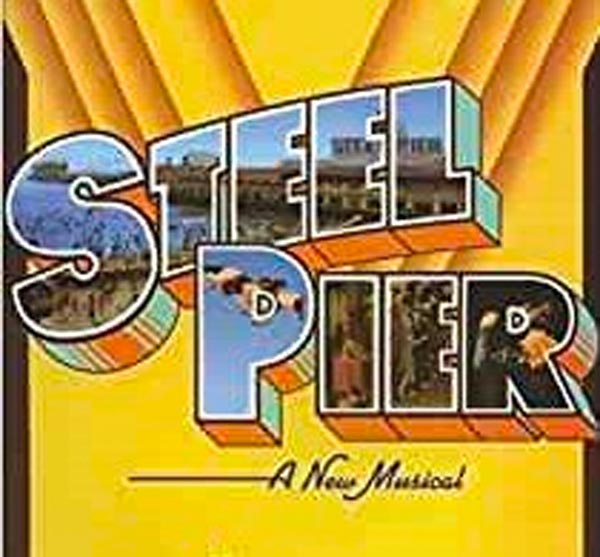 (BEACH HAVEN, NJ) — Surflight Theatre is excited to be opening their 2023 Season with a show celebrating the magnificent history of Atlantic City's Steel Pier in the 1930's: Kander and Ebb's Steel Pier the Musical. An assortment of depression era souls are eager to dance their way into fame & prizes gather on the Steel Pier.  Songs by the creators of Chicago, Cabaret and other classics perfectly capture the rhythms of the 1930's dance era. Performances run June 1-17, 2023.
Proud to be representing such a historical landmark in New Jersey just 25 miles from LBI, Surflight is thrilled that the heyday of the "Showplace of the Nation" in the 1930's will be showcased as this musical filled with heart, determination, great dancing and a powerful story of surviving and succeeding in the world of dance marathons unfolds on their stage.  The Steel Pier has a wonderful storied past filled with dance marathons, diving horses, animal acts, diving bells, many years of famous big bands and famous singers, bathing beauties, pageants and gangsters. With the original Broadway show being musical directed and had vocal arrangements by a former Surflight Musical Director, David Loud, it is the first of many shows Surflight will be featuring that have had previous ties to Surflight Theatre in one way or another as they move towards their 75th Anniversary in 2024! 
Paula Hammons Sloan directs and choreographs. Ms. Sloan also serves as Surflight's resident Director and Choreographer, Education Director and General Manager, Her work was recently seen in Surflight's White Christmas, American in Paris, Xanadu and The Addams Family. Musical Direction by Ricky Pope, Scenic Design by Chris Strangfeld, Costume Design by Ilana Lupkin, Sound Design by David Ciolorito, and Lighting Design by Cliff Spulock.
Steel Pier also stars Deanna Doyle as Rita Racine. Ms. Doyle was last seen on the Surflight stage as Vera in the 2010 On Your Toes, among other roles that season. She since performed in the Broadway companies of Phantom of the Opera (Meg Giry) and Tuck Everlasting (17 year old Winnie, Astaire award nominee) and was highly acclaimed as Ivy in Barrington Stage's pre Broadway On the Town.  Also starring, Vince Wingerter (seen on the National Tours of Mamma Mia! and White Christmas) as Bill Kelly, Jonathan Van Dyke as Mick Hamilton, whose previous Surflight credits include in Mamma Mia!, Cabaret, I Love You're Your Perfect, We Need a Little Christmas and Director of Sh Boom. Mike Brennan (most recently seen in White Christmas, Addams Family and An American in Paris at Surflight) will play Mr. Walker, Jacob Lill (recently seen as Phil Davis in Surflight's White Christmas) will play Buddy Becker with Madeline Dunn as Better Becker. Favorite Alison Nusbaum will be Shelby Stevens (seen last season as Tammy in Escape to Margaritaville, Grandma in Addams Family, and Martha in White Christmas.  The ensemble will be filled out with Kyle Atkinson, Alexandra Brown, Rhagan Carter, Ben Halperin, Angelina Mancuso, Giulia Marolda, Gabriela Moncivais, Brendan Sheehan, Isaiah Tucker, Bailey Greemon, Ryan Hans, Tanner Kirol, Jack Lynch. Gina Marcinkowski, Sean McCrystal, Jessica Sanzone and Abigail Vernon.
Performances take place June 2, 3, 8, 9, 10, 13, 14, 15, 16 & 17 at 8:00pm and  June 1, 4, 8, 11 & 13 at 2:00pm. Tickets: Adults- $43.00; Children 12 and Under- $33.00. To purchase tickets; go to www.surflight.org, or call (609) 492-9477.


---
The 2023 season is sponsored by Bay Magazine and The Cheese Shoppe, Surf City.
Surflight Theatre is located at 201 Engleside Avenue in Beach Haven, New Jersey. 
Advertise with New Jersey Stage for $50-$100 per month, click here for info
---
ART | COMEDY | DANCE | MUSIC | THEATRE | COMMUNITY
CHEAP TRICK
Wednesday, May 17, 2023 @ 8:00pm
Mayo Performing Arts Center (MPAC)
100 South Street, Morristown, NJ 07960
category: music
---
Blues for an Alabama Sky
Wednesday, May 17, 2023 @ 7:30pm
McCarter Theatre Center (Berlind Theater)
91 University Place, Princeton, NJ 08540
category: theatre
---
Motor City Revue – The Ultimate Motown Tribute
Wednesday, May 17, 2023 @ 2:00pm
South Orange Performing Arts Center (SOPAC)
One Sopac Way, South Orange, NJ 07079
category: music
---
The Righteous Brothers
Wednesday, May 17, 2023 @ 8:00pm
Bergen Performing Arts Center (bergenPAC)
30 North Van Brunt Street, Englewood, NJ 07631
category: music
---
George Street Playhouse presents "Tales from the Guttenberg Bible"
Wednesday, May 17, 2023 @ 8:00pm
New Brunswick Performing Arts Center (NBPAC) – The Arthur Laurents Theater
11 Livingston Avenue, New Brunswick, NJ 08901
category: theatre
---
Disney's Beauty and the Beast
Wednesday, May 17, 2023 @ 7:00pm
Count Basie Center for the Arts
99 Monmouth Street, Red Bank, NJ 07701
category: theatre
---
Music From the Sole: Partido
Wednesday, May 17, 2023 @ 8:00pm
McCarter Theatre Center (Matthews Theater)
91 University Place, Princeton, NJ 08540
category: dance
---
GPAA Spring Showcases
Wednesday, May 17, 2023 @ 7:00pm
Grunin Center
1 College Drive, Toms River, NJ 08754
category: dance
---
---
For more event listings, click here
---