originally published: 05/18/2023


One of my favorite films being screened at the 2023 New Jersey International Film Festival is Hedgehog, a powerful short film by D. Mitry about a family uprooted as war breaks out in Ukraine.  The film is available on demand for 24 hours on Sunday, June 11th and will have an in-person screening in the movie theater on the Rutgers University campus at 5:00pm that night along with the full-length documentary Reading is LOVE: Fathers for Early Childhood Literacy.
In Hedgehog, Ukrainian parents leave their six year old daughter off to stay with her grandmother as they both head off to war. In a shack outside her grandmother's house, the young girl discovers a badly wounded Russian soldier.  D. Mitry (who wrote and directed the film) does a wonderful job showing how the innocence of youth gets conflicted with age as politics come into play. The cast includes Emma Pearson, Vladimir Varakossov, Elina Golde, Nadia Lupiwok, and Yuriy Brailko. It's a beautifully shot film with an important message and one I cannot recommend enough.
D. Mitry moved into films after years as a playwright.  New Jersey Stage reached out to him to learn more about the film and his career.

Long before political views take over, the child sees the wounded soldier as just a person.  Do you think people all over the world judge a country's citizens too much based on their leaders?  Or do things just get that way during wartime?
When we're young, we often view the world with an innocent and unbiased lens. We don't have preconceived notions about people or countries, and we judge them based on our interactions and experiences with them. As we grow older and become more exposed to the world, we're inevitably influenced by the information we receive, including the actions and words of our leaders.


---
It's not uncommon for people to form judgments about a country's citizens based on the actions of their leaders. When a government engages in controversial or unpopular actions, it can be easy to assume that all of its citizens support those actions. However, it's important to remember that individuals have their own unique perspectives and experiences that shape their beliefs and opinions.
Ultimately, I believe that it's important to approach people with empathy and respect, regardless of where they come from or what their beliefs are. We may not always agree with each other, but by listening and trying to understand, we can build bridges and create a more connected and compassionate world.

"The more you know, the quicker you get old." There isn't much dialogue in this short film, but lines like this one are very memorable.  Is having a line or two that stays with the audience on your mind as you're shooting a film? Something you try to include?
Actually most of Baba's dialogues famous Russian and Ukrainian "folk" sayings.  I felt it was appropriate for this particular moment and was very indicative of the character of Baba.  She comes from a USSR background where it seemed to fit her organically.  I believe actions should tell the story rather than words.  In this piece in particular I tried to use as little dialogue as possible.
Or is that just something that happens on its own if it happens…
Everyone has their own writing process, I do little meditation before I start writing so I like to think that most of my lines come to me from another place, I guess you could say I feel them and then I write them down.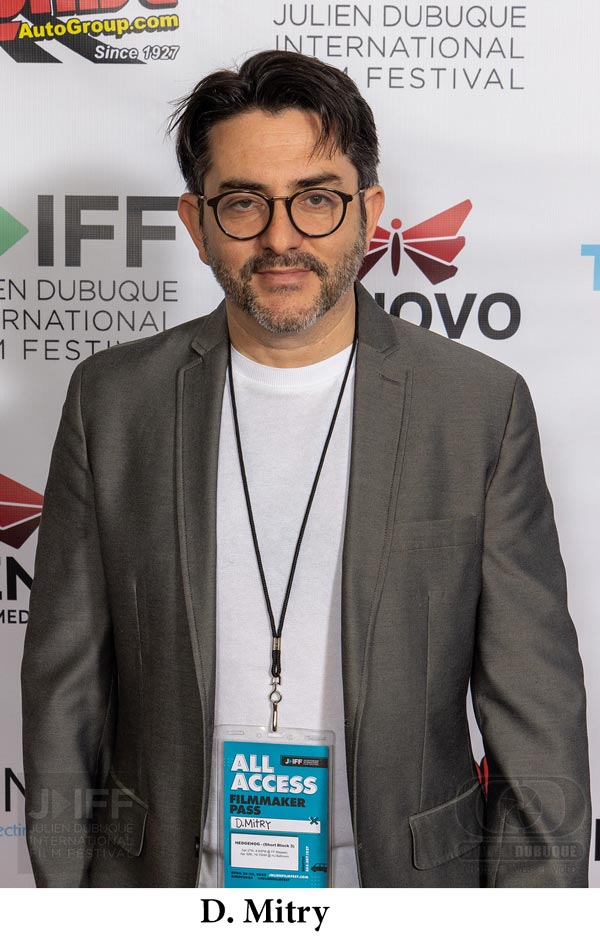 How is writing a short film similar to writing a play? How is it different?
Writing a short film and a play are similar in that they both require a compelling story and characters. However, they differ in their presentation, duration, and production process. A play is performed live on stage and requires constant attention to the audience's experience, while a short film has a very small time-window to tell a story .  In the play there are scenes that can go one for 10-15 pages, where in the short film, the entire script is less than 10 pages, such as the case for Hedgehog.
What led you to films following years of writing plays? Do you still write plays as well?
Deep in my heart I always wanted to make films.   I should say I always wanted to direct films, I just didn't know how to do it.  So for me it was a little bit of a "trial and error" kind of a deal.  I started off writing plays and slowly transitioned into filmmaking.  However, I still very much enjoy theater and would not be opposed to either writing and directing a play or simply directing a play.

Advertise with New Jersey Stage for $50-$100 per month, click here for info
---
Hedgehog has been selected for film festivals throughout America. What do you hope audiences take from the film?
Since its festival debut in February 2023, Hedgehog has had the incredible fortune of being accepted into internationally acclaimed and Oscar-nominated festivals, as well as winning numerous prestigious awards within the US. As I reflect on Hedgehog, my sincere hope is that audiences will experience a profound realization regarding the far-reaching effects of war on everyday people. When faced with the concept of an "enemy," it prompts us to contemplate the choices we make and to question the state of our innate capacity for love and compassion.
Finally, will anyone from the film be at the New Jersey International Film Festival screening?
Yes, Emma Pearson who plays the lead will be attending the Q&A.
---
The 28th Annual New Jersey International Film Festival will be taking place on select Fridays, Saturdays, and Sundays between June 2-11, 2023. The festival's setup is a hybrid with films available online as well as via in-person screenings at Rutgers University (71 Hamilton Street, New Brunswick, NJ).  For the full schedule of films or to purchase tickets, click here.
---
Gary Wien has been covering the arts since 2001 and has had work published with Jersey Arts, Upstage Magazine, Elmore Magazine, Princeton Magazine, Backstreets and other publications. He is a three-time winner of the Asbury Music Award for Top Music Journalist and the author of Beyond the Palace (the first book on the history of rock and roll in Asbury Park) and Are You Listening? The Top 100 Albums of 2001-2010 by New Jersey Artists. In addition, he runs New Jersey Stage and the online radio station The Penguin Rocks. He can be contacted at gary@newjerseystage.com.
---
ART | COMEDY | DANCE | MUSIC | THEATRE | COMMUNITY
Afternoon Recital: Anna Keiserman
Friday, May 19, 2023 @ 2:00pm
Grunin Center
1 College Drive, Toms River, NJ 08754
category: music
Click here for full description
---
Andy Borowitz
Friday, May 19, 2023 @ 8:00pm
McCarter Theatre Center (Matthews Theater)
91 University Place, Princeton, NJ 08540
category: comedy
Click here for full description
---
Blues for an Alabama Sky
Friday, May 19, 2023 @ 8:00pm
McCarter Theatre Center (Berlind Theater)
91 University Place, Princeton, NJ 08540
category: theatre
Click here for full description
---
George Street Playhouse presents "Tales from the Guttenberg Bible"
Friday, May 19, 2023 @ 8:00pm
New Brunswick Performing Arts Center (NBPAC) – The Arthur Laurents Theater
11 Livingston Avenue, New Brunswick, NJ 08901
category: theatre
Click here for full description
---
New Jersey Symphony presents Star Wars: The Empire Strikes Back in Concert
Friday, May 19, 2023 @ 8:00pm
Count Basie Center for the Arts
99 Monmouth Street, Red Bank, NJ 07701
category: film
Click here for full description
---
Mr. Speed – A Night of Kiss
Friday, May 19, 2023 @ 8:00pm
Carteret Performing Arts Center
46 Washington Ave, Carteret, NJ 07008
category: music
Click here for full description
---
Village People
Friday, May 19, 2023 @ 8:00pm
Bergen Performing Arts Center (bergenPAC)
30 North Van Brunt Street, Englewood, NJ 07631
category: music
Click here for full description
---
An Evening with Eleri Ward
Friday, May 19, 2023 @ 8:00pm
South Orange Performing Arts Center (SOPAC)
One Sopac Way, South Orange, NJ 07079
category: music
Click here for full description
---
---
For more event listings, click here
---