originally published: 05/22/2023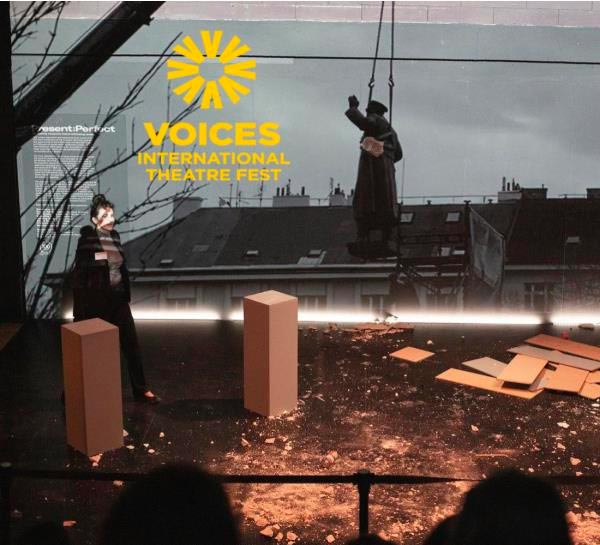 (JERSEY CITY, NJ) — Jersey City Theater Center (JCTC) will present a series of international performances as part of the Voices International Theatre Festival this June at Jersey City Theater Center. The plays represent a diverse group of nations including Romania, Poland, Russia, Czech Republic and the United States.  Performances include: Present: Perfect by Jan Mocek; Bowie in Warsaw by Trap Door Theatre; On the Other Side by Elena Demyanenko & Tarik Burnash; The Best Child in the World by Alina Serban; and Pool by Denisa Musilova.
Seats are limited on a first-come, first-served basis. Voices International Theater Festival presented in partnership with Rehearsal for Truth and Polish Cultural Institute NY and is supported by public funds from the Jersey City Arts and Culture Fund. Tickets are available at www.JCTCenter.org.
"Through the Voices International Festival, Jersey City Theater Center masterfully weaves the vibrant threads of diverse cultures, constructing bridges that effortlessly transcend boundaries and forge connections between people, both within our local community and across the globe," said Olga Levina, Executive Director at JCTC. "JCTC's unyielding dedication to fostering a vibrant community becomes the catalyst for a future where the language of arts becomes the unifying force that brings us all together in harmony."
Friday, June 2 at 7:30pm – Present: Perfect by Jan Mocek (CZECH REPUBLIC). Free and open to the public. Suggested donation of $10. Present: Perfect explores the complex gestures through which we relate to symbols of our own past to forge senses of cultural identity. Set in a museum of our collective memory, the play's design invites the audience to explore a collection featuring valuable artifacts that commemorate alternative versions of key historical moments. Even with the guidance of the performers, it is, however, hard to determine which events are important, which are good to remember, and which are better to forget. The space slowly transforms into a bizarre "rage room" where events of the distant past return to the contemporary and forgotten history pervades current affairs.
Present: Perfect examines rupture points between dominant images and alternative ones, from Byzantine soldiers charged with removing the portrait of Christ from the Bronze Gate to Suffragette attacks on art in British galleries and today's activists tearing down colonial statues throughout the West. Alongside the fanatical iconoclasts who uncompromisingly destroy all signs of a hostile ideology, a parallel crowd of equally fanatical iconoclasts defends the existing symbols to their last breath.
Sunday, June 4, 2023 at 7:00pm – Bowie in Warsaw by Trap Door Theatre (POLAND/USA). Tickets start at just $10.00. The women of Warsaw tremble with the rumor of a strangler on the prowl. Behind their fear, unspoken secrets and traumas begin to surface. Set in the landscape of a true crime story from 1970s Poland, Bowie in Warsaw is an absurd comedy about the repression of self-expression and love in the Soviet era. Playwright Dorota Maslowska constructs a fantastical and baroque world to be one day visited by none other than David Bowie himself.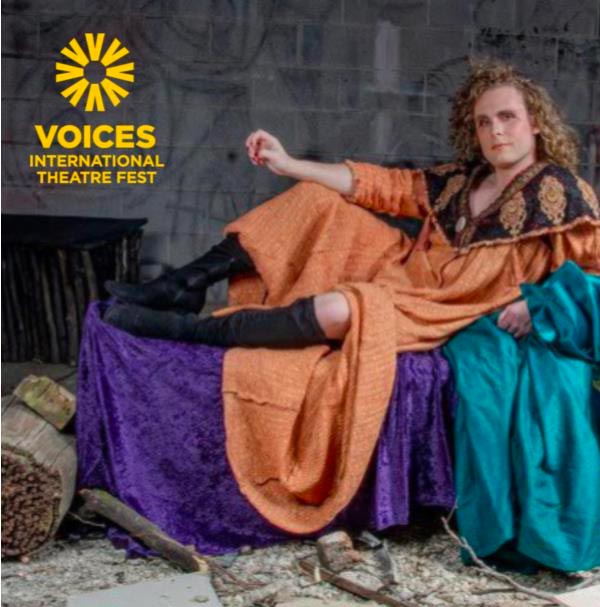 Saturday, June 10, 2023 at 7:30pm – on the other side by Elena Demyanenko/Tarik Burnash Trap Door Theatre (RUSSIA/USA). Tickets start at just $10.00. A dance performance as a form of somatic protest and viscous disobedience in light of the current aggression of the Russian government. Russian artists Elena Demyanenko and Tarik Burnash examine the notion of the rapidly disappearing past and their need to negotiate the unknown, absurd, madness, inhibition, and rage while searching for release into another approach for moving forward and finding their resistance.
Using four different modes of engagement, Elena moves through a choreographic process among the community, within context, centered in a heartbreak. She asks: What does it mean to be a Russian artist? To write from the side of an aggressor? Elena disavows cultural nostalgia or political naïveté to acknowledge the complexity of state-sanctioned violence on the scale of the nation and the scale of the body.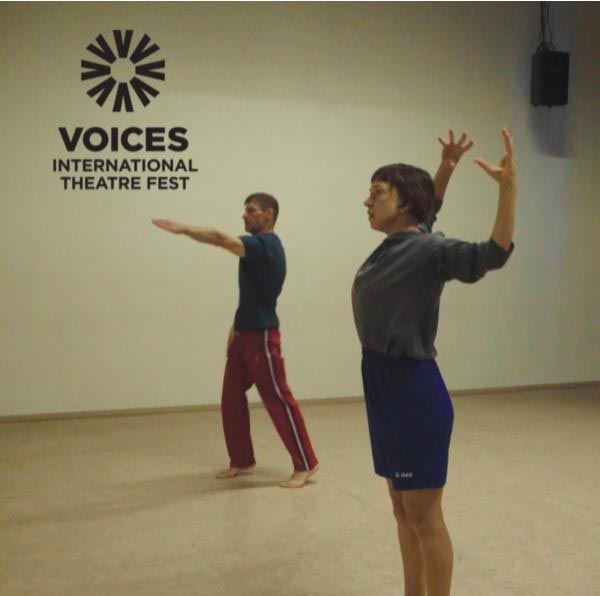 Sunday, June 11, 2023 at 7:00pm – The Best Child in the World by Alina Serban (ROMANIA). Free and open to the public. Suggested donation of $10. The story of a Roma girl who discovers at a very young age the differences of race and environment. She manages to make her way through life and transform her complexes into determination and motivation through the power of therapeutic exercise.
Alina Serban's autobiographical performance hovers on the borderline between life and theater, between experience and confession, effecting an authenticity to the point of becoming a fragment of reality. The show impresses audiences of all ages by inviting empathy. The Best Child in the World speaks about the power of achieving the impossible and the effort to make peace with the past together with one's own identity, one's own life, one's mother, one's father.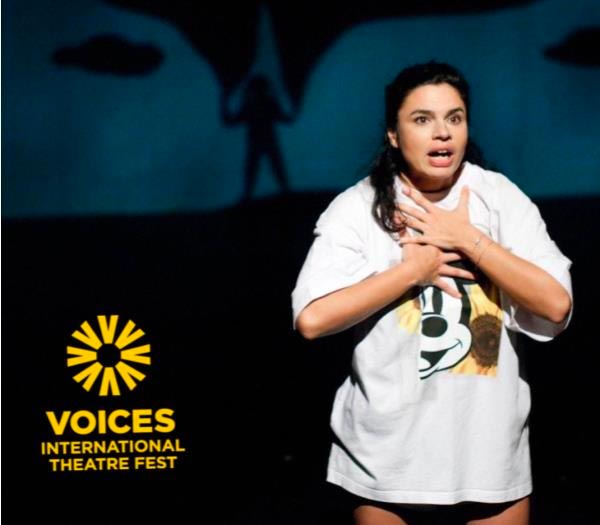 Thursday, June 15, 2023 at 7:30pm – POOL by Denisa Musilova (CZECH REPUBLIC/USA). Free and open to the public. Suggested donation of $10. POOL is a collaborative fusion of performance, visual art, and documentary that explores the male gaze, self-objectification, and how power shifts as we move between looking, seeing, and being seen. In a society that sees self-objectification of the feminine as both encouraged and derided by the dominant culture and its critics alike, internalized oppression is erased. POOL sets out to bring this intergenerational wounding into view.
In POOL, the unmet needs of patriarchy's citizens are isolated, magnified, and transferred into a fabricated system in which the characters struggle with their perceived deficits according to an unexpected set of rules. On stage covered with rows of Barbie dolls, four performers enact a vivid triptych: two men competing to satisfy their own narcissism; a ghost of a woman whose shattered identity lives among the infinite gazes of men; and a young girl whose solid, stable presence throws into high relief the others' disturbances.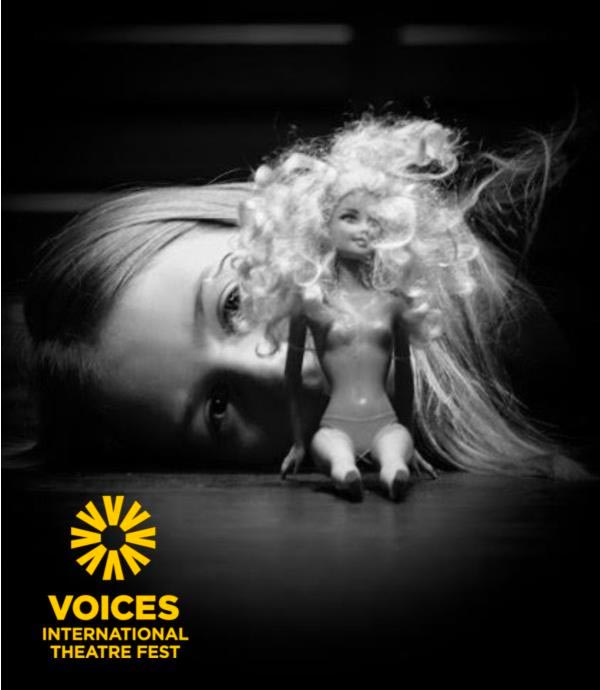 ---
Support provided by VisitNJ. Sponsored by M&T Bank and Romanian Cultural Institute.  
This program is made possible by a grant from the New Jersey State Council on the Arts, a division of the Department of State, and administered by the Hudson County Office of Cultural & Heritage Affairs, Thomas A. DeGise, Hudson County Executive & the Hudson County Board of County Commissioners.
Jersey City Theater Center (JCTC) is a nonprofit 501(c)(3) arts organization committed to inspiring conversations about important issues of our times through the arts. Co-founded by Executive Producer Olga Levina, an immigrant from Belarus, Jersey City Theater Center (JCTC) produces and presents universal yet locally relevant works, emphasizing social justice and human rights.  Since 2006, JCTC has provided a platform for all artistic voices to be heard in Jersey City, with the aim of sparking meaningful cross-cultural dialogue that helps build a greater understanding, mutual respect and better communities in New Jersey. 
Programming made possible by numerous supporters, including the New Jersey State Council on the Arts, a partner agency of the National Endowment for the Arts, the Hudson County Office of Cultural & Heritage Affairs/Tourism Development, Hudson County, the City of Jersey City, and the Office of Cultural Affairs. For those who are interested in attending any of the performances, sponsoring any of the upcoming productions, or purchasing tickets for large groups, please email info@jctcenter.org.   


---
Advertise with New Jersey Stage for $50-$100 per month, click here for info
---
ART | COMEDY | DANCE | MUSIC | THEATRE | COMMUNITY
Blues for an Alabama Sky
Tuesday, May 23, 2023 @ 7:30pm
McCarter Theatre Center (Berlind Theater)
91 University Place, Princeton, NJ 08540
category: theatre
Click here for full description
---
The Magic School Bus: Lost in the Solar System
Wednesday, May 24, 2023 @ 10:00am
Algonquin Arts Theatre
60 Abe Voorhees, Manasquan, NJ 08736
category: kids
Click here for full description
---
The Magic School Bus: Lost in the Solar System
Wednesday, May 24, 2023 @ 11:30am
Algonquin Arts Theatre
60 Abe Voorhees, Manasquan, NJ 08736
category: kids
Click here for full description
---
Blues for an Alabama Sky
Wednesday, May 24, 2023 @ 7:30pm
McCarter Theatre Center (Berlind Theater)
91 University Place, Princeton, NJ 08540
category: theatre
Click here for full description
---
The Basie Awards
Wednesday, May 24, 2023 @ 7:00pm
Count Basie Center for the Arts
99 Monmouth Street, Red Bank, NJ 07701
category: theatre
Click here for full description
---
Vivid Stage presents Meet the Artist: New Play Readings "The Festial Quartet"
Wednesday, May 24, 2023 @ 7:00pm
Summit Public Library
75 Maple Street, Summit, NJ 07901
category: theatre
Click here for full description
---
Blues for an Alabama Sky
Thursday, May 25, 2023 @ 7:30pm
McCarter Theatre Center (Berlind Theater)
91 University Place, Princeton, NJ 08540
category: theatre
Click here for full description
---
On & On: José James Sings Badu
Thursday, May 25, 2023 @ 8:00pm
The Vogel
99 Monmouth Street, Red Bank, NJ 07701
category: music
Click here for full description
---
Blues for an Alabama Sky
Friday, May 26, 2023 @ 8:00pm
McCarter Theatre Center (Berlind Theater)
91 University Place, Princeton, NJ 08540
category: theatre
Click here for full description
---
Crowded House
Friday, May 26, 2023 @ 8:00pm
Count Basie Center for the Arts
99 Monmouth Street, Red Bank, NJ 07701
category: music
Click here for full description
---
Afternoon Recital: Dr. Sungji Kim
Friday, May 26, 2023 @ 2:00pm
Grunin Center
1 College Drive, Toms River, NJ 08754
category: music
Click here for full description
---
Best of Laughs in the Loft
Friday, May 26, 2023 @ 8:00pm
The Loft @ South Orange Performing Arts Center (SOPAC)
One Sopac Way, South Orange, NJ 07079
category: comedy
Click here for full description
---
---
For more event listings, click here
---