originally published: 05/26/2023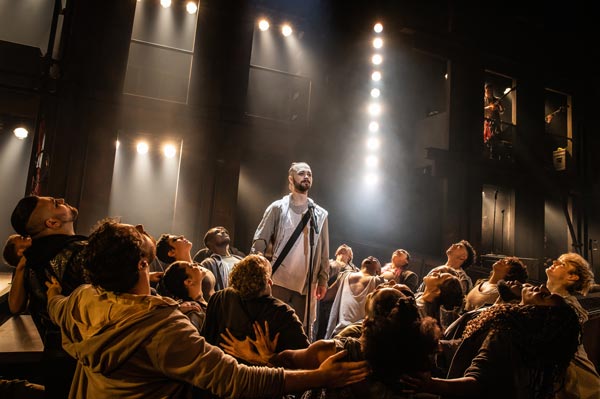 Jack Hopewell and the company of the North American Tour of Jesus Christ Superstar. Photo by Evan Zimmerman for MurphyMade 
(NEW BRUNSWICK, NJ) — The fully renovated State Theatre New Jersey presents the reimagined 50th Anniversary tour of Jesus Christ Superstar for four performances between June 9-11, 2023.  The musical is set against the backdrop of an extraordinary series of events during the final weeks in the life of Jesus Christ, as seen through the eyes of Judas. Reflecting the rock roots that defined a generation, the legendary score includes "I Don't Know How to Love Him," "Gethsemane," and "Superstar."
Featuring lyrics and music by Emmy, Grammy®, Oscar®, and Tony® winners Tim Rice and Andrew Lloyd Webber, the North American tour of this iconic musical is helmed by acclaimed director Timothy Sheader and cutting-edge choreographer Drew McOnie. Rounding out the creative team is costume design by 2016 Tony® Award nominee Tom Scutt, with a set based on original designs by Tom Scutt, lighting design by Lee Curran, sound design by Keith Caggiano, with music supervision by David Holcenberg, and music direction by Mark Binns.
Jack Hopewell stars as Jesus, joined by Elvie Ellis as Judas and Faith Jones as Mary. The tour also welcomes Grant Hodges as Caiphas, Nicholas Hambruch as Pilate, and Kodiak Thompson as Annas.
The ensemble includes Ethan Hardy Benson, Joshua Bess, Jordan Wesley Brown, Jahlil M. Burke, Cooper Clack, Kalei Cotecson, Emma Cook, Lydia Eku, Savannah Fisher, Domanick Anton Hubbard, Haley Huelsman, Jeremy Makana Hurr, Brett Hennessey Jones, Lena Matthews, Hosea Mundi, L'Oréal Roaché, Colin Robertson, Darren James Robinson, Erich W. Schleck, and Lauren Soto. 


---
Performances take place Friday, June 9 at 8:00pm; Saturday, June 10 at 2:00pm & 8:00pm; and Sunday, June 11 at 2:00pm. This production is a fast paced 90-minutes without intermission. Tickets range from $29-$79 and are available for purchase online or by calling State Theatre Guest Services at 732-246-SHOW (7469). State Theatre Guest Services, located at 15 Livingston Ave, New Brunswick NJ, is open by phone and email only, Tuesday through Friday from 11:00am to 5:00pm. For in-person purchases, Guest Services is open Tuesday through Friday from 12pm to 4:30pm. Additional ticket and transaction fees may apply. 
Jesus Christ Superstar is a proven musical phenomenon with a world-wide fan base. As demonstrated by NBC's Jesus Christ Superstar Live in Concert, this epic work attracted over 9.6 million viewers, earned the highest ratings in its time period, and received the highest critical ranking of any live musical event on network TV. On September 17, 2021 a variety of special edition Jesus Christ Superstar albums, remastered at Abbey Road, were released. These special anniversary editions are a celebration of the original 1970 double concept album and its continued success spanning an incredible 50 years.
Regent's Park Open Air Theatre production of Jesus Christ Superstar won the 2017 Olivier Award for Best Musical Revival, selling out two consecutive engagements in 2016 and 2017. The production played a West End engagement at the Barbican in 2019 before returning to Regent's Park Open Air Theatre in concert version during the summer of 2020.
The 2022-2023 North American Tour of Jesus Christ Superstar is produced by Work Light Productions. The original production was produced by London's Regent's Park Open Air Theatre.
After major renovations, State Theatre New Jersey has reopened and celebrated its 100th Anniversary in December 2021 in a fully renovated theater including newly renovated lobbies, all new restrooms, upgraded HVAC systems, a new elevator for access to all levels, and brand-new theater seats. Originally built as a silent film and vaudeville palace, State Theatre's historic significance was honored by PBS by featuring it in its documentary series, Treasures of New Jersey, in the fall of 2018. "Treasures of New Jersey: State Theatre New Jersey" can be streamed online.
Today, State Theatre is the largest performing arts center in Central New Jersey and has welcomed more than six million people through its doors since reopening as a nonprofit performing arts center in 1988. State Theatre New Jersey is a cornerstone of the cultural vitality of Middlesex County and averages a total economic impact on New Brunswick and the surrounding area of more than $18 million a year. The mainstage programs have featured high-caliber artists such as Diana Ross, Tony Bennett, Kevin Hart, Ringo Starr, Melissa Etheridge, John Leguizamo, Harry Connick, Jr., Diana Krall, and Crosby, Stills & Nash. Program offerings include Broadway, orchestra, family, dance, comedy, rock/pop, jazz, Performances for Schools, and Sensory-Friendly Performances.
State Theatre New Jersey's programs are made possible by funds from the New Jersey State Council on the Arts, a partner agency of the National Endowment for the Arts. Grant funding has been provided by the Middlesex County Board of County Commissioners through a grant award from the Middlesex County Cultural and Arts Trust Fund. 
ART | COMEDY | DANCE | MUSIC | THEATRE | COMMUNITY
Blues for an Alabama Sky
Friday, May 26, 2023 @ 8:00pm
McCarter Theatre Center (Berlind Theater)
91 University Place, Princeton, NJ 08540
category: theatre
---
Crowded House
Friday, May 26, 2023 @ 8:00pm
Count Basie Center for the Arts
99 Monmouth Street, Red Bank, NJ 07701
category: music
---
Afternoon Recital: Dr. Sungji Kim
Friday, May 26, 2023 @ 2:00pm
Grunin Center
1 College Drive, Toms River, NJ 08754
category: music
---
Best of Laughs in the Loft
Friday, May 26, 2023 @ 8:00pm
The Loft @ South Orange Performing Arts Center (SOPAC)
One Sopac Way, South Orange, NJ 07079
category: comedy
---
Triangle Reunions Encore Performance "Campelot"
Friday, May 26, 2023 @ 8:00pm
McCarter Theatre Center (Matthews Theater)
91 University Place, Princeton, NJ 08540
category: theatre
---
Collective Soul
Friday, May 26, 2023 @ 8:00pm
The Vogel
99 Monmouth Street, Red Bank, NJ 07701
category: music
---
Blues for an Alabama Sky
Saturday, May 27, 2023 @ 8:00pm
McCarter Theatre Center (Berlind Theater)
91 University Place, Princeton, NJ 08540
category: theatre
---
Blues for an Alabama Sky
Saturday, May 27, 2023 @ 2:00pm
McCarter Theatre Center (Berlind Theater)
91 University Place, Princeton, NJ 08540
category: theatre
---
---
For more event listings, click here
---