Published on June 02, 2023
Ribbon Cutting Welcomes New Homeowners of Affordable Housing in Randolph
Morris County Commissioner Deputy Director Christine Myers and Commissioner Stephen H. Shaw joined Morris Habitat for Humanity, Randolph Township officials and a host of other dignitaries and supporters for a dedication ceremony to welcome thirteen families into their new homes this week at the Crossings at Bennett Avenue.
"It's not just a home these families are opening the door to, but it's the opportunity of our schools, of our businesses, of our clubs… Congratulations to all the families who now have the opportunity to live here, to work here and to become a part of Morris County. Welcome home," stated Deputy Director Myers.
View more photos on Morris County's Flickr page
Blair Schleicher Wilson, chief executive officer of Morris Habitat for Humanity, presided over the event held Thursday at the Randolph site, where speakers included U.S. Rep. Mikie Sherrill, Senator Anthony M. Bucco, Assemblywoman Aura Dunn, Randolph Mayor Lou Nisivoccia and Tom Hayes, Director of Customer and Community Relations for New Jersey Natural Gas Company (NJNG). Randolph Township Managers Gregory Poff and Stephen Mountain were also in attendance and recognized for their contributions to the project, as well as Randolph Councilmembers Mark H. Forstenhausler, Christine Carey and Joe Hathaway.
Commissioner Shaw praised Morris Habitat for Humanity and Randolph Township for the undertaking, reflecting on the progress and challenges overcome in turning a former E.A. Porter industrial site on the border of Victory Gardens into a picturesque neighborhood of 25 townhomes that will enhance the surrounding residential community.
"The date was October 18, 2021, and it was the groundbreaking for this historic project, the largest in Habitat's 38-year history. It involved a redevelopment that would have been challenging even for a contractor like myself, and this was accomplished by volunteers—what an amazing accomplishment! Randolph's leadership also deserves credit for the vision and foresight they had to donate this property to (Morris) Habitat," said Shaw.
He continued, "So here we are, 4,000 volunteers and 18,000 hours later, a huge achievement for (Morris) Habitat and for the families that are going to be moving into these affordable, energy-efficient homes. I want to thank all the volunteers, donors, sponsors and staff. You are all the heart and soul of this organization and you have shown what can be done when we all work together towards a common goal."
The dedication ceremony of the 13 units and a community center marked completion of phase 1 of the project on Bennett Avenue that will provide affordable housing for low-to-moderate income families. The 25 units planned consist of seven 3-bedroom homes, fourteen 2-bedroom homes, and four 1-bedroom homes built across four buildings. First floor condominiums are ADA-accessible, and all buildings are ENERGY STAR certified for energy efficiency, EPA WaterSense certified for water efficiency and EPA Indoor AirPLUS certified for health protections. Residents will have access to a picnic area, play area, and a bike path to stores and restaurants on South Salem Street.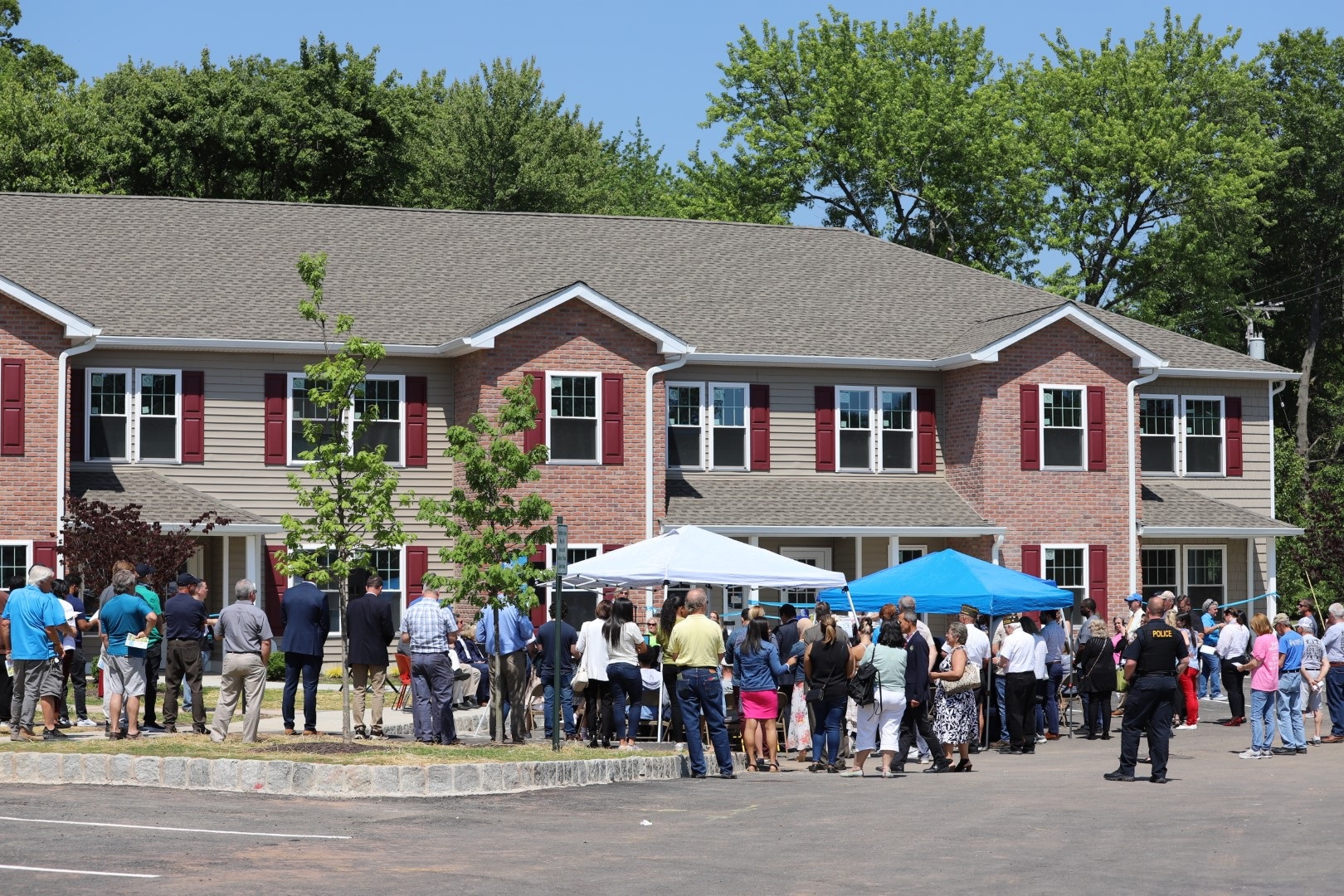 The 2.5-acre property was acquired by Randolph Township in 2008 through tax foreclosure and was donated to Morris Habitat. The township was responsible for environmental remediation, demolition of existing structures, site design, approvals and permitting. The project is being funded by the Randolph Township Affordable Housing Trust Fund, Community Funding Grant and HUD Funding SHOP Grant, along with additional funding from business sponsors including Bayer, Lakeland Bank, GAF and NJNG. Donations of construction materials and professional services have also been provided by various local businesses, organizations and individuals.
Morris Habitat for Humanity hosts a fundraising effort for the project that allows donors to buy bricks – each one 4-by-8 inches and costing $125 – that are used to create the pathways between the residential buildings into the new community. At their Senior Service Day in June 2021, the Mountain Lakes High School Class of 2021 raised over $10,000, and the Randolph High School Brick-by-Brick Campaign raised $7,500 in 2022. Anyone who wishes to contribute to the Buy a Brick fundraising campaign can purchase their own personalized brick on the Morris Habitat for Humanity website.
To date, 3,991 volunteers have donated 18,126 hours of time working to help to build the homes.
Photos
Photo 1:  The ribbon is cut to the satisfaction of 13 happy families. In the very back from left to right is Commissioner Shaw, Tom Hayes and Joe Hathaway. Senator Bucco is on the far right.
Photo 2: Deputy Director Myers speaks to a crowd of families and attendees at the ceremony.
Photo 3: Commissioner Shaw evokes a laugh from Blair Schleicher Wilson, chief executive officer of Morris Habitat for Humanity.
Photo 4: A crowd gathers outside one of two buildings that have been completely constructed for the Crossings at Bennett Avenue. The other two buildings are currently under construction.