originally published: 06/04/2023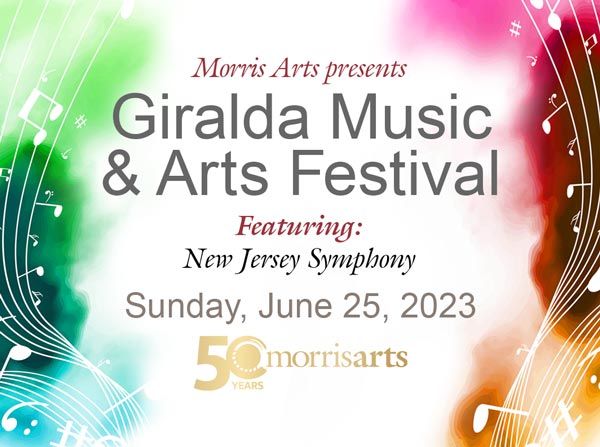 (MADISON, NJ) — Morris Arts invites you to join them in celebrating their 50th Anniversary at this year's Giralda Music & Arts Festival on Sunday, June 25th on the grounds of the Giralda Farms (Dodge Drive and Madison Ave./Rt. 124., Madison). Gates open at 3:00pm with a pre- show performance at 4:00pm and New Jersey Symphony performance at 6:00pm. Along with musical performances, there will be an art show and sale, children's activities, 50/50 raffle, and food trucks.
The New Jersey Symphony is also celebrating a big anniversary – its centennial! Their program features a medley of timeless classics including selections from Jurassic Park and West Side Story, William Grant Still's lively Festive Overture and so much more. An inspiring performance by Timothy Lien, winner of the New Jersey Symphony Youth Orchestra's Henry Lewis Concerto Competition, rounds out this concert of favorites the whole family will love.
New Jersey Symphony's Director of Marketing and Communications, Sarah Hornblower said, "We are thrilled to continue our long-standing partnership with Morris Arts and celebrate our milestone anniversaries at this year's Giralda Music & Arts Festival! It's always such a joy to bring orchestral music to the vibrant community of Madison at this beautiful outdoor setting."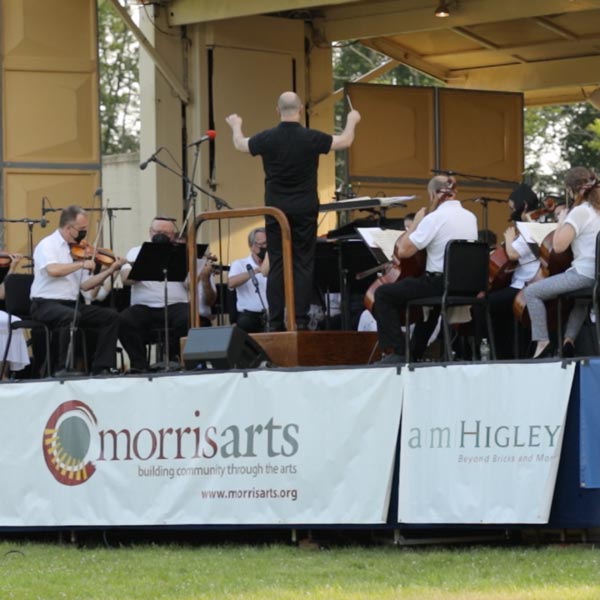 This year's pre-show performance is by The Tia Holt Experience. As a vocal powerhouse, Tia uniquely mixes and blends genres to taste and the recipe is truly intoxicating. She is the voice you need to hear and the experience you need to have.
Morris Arts' Executive Director, Tom Werder says, "Morris Arts is thrilled to kick off the summer with the 39th Giralda Music & Arts festival. We continue the celebration of our 50th Anniversary with this wonderful celebration of art and music for the whole family."


---
To add to the excitement, Morris Arts' 2023 Coladarci & Ehlers Scholarship winners will be presented their awards at the festival as well. This year's winners include visual artist Yiru Zhou of Chatham High School who will receive the Elaine Ehlers Scholarship and trumpeter Michael Minenna of Morris Knolls High School who will receive the Eugenie Coladarci Scholarship. Honorable mentions will also be presented to visual artist Iris Ferranti (Madison High School) and violinist Leah Kvares (Randolph High School).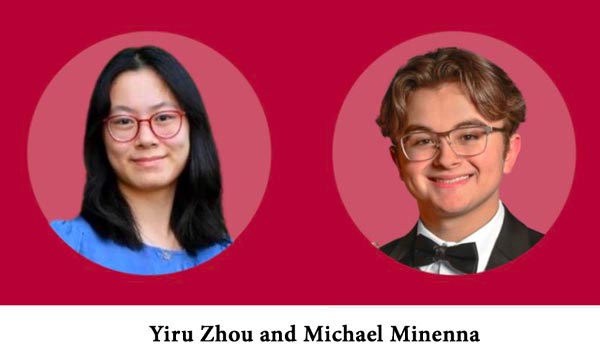 Tickets in advance are $20 for adults, $4 for children (12 years old and under), and free for children 4 years old and under. Group sales available for groups of 10 or more at $15 each per adult. Tickets at the gate/day of event increases to $25 for adults, $5 for children 12 and under.
Tickets are available for purchase online. In-person printed tickets are available at Mayo Performing Arts Center (MPAC) in Morristown.
This event is wheelchair accessible with handicapped parking. Individuals needing assistance with any other essentials should contact Jenna Castano, ADA Coordinator at jcastano@morrisarts.org at least 10 days prior to the event to ensure appropriate arrangements.
In the event of uncertain weather, please check the website www.morrisarts.org AFTER 12:00pm on the day of the concert for the latest updates. Rain location is to be determined.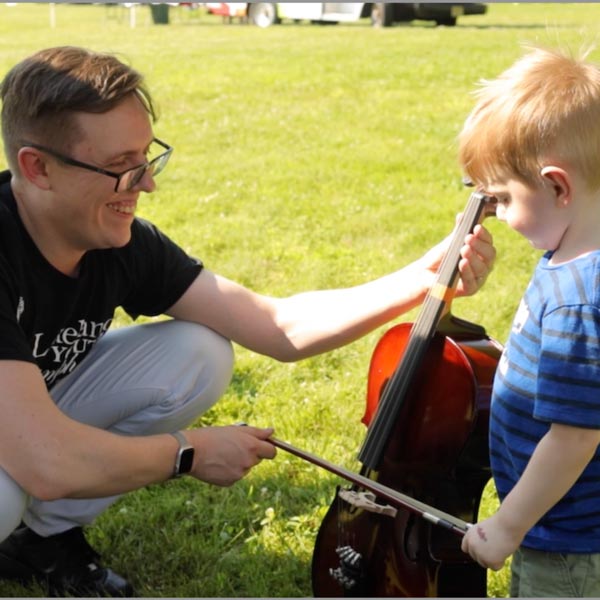 The New Jersey Symphony program includes:
John Stafford Smith/Damrosch | The Star Spangled Banner
Mikhail Glinka | Overture to Russlan and Ludmilla
Ludwig Spohr | Concerto in C Minor for Clarinet, Op. 26
George Walker | Lyric for Strings
Jose? Pablo Moncayo | Huapango
William Grant Still | Festive Overture
Advertise with New Jersey Stage for $50-$100 per month, click here for info
---
Florence Price | Colonial Dance
John Williams | Theme from Jurassic Park
Leonard Bernstein / arr. Jack Mason | Selections from West Side Story
Robert W. Lowden | Armed Forces Salute
John Phillip Sousa | Stars and Stripes Forever
All proceeds benefit Morris Arts programs and services provided to artists, art organizations, schools, and the community. Morris Arts thanks the following generous sponsors:
Maestro Sponsor: Frank & Lydia Bergen Foundation; Leader Sponsor: MetLife; Captain Sponsors: Broadridge, Finn Partners, PBF Energy, and P&K CPA's LLC; Community Sponsors: Morris County Park Commission Morris County Economic Development Corporation County of Morris The Township of Chatham Borough of Madison Mayo Performing Arts Center (MPAC); Giralda Property Sponsors: Open Spaces Management Association Inc. GRC Management Corp. Lincoln Equities LLC Giralda Farms RE LLC Linque Management Company, Inc. American Realty Capital 1 Giralda Farms LLC Onyx Management Group LLC Fazio Farms LLC 7 Giralda Venture LLC Bergman Real Estate Group Atlantic Health System AHS Hospital Corp.
Morris Arts, located in Morristown, NJ, is a not-for-profit organization founded in 1973 dedicated to building community through the arts. Using the arts to inspire, connect, and engage, Morris Arts serves as a resource for Morris County with a special focus on arts programming in the schools and in the community, arts advocacy, creative placemaking, and support of the Morris Area community of artists and arts organizations.
ART | COMEDY | DANCE | MUSIC | THEATRE | COMMUNITY
NEW JERSEY SYMPHONY: TCHAIKOVSKY'S VIOLIN CONCERTO
Sunday, June 04, 2023 @ 3:00pm
State Theatre New Jersey
15 Livingston Avenue, New Brunswick, NJ 08901
category: music
---
Brian Betz & Jon Barnes
Sunday, June 04, 2023 @ 3:00pm
Grunin Center – Studio Theater
1 College Drive, Toms River, NJ 08754
category: music
---
Possum Kingdom and Five, Four, Three, Two – Online for 24 Hours!
Sunday, June 04, 2023 @ 12:00am
NJ Film Festival
71 Hamilton Street, New Brunswick, NJ 08901
category: film
---
Short Program #2: Gutter, Danceable, Circle, Balaena, The Sprayer, Light Leak, Circle – Online for 24 Hours and In-Person at 5PM
Sunday, June 04, 2023 @ 5:00pm
NJ Film Festival
71 Hamilton Street, New Brunswick, NJ 08901
category: film
---
MPAC's 9th Annual Spring Musical Production: Matilda
Sunday, June 04, 2023 @ 2:00pm
Mayo Performing Arts Center (MPAC)
100 South Street, Morristown, NJ 07960
category: theatre
---
SOMA backStage Reading Series, New Play: STILL by Lia Romeo
Sunday, June 04, 2023 @ 7:30pm
South Orange Performing Arts Center (SOPAC)
One Sopac Way, South Orange, NJ 07079
category: theatre
---
SOMA backStage Reading Series, New Musical: REVIVAL by Chris Miller & Nathan Tysen
Sunday, June 04, 2023 @ 3:00pm
South Orange Performing Arts Center (SOPAC)
One Sopac Way, South Orange, NJ 07079
category: theatre
---
"The Rose Tattoo" By Tennessee Williams
Sunday, June 04, 2023 @ 2:00pm
Shakespeare Theatre Of NJ – F.M. Kirby Shakespeare Theatre
36 Madison Avenue, Madison, NJ 07940
category: theatre
---
---
For more event listings, click here
---