A triple threat of air quality, wildfire and costal flooding concerns has the Philadelphia region warned Tuesday.
The National Weather Service's Mt. Holly office put out a Code Orange Air Quality Alert in Pennsylvania and Delaware; a Red Flag Warning for New Jersey, Philadelphia, the Pennsylvania suburbs and Lehigh Valley; and a coastal flooding alert throughout coastal New Jersey and southern Delaware.
Here's what you need to know to keep you and your family safe:
Code Orange Air Quality Alert 😷
A haze could be seen as the sun rose Tuesday morning over the Philadelphia region.
The hazy wildfire smoke over Philadelphia and the surrounding communities is coming from wildfires burning in Quebec, Canada, and leading to decreased air quality in the form of a Code Orange Alert for sensitive groups.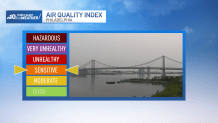 "A code orange air quality alert means that air pollution concentrations within the region may become unhealthy for sensitive groups, according to the National Weather Service. "Sensitive groups include children…people suffering from asthma… heart disease or other lung diseases…and the elderly. The effects of air pollution can be minimized by avoiding strenuous activity or exercise outdoors."
The wildfire haze is expected to hang around for much of the day.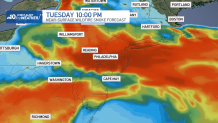 Red Flag Warning in New Jersey, Pennsylvania 🚩
The lack of significant rainfall recently plus gusty, dry winds Tuesday afternoon have led to a Red Flag Warning that comes with tips to avoid potentially sparking a blaze.
"Much of our area has not received a widespread wetting rainfall in over 5 weeks," the National Weather Service said. "Use extreme caution when handling any ignition sources (Tuesday)."
Smokers should not flick cigarettes onto the ground, people shouldn't use open flames and cars should be kept off dry grass.
There's a chance of storms in the afternoon capable of producing lightning, which could trigger fires with all other elements in place for such conditions to occur, NBC10 meteorologist Marvin Gomez said.
"Any fires that develop may quickly get out of control and become difficult to contain," the weather service warned.
A coastal flooding threat 🌊
There is a chance for isolated coastal flooding in parts of Delaware and along coastal communities in New Jersey from 9 p.m. Tuesday to 3 a.m. Wednesday.
The flood threat remains in the forecast for the rest of the week, especially during high tides. So, expect more advisories.
As always, keep ahead of any weather threat by getting alerts on the NBC10 app (download it now), on NBC10.com and on NBC10 News.