originally published: 06/10/2023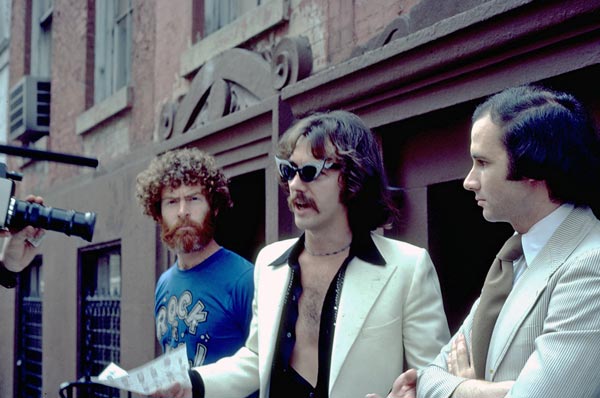 The 2023 New Jersey International Film Festival brings with it the seventh and eighth episodes in the ongoing oral history series: Joey Skaggs Satire and Art Activism, 1960s to the Present and Beyond, directed by Judy Drosd and Joey Skaggs.
Joey Skaggs – aka Giuseppe Scaggoli – has tackled lasting and pressing societal issues from gentrification to ecocide and beyond since the 1960s. Skaggs has been interested in art throughout his life, including a focus on painting and sculpture; but the episodes screening at the festival focus on the satiric performances that make up Skaggs' career, gaining both controversy and critical acclaim. His protest art invokes methods of culture jamming, which is a rebellion tactic used to "disrupt or subvert media culture and its mainstream cultural institutions". 
The first episode that will be screening is Joey Skaggs: Celebrity Sperm Bank. Taking place in 1976, it mocks the cult of celebrity by "holding a celebrity sperm bank auction where interested parties could bid on sperm from famous rock stars and other notables. Unfortunately, just before the auction was to start, the sperm was stolen". This stunt involved avid fans, both real and fake, who clustered outside the bank for a chance to carry a mysterious superstar's child. It even garnered a police presence as well as media attention, with Skaggs' staged production never being doubted as false, thus mocking the radio shows, magazines, and TV specials that ran the story of the sperm bank as a nonfictional, true incident. Though this event took place almost 50 years ago, it highlights an issue that remains concerningly prevalent today – the growing amount of parasocial relationships towards celebrities in addition to the media's obsession with famous people and their sex lives. Furthermore, the satiric performance of the sperm bank involved a bogus ransom note composed of cut out magazine letters, written from the fictional persona of the robber of the sperm. At the time, serial killers and their coded messages were topical and national news, another issue that has remained glamorized and unethically covered by the press to this day.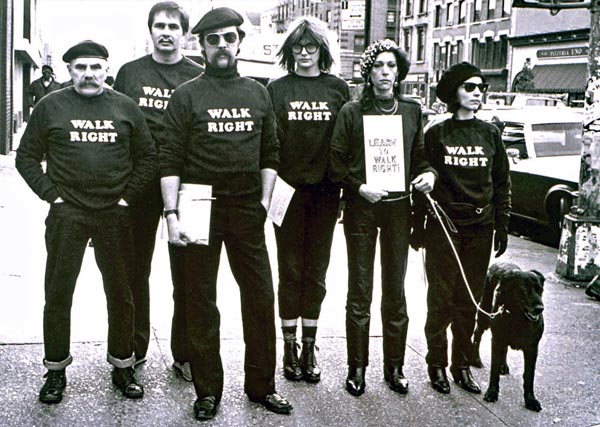 The second episode that will be screening is Joey Skaggs: Walk Right. Occurring in the 1980s, Skaggs and his counterparts don the image similar to other activists of the time, like the Black Panthers, but with a bit more humor. The episode details the "Walk Right Commandos" as they "set out to establish law and order" in the "wild and unruly streets of New York City". Calling themselves vigilantes and wearing a uniform of all-black and berets, Skaggs teases the extreme nature of fascistic groups. The performance artists patrolled the pavements of the infamous city with a petition that listed sixty-six various rules for pedestrians about how to walk right. With regulations such as "No short people with umbrellas unless held at minimum height of 5' 10"", etc., various news organizations such as WOR TV Channel and CNN covered the event. Though this movement might seem like an obvious hoax upon reflection, the notion of extremist groups caring over trivial matters is a topic that has always been a part of American history and culture. It is therefore no wonder that news organizations believed the story, although Skaggs is boldly commenting on the fact that media as a cultural institution rewards those who fight for things, no matter how small, with fervent intensity.


---
Ultimately, it may seem easy to write off Skaggs' performances as just jokes, yet doing so would not only be a grave mistake but would undermine the significance of parody as a powerful form of protest. Joey Skaggs is an artist, but beyond that – an activist – whose work has not only remained relevant in our society but gives the media institution and culture industry a taste of its own medicine. The episodes of Skaggs' satire stunts are not only an important watch, but a fun and enjoyable viewing of brief moments of historical history that are sure to provide a laugh. 
Joey Skaggs: Celebrity Sperm Bank & Walk Right screen at the 2023 New Jersey International Film Festival on Sunday, June 11 as part of Shorts Program #3. The film will be available Online for 24 Hours on this date. Buy tickets here.
Advertise with New Jersey Stage for $50-$100 per month, click here for info
---
ART | COMEDY | DANCE | MUSIC | THEATRE | COMMUNITY
JESUS CHRIST SUPERSTAR
Saturday, June 10, 2023 @ 2:00pm
State Theatre New Jersey
15 Livingston Avenue, New Brunswick, NJ 08901
category: theatre
---
JESUS CHRIST SUPERSTAR
Saturday, June 10, 2023 @ 8:00pm
State Theatre New Jersey
15 Livingston Avenue, New Brunswick, NJ 08901
category: theatre
---
New Voices, New Visions: AKENYA
Saturday, June 10, 2023 @ 8:00pm
South Orange Performing Arts Center (SOPAC)
One Sopac Way, South Orange, NJ 07079
category: music
---
New Jersey Symphony presents Season Finale with Joshua Bell
Saturday, June 10, 2023 @ 8:00pm
Count Basie Center for the Arts
99 Monmouth Street, Red Bank, NJ 07701
category: music
---
Soultown to Motown
Saturday, June 10, 2023 @ 8:00pm
Carteret Performing Arts Center
46 Washington Ave, Carteret, NJ 07008
category: music
---
Passaic County Book Festival
Saturday, June 10, 2023 @ 11:00am
Weasel Brook Park
745 Park Drive
, Clifton, NJ 07012
category: community
---
Joey Alexander
Saturday, June 10, 2023 @ 8:00pm
McCarter Theatre Center (Berlind Theater)
91 University Place, Princeton, NJ 08540
category: music
---
Healing Waters Film and Dancing Without Steps: The Art of Improvisation with Margaret Beals – Online for 24 Hours and In-Person at 5PM
Saturday, June 10, 2023 @ 5:00pm
NJ Film Festival
71 Hamilton Street, New Brunswick, NJ 08901
category: film
---
---
For more event listings, click here
---