originally published: 06/11/2023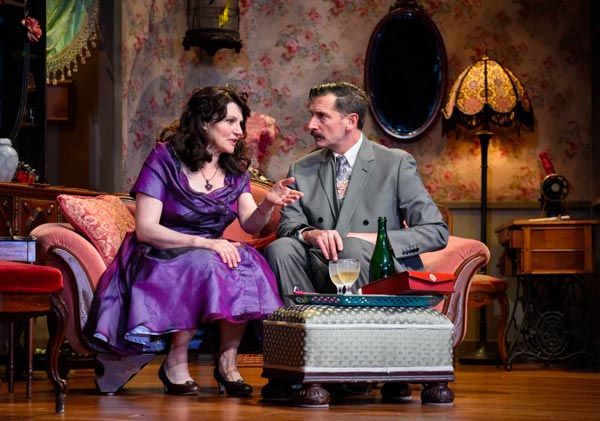 Pictured: Antoinette LaVecchia and Anthony Marble. Photo by: Sarah Haley
The Shakespeare Theatre of New Jersey opens their 2003 season with a classic from Tennessee Williams titled The Rose Tattoo. The production is an outstanding play to see due to several factors and the direction by Bonnie Monte. In her Director's Notes, Monte writes that she was fortunate to have an opportunity to work with Tennessee Williams in 1981 and 1982 shortly before he died. She writes, " He has influenced my life in the theatre more than any other playwright besides Shakespeare. The Rose Tattoo is Tennessee's homage to love and life, and this production is my grateful homage to him."
The story is well told with good pacing so there is not a slow moment in the 2,5 hour show. A strong group of actors give superb performances. The set helps to develop the story and allows the characters to show their various states of emotions. Overall, this is a wonderful way to begin the 2023 series at The Shakespeare Theatre of New Jersey.
Background about The Rose Tattoo
Tennessee Williams wrote The Rose Tattoo in 1949 – 1950. It was first presented in Chicago in 1950 with Maureen Stapleton playing the lead role.
The play opened on Broadway at the Martin Beck Theatre on February 3, 1951 where it ran until October 27, 1951 after 306 performances. The Rose Tattoo received six Tony Awards including Best Play, Set Design, Author of a Play, Featured Actor (Eli Wallach) and Featured Actress (Maureen Stapleton). It has been revived on Broadway three times: 1966, 1995, and 2019.


---
In 1955, a film adaptation was produced starring Burt Lancaster and Anna Magnani who won an Academy Award for Best Actress.
The Story of The Rose Tattoo
The story centers on Italian/American Serafina Delle Rose who is deeply in love with her husband Rosario. She married him when she was a very young teenager (approx. 14) and they have one child, Rosa, who is 12 years old. There appears to be a lusty relationship between the two and Serafina is pregnant with her second child as the play begins. Rosario has a tattoo of a rose on his chest and Serafina claims that she knows she has conceived because the tattoo appears on her as well.
Rosario has an accident and is killed causing Serafina to miscarry her child. The tattoo also disappears. Rosario's death pushes Serafina into unbearable grief.
The next part of the play is three years later and Serafina is still in deep mourning for her husband, Although she continues to be a seamstress, she wears the same night clothes and a robe day after day. Her daughter, now 15, is preparing to graduate from high school and she has a sailor boyfriend., Jack. Her mother does not want her to see this man. Many of Serafina's customers arrive to pick up dresses she made for their graduation. She agrees to go to see her daughter graduate.
Enter next Alvaro, a charismatic man who also works driving a truck like Rosario did. Perhaps that connection is what makes them click instantly and very quickly they become involved. Serafina invites him to come for dinner, Suddenly, Serafina is able to dress in pretty clothing as Alvaro arrives also sporting a rose tattoo. They spend the night together. When Rosa returns from her evening out with Jack, the sailor, Alvaro mistakes her for Serafina and a near disaster is averted.
As the play ends, Rosa leaves the house to go to meet Jack and marry him before he ships out to sea. Serafina forgives Alvaro. She announces she is with child again and mentions another appearance of a rose tattoo on her. She feels certain she has again conceived a child.
A Strong Group of Actors
There are 16 actors who deliver performances in The Rose Tattoo. Some are in groups outside of Serafina's house and others are the customers who use her sewing services. All of the players are marvelous and at times cluster together to show themselves as a community.
However, the major parts include:
Antoinette LaVecchia who gives a stunning performance as Serafina. She does a remarkable job of portraying a woman who suffers from extreme grief to a woman who longs for the company of a man. Her suffering and grief are heartfelt but sad to see that it is only having a man in her life to make it worthwhile. She places her grief onto her daughter not allowing her the joys of growing up.
Advertise with New Jersey Stage for $50-$100 per month, click here for info
---
Billie Wyatt plays daughter Rosa. She does an outstanding job of bringing out the longing this young girl would experience first losing her father and then in many ways also losing her mother as she grieves. Her desire to live her own life is well portrayed and we root for her as she leaves the house to go to her boyfriend, Jack. She is only shown as being 15 in this play and in many ways this is sad to see how young she is and the limited life she seeks out.
Anthony Marble plays Alvaro Mangiacavallo who is quite a character in the midst of this grief. Perhaps it takes a personality like Alvaro to bring someone back from their grief. Marble plays it show, but makes it clear that he desires Serafina. Why does she fall so quickly for him? Perhaps its because of the similarity he has to her late husband. Serafina's ties to her old ideas and old ways of life will only allow someone like this character to penetrate her strong hold on the past.
Setting
The setting for this play is Serafina's house. The Shakespeare Theatre always does a good job designing their sets and this one is no exception. Audiences will see most of the house except the bedroom. And that ties well into the privacy involved with the intimacy shared by the man and woman.
One very prominent area is in the living/dining room where a statue of the Blessed Mother is on display. Lighting shines on it throughout the show making it a center piece of the house.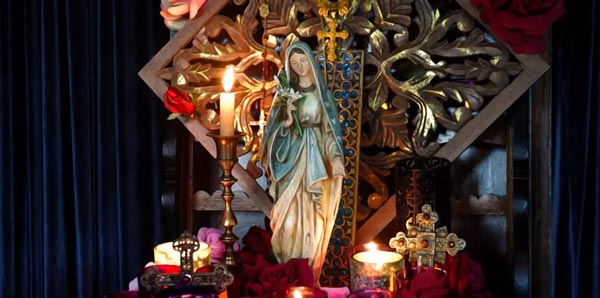 NOTE: Photo comes from The Shakespeare Theatre of New Jersey's website.
The location of the house is on the edge of the Gulf Coast somewhere between New Orleans and Mobile – 1951 – 1954. It is an Italian/Sicilian colony. The bond between people who live here which comes through in the play.
Going to See The Rose Tattoo
The Rose Tattoo runs now through June 18, 2023 at the F.M. Kirby Shakespeare Theatre in Madison, NJ. Tickets are available through the Theatre's website or directly in person at the Box Office. You may also call the Box Office at 973-408-5600.
Cost saving options are available including $15 student rush tickets which are available 30 minutes prior to each performance with a valid Student ID. There are a limited number of Pay What You Can tickets available on a first-come, first-serve basis. The 30 under 30 option offers $30 tickets for patrons under age 30 with a valid ID. 10% discounts for available for members of PBS/Thirteen and AAA.
---
Let's Go to the Theater helps people learn more about about live theater and develop appreciation for this art form. Karen M. Nowosad is the founder of the site. The enjoyment Karen gets from going to the theater is something she wants to share with others.
---
ART | COMEDY | DANCE | MUSIC | THEATRE | COMMUNITY
JESUS CHRIST SUPERSTAR
Sunday, June 11, 2023 @ 2:00pm
State Theatre New Jersey
15 Livingston Avenue, New Brunswick, NJ 08901
category: theatre
---
Jeff Boyer's Big Bubble Bonanza
Sunday, June 11, 2023 @ 2:00pm
Bergen Performing Arts Center (bergenPAC)
30 North Van Brunt Street, Englewood, NJ 07631
category: kids
---
Reading is LOVE: Fathers for Early Childhood Literacy and Hedgehog – Online for 24 Hours and In-Person at 5PM
Sunday, June 11, 2023 @ 5:00pm
NJ Film Festival
71 Hamilton Street, New Brunswick, NJ 08901
category: film
---
Tommies, Joey Skaggs, Demi-Gods, A Thief, Deadline, Unusual Interlude, Misprint – Online for 24 Hours
Sunday, June 11, 2023 @ 12:00am
NJ Film Festival
71 Hamilton Street, New Brunswick, NJ 08901
category: film
---
Stargazer and Meet Cute – Online for 24 Hours and In-Person at 7PM
Sunday, June 11, 2023 @ 7:00pm
NJ Film Festival
71 Hamilton Street, New Brunswick, NJ 08901
category: film
---
Tony Awards Viewing Party
Sunday, June 11, 2023 @ 7:00pm
South Orange Performing Arts Center (SOPAC)
One Sopac Way, South Orange, NJ 07079
category: theatre
---
"The Rose Tattoo" By Tennessee Williams
Sunday, June 11, 2023 @ 2:00pm
Shakespeare Theatre Of NJ – F.M. Kirby Shakespeare Theatre
36 Madison Avenue, Madison, NJ 07940
category: theatre
---
"The Rose Tattoo" By Tennessee Williams
Sunday, June 11, 2023 @ 7:30pm
Shakespeare Theatre Of NJ – F.M. Kirby Shakespeare Theatre
36 Madison Avenue, Madison, NJ 07940
category: theatre
---
Songs For A New World
Sunday, June 11, 2023 @ 3:00pm
Fellowship Hall at Morristown United Methodist Church
50 South Park Place, Morristown, NJ 07960
category: theatre
---
Christopher Taylor
Sunday, June 11, 2023 @ 4:00pm
Festival Performance Pavilion at Morven Museum & Garden
55 Stockton Street, Princeton, NJ 08540
category: music
---
Jazz Arts Academy Spring Showcase
Sunday, June 11, 2023 @ 12:00pm
The Vogel
99 Monmouth Street, Red Bank, NJ 07701
category: music
---
AUGUST WILSON'S JITNEY
Sunday, June 11, 2023 @ 4:00pm
Middletown Arts Center
36 Church Street, Middletown, NJ 07748
category: theatre
---
---
For more event listings, click here
---