originally published: 06/14/2023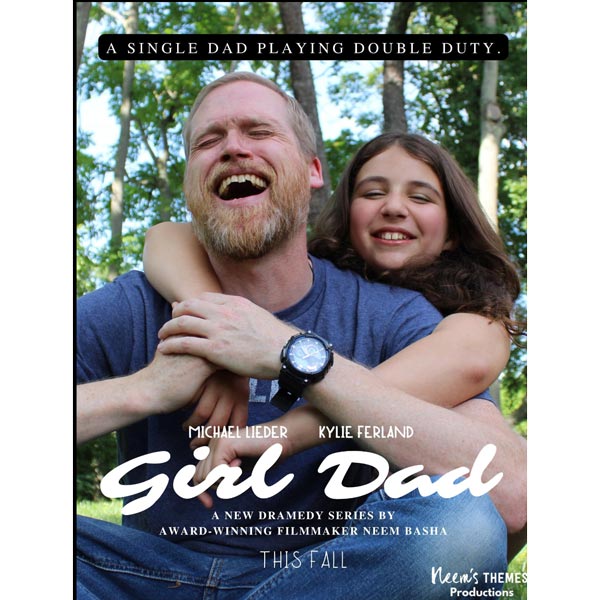 (MARLBORO, NJ) — Neem's Themes Productions announces the New York City premiere of its series Girl Dad will be screened at the Manhattan Film Festival on Saturday, June 17, 2023, at 7:00pm. The screenings takes place at NYC's Cinema Village.
Girl Dad is a light-hearted family dramedy starring stage actress Kylie Ferland as Olivia Simpson, and Michael Lieder as Kevin, the titular character working hard to raise Olivia on his own following the passing of his wife. The episodes that are screening in Manhattan also feature Nicole Guilbault as Olivia's aunt.
The series has already made its way to five continents, including screenings at the New Zealand Web Festival, Rio Web Festival, Apulia Webfest, die Seriale (in Germany), Asia Web Awards, and Baltimore Web Festival. At these festivals, Girl Dad has so far amassed over 15 nominations worldwide and won four awards.
Girl Dad creator and executive producer Neem Basha is no stranger to the film festival world; he has won dozens of awards globally for other projects and he runs his own international film festival, the New Jersey WebFest. 
"This series has been a joy to film. It's fantastic to see it get so many accolades this early in the process," said Basha. "I'm proud of my team, and I look forward to leading Girl Dad to big things in the coming years. This acceptance into the phenomenal Manhattan Film Festival is our first local screening since we started submitting the series last fall, so we are excited to have family and friends join us for the premiere of Episodes 1, 2, and 3."


---
Season One of Girl Dad is still in production; concurrent with that schedule, the completed episodes of the series are touring the festival circuit.
"I'm submitting to festivals as we get episodes in the can," said Basha. "The goal is to create an international buzz about the series before it's even released to the public, which we will do once we complete Season One."
The week after the Manhattan Film Festival, Basha says the series will get back on set and introduce new characters portrayed by Anthony J. Gallo (whose résumé includes Boardwalk Empire, Chuck, The Irishman, and Men in Black 3), Erica Becker, and Jake Basha.
Advertise with New Jersey Stage for $50-$100 per month, click here for info
---
ART | COMEDY | DANCE | MUSIC | THEATRE | COMMUNITY
"The Rose Tattoo" By Tennessee Williams
Wednesday, June 14, 2023 @ 7:30pm
Shakespeare Theatre Of NJ – F.M. Kirby Shakespeare Theatre
36 Madison Avenue, Madison, NJ 07940
category: theatre
---
Broadway's Next Hit Musical
Wednesday, June 14, 2023 @ 7:00pm
Festival Performance Pavilion at Morven Museum & Garden
55 Stockton Street, Princeton, NJ 08540
category: music
---
Free Summer Event: MPAC Music Student of the Month Recital
Wednesday, June 14, 2023 @ 6:00pm
Mayo Performing Arts Center (MPAC) – Vail Mansion Plaza
110 South Street, Morristown, NJ 07960
category: music
---
Basie Center Community Juneteenth Celebration
Wednesday, June 14, 2023 @ 6:30pm
The Vogel
99 Monmouth Street, Red Bank, NJ 07701
category: music
---
Trace Adkins: Somewhere In America Tour
Thursday, June 15, 2023 @ 8:00pm
Bergen Performing Arts Center (bergenPAC)
30 North Van Brunt Street, Englewood, NJ 07631
category: music
---
We Hate Movies – Live Podcast Recording of The Birdcage
Thursday, June 15, 2023 @ 7:30pm
State Theatre Studio
15 Livingston Avenue, New Brunswick, NJ 08901
category: film
---
The Disco Biscuits
Thursday, June 15, 2023 @ 7:30pm
Count Basie Center for the Arts
99 Monmouth Street, Red Bank, NJ 07701
category: music
---
"The Rose Tattoo" By Tennessee Williams
Thursday, June 15, 2023 @ 8:00pm
Shakespeare Theatre Of NJ – F.M. Kirby Shakespeare Theatre
36 Madison Avenue, Madison, NJ 07940
category: theatre
---
---
For more event listings, click here
---