Published on June 16, 2023
31st Annual Signature Event Showcases African American Art in the Atrium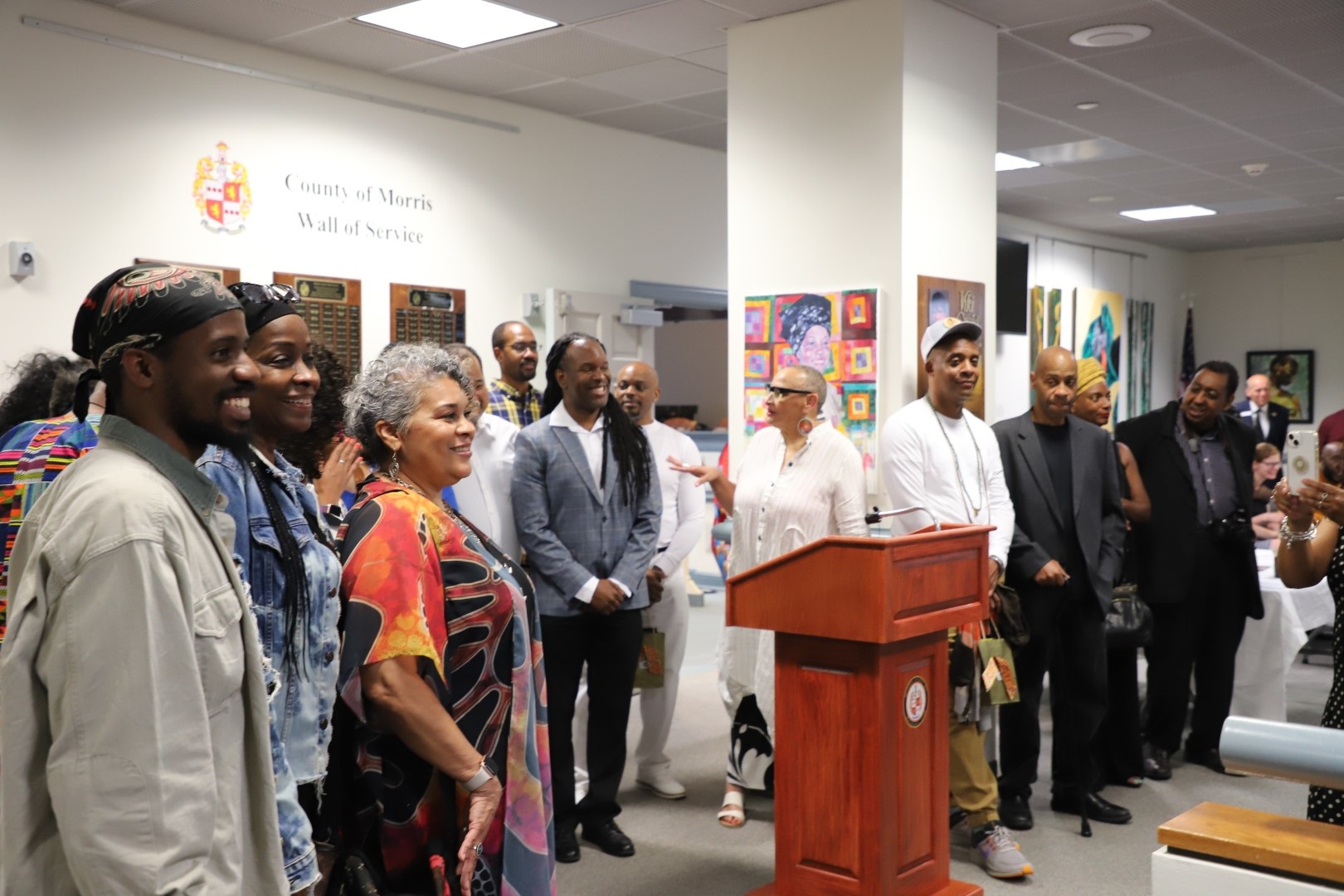 Morris County kicked off a weekend of Juneteenth celebrations last night with a public reception for "Black Art in the Sun", the 31st annual exhibit of African American art presented by Art in the Atrium (ATA) and the County Commissioners in the galleries of the Administration and Records Building. 
"In 1991, my father, a practicing attorney in Morristown, spent a good amount of time here in the Administration and Records Building… My parents, along with their friends Artie and Jackie Bolden of Whippany, and Earl and Erin Shaw of Harding—cofounders of Art in the Atrium—knew the importance of the art displayed here to be reflective of the diverse community in Morris County. They put up a Black History Month exhibit in January of 1992. They thought that show would just be a one and done… 31 years later, we are now the largest exhibitor of Black fine art in New Jersey," said Simone Craig, CEO of ATA.
ATA's signature exhibit, which has become the largest African American art show in the state, was set up last month to showcase a total of 222 artworks by 55 established and emerging artists whose work will be on display until August 18. The exhibition was made possible in part by funds from the Morris County Commissioners, as well as Morris Arts through the New Jersey State Council on the Arts/Department of State, a Partner Agency of the National Endowment for the Arts.
This year's featured artist Ron E. A. Powell aka "REAP"—whose parents were Jamaican farmers and named him as such to be a reminder "to reap what you sow"—has 75 pieces featured in the exhibit.
"The title for this year's exhibit 'Black Art in the Sun' speaks volumes in symbolisms and analogies, one being African American art having a true presence and freedom to shine in this world. I believe my artwork, the amazing artwork of my fellow artists, and everyone's presence here encompasses the word 'connection'," said Ron E. A. Powell.
This Atrium reception launched a weekend of Juneteenth events and activities presented by a partnership of local nonprofit organizations that includes a Juneteenth Party Celebration at Morris Museum on Friday, June 16th and a Freedom Day Festival on the Morristown Green on Saturday, June 17th.
View More Photos on Morris County's Flickr Account
"Juneteenth is recognized because on June 19th, 1865, the Union Army entered Galveston, Texas and brought the word of the Emancipation Proclamation to the last enslaved people from what President Lincoln had issued on January 1, 1863," stated Commissioner Director Krickus. "But there is a piece of Black History related to Memorial Day that maybe is not so widely known."
He continued, "In Charleston, South Carolina, there is a place called The Raceway with a clubhouse that was owned by wealthy plantation owners, and they kept Union officers as prisoners there (during the Civil War)—260 of whom had died and whose graves were there. On May 1, 1865, in perhaps the first recognition of Decoration Day as it was called before Memorial Day, 10,000 newly freed slaves including 3,000 women and children went to the graves with flowers, with songs, with prayers, to honor those Union soldiers who had died… Is there anything in American life that African Americans have not had an impact on?"
The Atrium Art Gallery is free and open to the public during regular business hours, 8:30am-4:30pm, Monday through Friday and until 7:30pm on Thursdays. The exhibit remains in place until August 18, 2023.
In addition to Ron E. A. Powell, there are 54 more talented artists works are on display: Gwendolyn Barrington-Jackson, Sid Blaize, Anthony Boone, Joseph Boss, Tasha Branham, Leroy Campbell, Patricia Coleman-Cobb, Brian Collier, Harold Davis, Eddie Debos, Brandie Dickens, Antoinette Ellis-Williams, Stephen B. Ellis, Maria Estrela, Jay Golding,B. Curtis Grayson III, Serron Green, David A. Hollowell, Tenjon Ikeda, Bailey Li, Cathleen McCoy Bristol, Courtney Minor, Mansa K. Mussa, Jamarr Neyland, Rosalind Nzinga Nichol, Sage Ofray, Samad Onque, Suliman Onque, Yvonne Onque, Anu Oro, Cynthia Northington Purdie, Cheryl Riley, Gina Rivas-Velasquez, Red Red, Alicia Robinson, Philip Robinson, Amira Rogers, Akil Roper, Theda Sandiford, Fausto Savila, Serron, Fin'es Scott, Jonte Silver, Timothy Simmons, Glendora Simonson, Veronica Spruill, Bleriot Thompson, Dawn Tighe, William Tolliver, Denise Toney, Cynthia Vaughn, Bisa Washington, Lydia Watson, and Heather Williams.
Most of the artworks are available for sale, with details and pricing provided in the free catalogues available in the elevator lobby areas on each floor. The catalogue also is available online at morrisarts.org.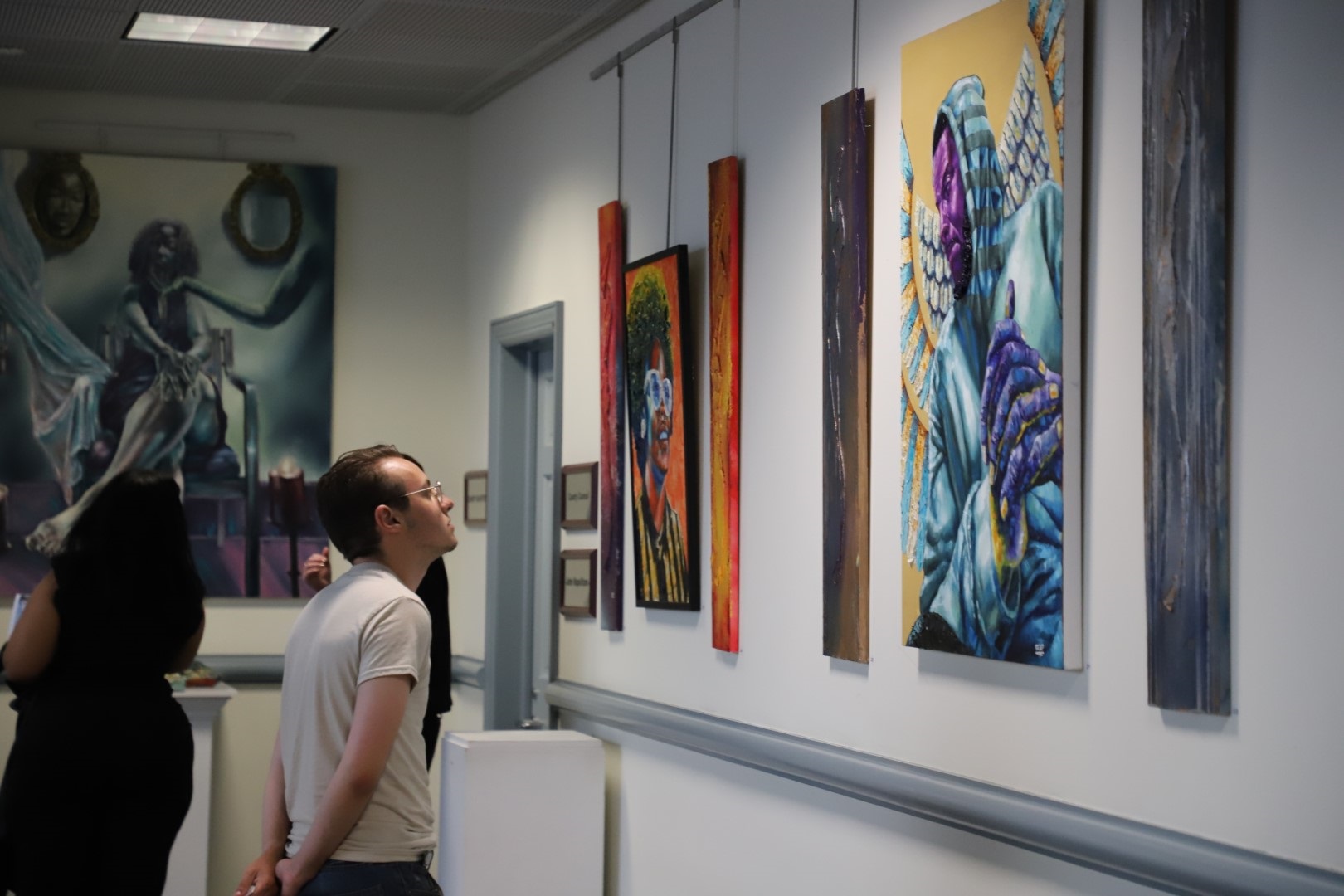 Morris Arts is a not-for-profit organization founded in 1973 dedicated to building community through the arts. Using the arts to inspire, connect and engage, Morris Arts serves as a resource for Morris County with a special focus on arts programming in the community and in the schools, arts advocacy, and support of the Morris Area community of artists and arts organizations.
Art in the Atrium, Inc. (ATA) is a non-profit, Black-led cultural institution founded in Morristown, New Jersey in 1991 whose mission is "to articulate the value of Black visual arts and its role in culture." It supports and invests in Black fine art and artists by giving them visibility and a creative space to breathe. For more information, visit artintheatrium.org.
Photos
Photo 1:  A group shot of the artists who have work exhibited at Art in the Atrium. Ron E. A. Powell is standing in the middle in the blue blazer (behind the podium).
Photo 2: A few attendees standing in the vicinity of some of Ron E. A. Powell's artwork on display on the 5th floor of the Administration and Records Building at 10 Court Street.
Photo 3: (l-r) Commissioner Director John Krickus and Ron E. A. Powell.
Photo 4: A visitor takes a moment with one of Ron E. A. Powell's pieces.