originally published: 06/15/2023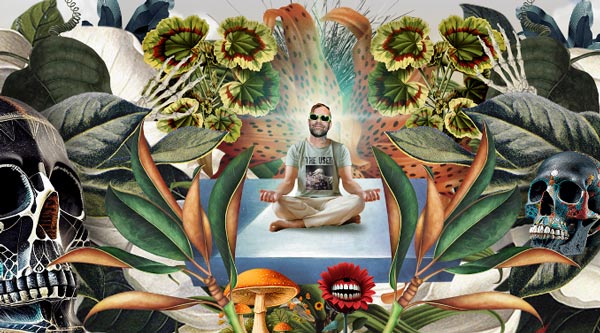 The Used have shared new a new animated music video for "Giving Up". Directed by digital artist Gabriel Russo, the video takes us on an introspective journey across the imaginative landscapes of Bert McCracken's psyche. Swallowed by the earth, various animals, and caricatures of McCracken, viewers are transported through a colorful sequence of galaxies and deserts. Russo's cut-out animations pair seamlessly with the visual imagery stitched into "Giving Up" as viewers spot moonlight in darkness and flowers in the dirt. At its core, the video illustrates the mental frenzy in finding silver linings among the chaos.
The "Giving Up" animated music video is produced by RUN ZËBRA RUN, motion designed by Luis Mejía and André Leite, and art directed by Løpz and G. Queiroz.
Fans can stream "Giving Up" at https://theused.ffm.to/givingup
"We are really happy with the art RUN ZËBRA RUN created for our "Giving Up" music video," the band shares. "It's very original and different for The Used, but still feels very on point for us. Enjoy the ride."
"Giving Up" is one of eleven new tracks on The Used's newest album, Toxic Positivity. Described as a "day-in-the-life journey of a depressed, anxiety-ridden person" by vocalist Bert McCracken, the tell-all record shares the highs and lows of depression and addiction through a cohesive body of work, speaking to the ever-changing headspace that he was experiencing at the time of writing. "This record is quite tough for me to listen to," he adds, "because it's a reflection of times in my life that have been some of my lowest ever."


---
The album has gained notice by outlets like Loudwire, KNOTFEST, New Noise Magazine, Lambgoat, Alternative Press, Celeb Secrets, and more, and "Giving Up" is currently in rotation on SiriusXM's Alt Nation.
Fans can stream Toxic Positivity now at https://theused.ffm.to/toxicpositivity
The Used is currently on the road with Pierce The Veil on the Creative Control Tour. For a full list of tour dates and more details on how to purchase tickets, please visit https://theused.net/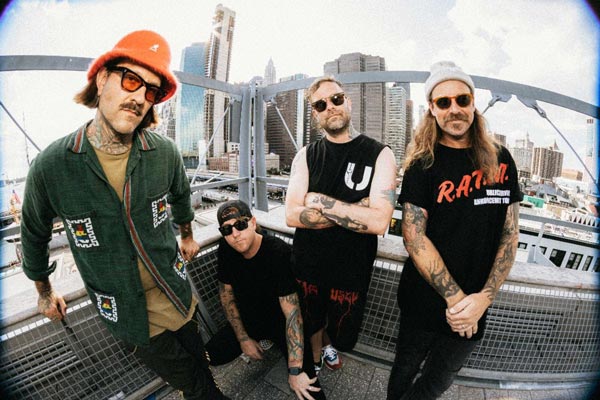 Photo by Anthony Tran
For as long as he can remember, McCracken has used music as an outlet to lay bare his innermost thoughts and emotions. For 23 years, that writing has enabled The Used to deeply resonate with fans the world over. Exploding off the back of universally adored rock anthems such as "The Taste Of Ink," "Take It Away" and "Pretty Handsome Awkward," the many millions of streams and record sales (including the platinum-certified The Used and In Love And Death) their career has yielded are one thing; the human connection formed between artist and audience is priceless, however. To that end alone, The Used can consider themselves four of the luckiest and richest men in music.
Toxic Positivity speaks of the strength of the band's collective collaboration and also their innate, unquenchable thirst to create. "I think we have no choice but to write and write and write," says McCracken. "It has always just been in us, and we've had to get it out. I read a quote once that said you either work your entire lifetime on four great pieces, or you write thousands of pieces and become great that way. Everything that we feel, I think it always makes for a good song."
In that regard, McCracken is humble to a fault, for the simple fact that the songs within Toxic Positivity are far more than merely good songs. They mark the latest chapter in a truly great career. And, like those that have come before them, they will truly matter. 
The Used is Bert McCracken (Vocals), Jepha (Bass), Dan Whitesides (Drums) and Joey Bradford (Guitar).
ART | COMEDY | DANCE | MUSIC | THEATRE | COMMUNITY
MANHATTAN COMEDY NIGHT JUNE
Friday, June 16, 2023 @ 8:00pm
Mayo Performing Arts Center (MPAC)
100 South Street, Morristown, NJ 07960
category: comedy
---
Keb' Mo'
Friday, June 16, 2023 @ 8:00pm
Bergen Performing Arts Center (bergenPAC)
30 North Van Brunt Street, Englewood, NJ 07631
category: music
---
Doo Wop Project
Friday, June 16, 2023 @ 8:00pm
Carteret Performing Arts Center
46 Washington Ave, Carteret, NJ 07008
category: music
---
Melissa Aldana Quartet
Friday, June 16, 2023 @ 8:00pm
McCarter Theatre Center (Berlind Theater)
91 University Place, Princeton, NJ 08540
category: music
---
Leslie Jones: Live
Friday, June 16, 2023 @ 7:00pm
Count Basie Center for the Arts
99 Monmouth Street, Red Bank, NJ 07701
category: comedy
---
"The Rose Tattoo" By Tennessee Williams
Friday, June 16, 2023 @ 8:00pm
Shakespeare Theatre Of NJ – F.M. Kirby Shakespeare Theatre
36 Madison Avenue, Madison, NJ 07940
category: theatre
---
Sister's Irish Catechism: Saints, Snakes, & Green Milkshakes
Friday, June 16, 2023 @ 8:00pm
Avenel Performing Arts Center
150 Avenel Street, Avenel, NJ 07001
category: theatre
---
Songs For A New World
Friday, June 16, 2023 @ 8:00pm
Fellowship Hall at Morristown United Methodist Church
50 South Park Place, Morristown, NJ 07960
category: theatre
---
---
For more event listings, click here
---