originally published: 06/18/2023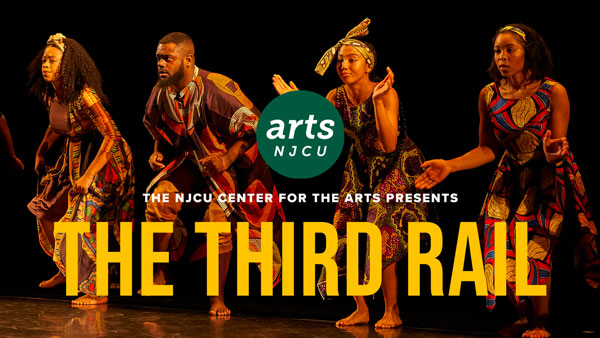 (JERSEY CITY, NJ) — The NJCU Center for the Arts, in conjunction with onCUE Chronicles, will present "The Third Rail", a story about a journey to freedom, on Friday, June 23, 2023 at 7:30pm. The performance will be held at the Margaret Williams Theatre located inside NJCU's Hepburn Hall, 2039 Kennedy Boulevard, Jersey City, NJ.
The performance recognizes that bigotry and oppression has and continues to exist, and that by embodying joy as an act of rebellion, people can claim their human right to shape their own reality. The work utilizes the Underground Railroad freedom journeys as a map for how to garner resources to live in liberation.
Tickets for the performance are $15 for general admission seats and $10 for students and seniors. Tickets are available for purchase online.
onCUE Chronicles is a kinetic storytelling business created by Quilan "Cue" Arnold in 2022. Its mission is to socio-economically liberate historically oppressed demographics in the United States through art and education. Through a method called, "The S-Trinity" (Searching, Sharing, Shifting) onCUE Chronicles primes performers and audiences to be active advocates for positive social change.
New Jersey City University is an institution of higher learning dedicated to the development of our students, our city, our communities, and our state. They are a game-changing force for their students and have been recognized as one of the top colleges in the nation improving their upward economic mobility. Whether enrolled in one of their undergraduate, graduate, or doctoral programs at their three locations, NJCU students have access to an affordable, diverse environment, and an exceptionally supportive faculty. This prepares them to go on to become the next generation of workers and leaders who improve their communities and the State of New Jersey.


---
Advertise with New Jersey Stage for $50-$100 per month, click here for info
---
ART | COMEDY | DANCE | MUSIC | THEATRE | COMMUNITY
BLIPPI: THE WONDERFUL WORLD TOUR
Sunday, June 18, 2023 @ 1:00pm
State Theatre New Jersey
15 Livingston Avenue, New Brunswick, NJ 08901
category: kids
---
BLIPPI: THE WONDERFUL WORLD TOUR
Sunday, June 18, 2023 @ 5:00pm
State Theatre New Jersey
15 Livingston Avenue, New Brunswick, NJ 08901
category: kids
---
An Evening with Taylor Goldsmith (of Dawes)
Sunday, June 18, 2023 @ 8:00pm
Outpost In The Burbs
40 S Fullerton Ave, Montclair, NJ 07042
category: music
---
"The Rose Tattoo" By Tennessee Williams
Sunday, June 18, 2023 @ 2:00pm
Shakespeare Theatre Of NJ – F.M. Kirby Shakespeare Theatre
36 Madison Avenue, Madison, NJ 07940
category: theatre
---
Sister's Irish Catechism: Saints, Snakes, & Green Milkshakes
Sunday, June 18, 2023 @ 3:00pm
Avenel Performing Arts Center
150 Avenel Street, Avenel, NJ 07001
category: theatre
---
Songs For A New World
Sunday, June 18, 2023 @ 3:00pm
Fellowship Hall at Morristown United Methodist Church
50 South Park Place, Morristown, NJ 07960
category: theatre
---
The Barber of Seville
Sunday, June 18, 2023 @ 4:00pm
Festival Performance Pavilion at Morven Museum & Garden
55 Stockton Street, Princeton, NJ 08540
category: theatre
---
Straight Up With Stassi Live
Sunday, June 18, 2023 @ 7:30pm
Count Basie Center for the Arts
99 Monmouth Street, Red Bank, NJ 07701
category: comedy
---
---
For more event listings, click here
---