originally published: 06/18/2023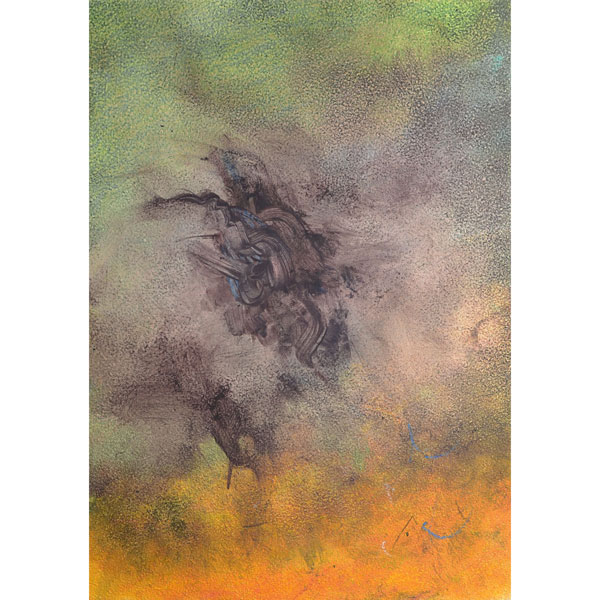 Joe Lugara, "Scrutiny 1″ (Watercolor, 6″ x 6")
(MILLVILLE, NJ) — Forty-four paintings from Joe Lugara's series "Scrutiny" will be featured in a solo exhibition at the Riverfront Renaissance Center for the Arts in Millville from July 21 to September 8, 2023.
"Scrutiny" consists of 200-plus watercolor paintings. Its abstract shapes allude to landscapes, atmospheric conditions, insects, mud slides, plants, ravines, animals, bones, fossils—things big, small, and possibly microscopic, all living, growing, decaying, regenerating, a continuous movement that's reflected in the many revisions most of the works have undergone. Primarily finger painted on primed boards, the scratches, nicks, gouges, and pitted surfaces attest to each painting's own evolution, with the artist's fingerprints suggesting the impact of human activity. Begun more than a decade ago, the series is still in progress.
The artist describes the project as a nature walk. "Like the title implies, 'Scrutiny' is about observation. I'm more concerned with how we observe nature than I am about depicting nature accurately. I wouldn't be working abstractly if I were concerned with physical accuracy. My purpose is to produce shapes that vaguely suggest natural forms and phenomena. They should seem alien and yet distantly familiar, activating our imaginations as to what nature means to us. The small scale of the paintings should emphasize the sense and intensity of observation."
Joe Lugara's paintings and photographic works have appeared in more than 40 exhibitions in museums and galleries in the New York Metropolitan Area and published in numerous magazines, including cover art for the literary journals The MacGuffin, Your Impossible Voice, Pithead Chapel, Right-Hand Pointing and Gone Lawn. "Scrutiny" was featured in the winter 2023 issue of The Harvard Advocate. Fifty-five paintings from the series, different from those displayed in this exhibition, were the focus of a solo exhibition last summer at the Noyes Museum of Art of Stockton University in Hammonton. A separate work from "Scrutiny" was included in the recent New Jersey Arts Annual. Mr. Lugara's first photography book, The Indicators: 127 Sci-Fi Scenes, is available through Barnes and Noble.
An opening reception, free and open to the public, will be held July 21 from 6:00pm – 8:00pm.


---
The Riverfront Renaissance Center for the Arts is located at 22 North High Street, Millville, New Jersey. Hours are Tuesday – Saturday, 11:00am – 4:00pm (856) 327-4500.
Since April of 2001, the Riverfront Renaissance Center for the Arts (RRCA) has been a non-profit community arts and cultural center in the heart of Millville. Located in the first block of High Street, the center provides a space for creatives, and the community to use for meetings, events and monthly 3rd Friday art receptions.
RRCA was the pioneering organization in the establishment of Millville's downtown revitalization plan in 2001, and has since continued to lead the way, both individually and through strategic partnerships, in the growth and success of center city. Since its inception, RRCA has worked strategically with city government, and others to use the creative power of the arts to build an ever-changing arts district in the downtown area and attract artists and patrons from the region.
The arts center first began as an idea developed collaboratively by artists, the city's leaders and community members in 1999. These groups and individuals saw a need for a community arts center and in 2001 they made it happen. What was once an abandoned men and boy's store on a "main street" of vacant stores was creatively rehabilitated as a gallery and art center. Today, the RRCA is a thriving non-profit and charitable organization supported by many.  The RRCA's history and its accomplishments make it proud of its past and excited for its future.
ART | COMEDY | DANCE | MUSIC | THEATRE | COMMUNITY
Will Liverman
Monday, June 19, 2023 @ 7:00pm
Festival Performance Pavilion at Morven Museum & Garden
55 Stockton Street, Princeton, NJ 08540
category: music
---
The Barber of Seville
Tuesday, June 20, 2023 @ 7:00pm
Festival Performance Pavilion at Morven Museum & Garden
55 Stockton Street, Princeton, NJ 08540
category: theatre
---
Bruce Hornsby & The Noisemakers
Wednesday, June 21, 2023 @ 7:30pm
Mayo Performing Arts Center (MPAC)
100 South Street, Morristown, NJ 07960
category: music
---
Mazel Tov Cocktail Party
Wednesday, June 21, 2023 @ 7:00pm
Festival Performance Pavilion at Morven Museum & Garden
55 Stockton Street, Princeton, NJ 08540
category: music
---
"UMX" The Ultimate Michael Jackson Starring Joby Rogers
Thursday, June 22, 2023 @ 8:00pm
Bergen Performing Arts Center (bergenPAC)
30 North Van Brunt Street, Englewood, NJ 07631
category: music
---
Three Dog Night
Thursday, June 22, 2023 @ 7:30pm
Count Basie Center for the Arts
99 Monmouth Street, Red Bank, NJ 07701
category: music
---
Jonathan Butler and Gerald Albright on The Smooth Cruise
Thursday, June 22, 2023 @ 6:30pm
Pier 40
40 Westside Hwy. and Houston Street, New York, NY 10038
category: music
---
Carbon Leaf
Thursday, June 22, 2023 @ 8:00pm
The Vogel
99 Monmouth Street, Red Bank, NJ 07701
category: music
---
---
For more event listings, click here
---