originally published: 06/19/2023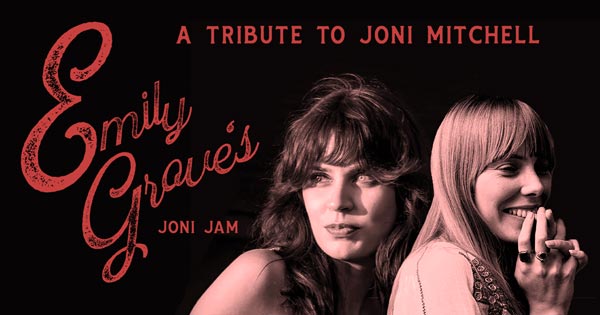 (RED BANK, NJ) — On the heels of Joni Mitchell's first public performance in more than two decades comes Emily Grove's Joni Jam – A Tribute to Joni Mitchell, which celebrates and brings to life the rich and diverse music of the great Joni Mitchell in a way that only Emily and her uniquely talented musical friends can. The show comes to The Vogel on Saturday, July 1, 2023 at 7:30pm.
Joni's body of work spans genres from folk to rock to pop to jazz, and she has gained respect and influenced fellow artists in all of them. Exploring albums like Blue, Ladies of the Canyon, Hejira, Mingus and more, some of the region's favorite young musicians – including guest vocalists – will joyfully present this challenging material.
"Joni inspires me because through all of the changes in her personal  life and in her musical style, she has remained true to herself," explained Grove. "Her lyrics can be brutally personal and uncomfortable, and yet so many of us can relate to them. She's totally natural, and she's never followed a set formula. She's a total badass!"
Emily Grove, a singer-songwriter in her own right, has won several Asbury Music Awards, and has toured throughout the US, the UK and Europe. Having attended Berklee College of Music, she has a true appreciation of Joni's jazz explorations as well as her folk classics. She has been performing Joni Mitchell songs since she was 15: at Glen Burtnik's "Summer of Love" concert, at the "One Last Waltz" show at the Pollack Theater , and as a busker on the Asbury Park boardwalk (as Joni once busked in Toronto).
Tickets range from $39.50 to $59.50 and are available for purchase online.


---
"Listen for the little magical nuances in her delivery…just like everything about Grove, there is something of a throwback to her quality, an old grain, an antique lily lace, but with an equal measure of something new and young and fresh." Steve Rogers, Driving Jersey.
The Vogel is located on The Basie Center campus at 99 Monmouth Street in Red Bank, New Jersey.
Advertise with New Jersey Stage for $50-$100 per month, click here for info
---
ART | COMEDY | DANCE | MUSIC | THEATRE | COMMUNITY
The Barber of Seville
Tuesday, June 20, 2023 @ 7:00pm
Festival Performance Pavilion at Morven Museum & Garden
55 Stockton Street, Princeton, NJ 08540
category: theatre
---
Bruce Hornsby & The Noisemakers
Wednesday, June 21, 2023 @ 7:30pm
Mayo Performing Arts Center (MPAC)
100 South Street, Morristown, NJ 07960
category: music
---
Mazel Tov Cocktail Party
Wednesday, June 21, 2023 @ 7:00pm
Festival Performance Pavilion at Morven Museum & Garden
55 Stockton Street, Princeton, NJ 08540
category: music
---
"UMX" The Ultimate Michael Jackson Starring Joby Rogers
Thursday, June 22, 2023 @ 8:00pm
Bergen Performing Arts Center (bergenPAC)
30 North Van Brunt Street, Englewood, NJ 07631
category: music
---
Three Dog Night
Thursday, June 22, 2023 @ 7:30pm
Count Basie Center for the Arts
99 Monmouth Street, Red Bank, NJ 07701
category: music
---
Jonathan Butler and Gerald Albright on The Smooth Cruise
Thursday, June 22, 2023 @ 6:30pm
Pier 40
40 Westside Hwy. and Houston Street, New York, NY 10038
category: music
---
Carbon Leaf
Thursday, June 22, 2023 @ 8:00pm
The Vogel
99 Monmouth Street, Red Bank, NJ 07701
category: music
---
Vanguard Theater presents "Spring Awakening"
Thursday, June 22, 2023 @ 8:00pm
Vanguard Theater
180 Bloomfield Avenue, Montclair, NJ 077042
category: theatre
---
---
For more event listings, click here
---