originally published: 06/30/2023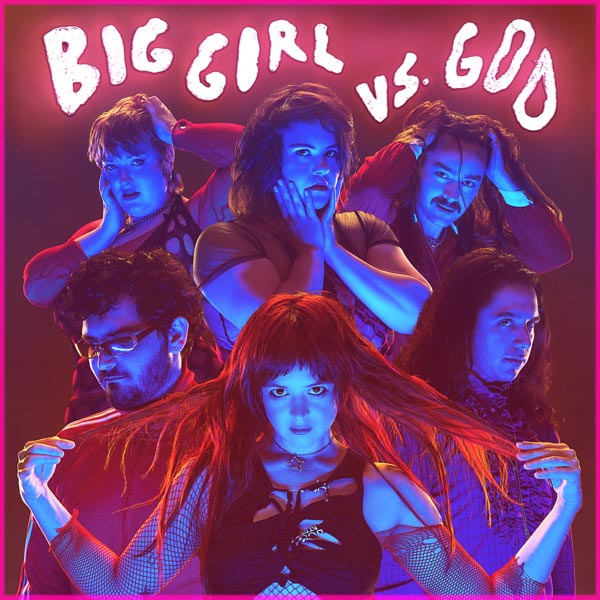 (NEW YORK, NY) — The Brooklyn-based rock band Big Girl, the project of lead singer and songwriter Kaitlin Pelkey, have released their debut album, Big Girl vs. God, on Weird Sister Records. The LP was produced by Justin Pizzoferrato (Pixies, Dinosaur Jr., Speedy Ortiz). The band has an album release show at Baby's All Right in Brooklyn, NY on Thursday, July 27, 2023.
The band recently shared the album singles "Forever," "Instructions 2 Say Sorry," "Summer Sickness" and "Black-Eyed Susan." "Forever," which premiered earlier this month via Under the Radar, was added to Spotify's Fresh Finds Indie and Fresh Finds playlists, and the music video, directed by Brandon Flynn (Thirteen Reasons Why, Hellraiser), is a finalist for Indie Shorts Awards Cannes.
Tickets for the album release show at Baby's All Right (146 Broadway) in Brooklyn, NY on Thursday, July 27, 2023 are available for purchase online.
Big Girl vs. GOD is a collection of personal stories and intimate reflections on life and loss that unearth poignant insights on inherited trauma, grief, mental health, climate change, and coping with life in the digital age. The music splices together indie-rock vulnerability and deep savory grooves with irreverent punkish energy to create their own hybrid. The result is an expansive and deeply intimate debut record with a moving story, powerful emotionally-raw vocals at the center, and a backbone of primal lived-in rock n' roll.
Advertise with New Jersey Stage for $50-$100 per month, click here for info
---
Soaked in grief and TV static, Big Girl vs. GOD is a cathartic and empowering debut record Big Girl's lead singer, Kaitlin Pelkey, wrote while coping with the loss of her mother. The track list features hot-headed badass bangers such as "Instructions 2 Say Sorry," "Cadillacs," and "Mother Tongue," heartbreaking odes to grief including "Summer Sickness" and the standout third track, a ballad called "Forever," and a couple of otherworldly pieces in a category all their own including "Black-Eyed Susan," "Big Car Full of Mistakes" and a stripped down apocalyptic lullaby called "it's so pure."
Big Girl vs. God Track Listing
1) Instructions 2 Say Sorry
2) Black-Eyed Susan
3) Forever
4) Summer Sickness
5) Cadillacs
6) Mother Tongue
7) Big Car Full of Mistakes
8) It's So Pure To Have a Dream Anymore
ALBUM ART CREDIT: BMILLZ 
Advertise with New Jersey Stage for $50-$100 per month, click here for info
---
ART | COMEDY | DANCE | MUSIC | THEATRE | COMMUNITY
Manhattan Comedy Night
Friday, June 30, 2023 @ 8:00pm
Carteret Performing Arts Center
46 Washington Ave, Carteret, NJ 07008
category: comedy
---
An Evening with Maggie Haberman
Friday, June 30, 2023 @ 8:00pm
South Orange Performing Arts Center (SOPAC)
One Sopac Way, South Orange, NJ 07079
category: community
---
Vanguard Theater presents "Spring Awakening"
Friday, June 30, 2023 @ 8:00pm
Vanguard Theater
180 Bloomfield Avenue, Montclair, NJ 077042
category: theatre
---
Emily Grove's Joni Jam: A Tribute to Joni Mitchell
Saturday, July 01, 2023 @ 7:30pm
The Vogel
99 Monmouth Street, Red Bank, NJ 07701
category: music
---
Vanguard Theater presents "Spring Awakening"
Saturday, July 01, 2023 @ 8:00pm
Vanguard Theater
180 Bloomfield Avenue, Montclair, NJ 077042
category: theatre
---
Tori Amos: Ocean To Ocean Tour
Sunday, July 02, 2023 @ 7:30pm
Count Basie Center for the Arts
99 Monmouth Street, Red Bank, NJ 07701
category: music
---
Vanguard Theater presents "Spring Awakening"
Sunday, July 02, 2023 @ 2:00pm
Vanguard Theater
180 Bloomfield Avenue, Montclair, NJ 077042
category: theatre
---
Vanguard Theater presents "Spring Awakening"
Sunday, July 02, 2023 @ 7:00pm
Vanguard Theater
180 Bloomfield Avenue, Montclair, NJ 077042
category: theatre
---
---
For more event listings, click here
---