originally published: 07/01/2023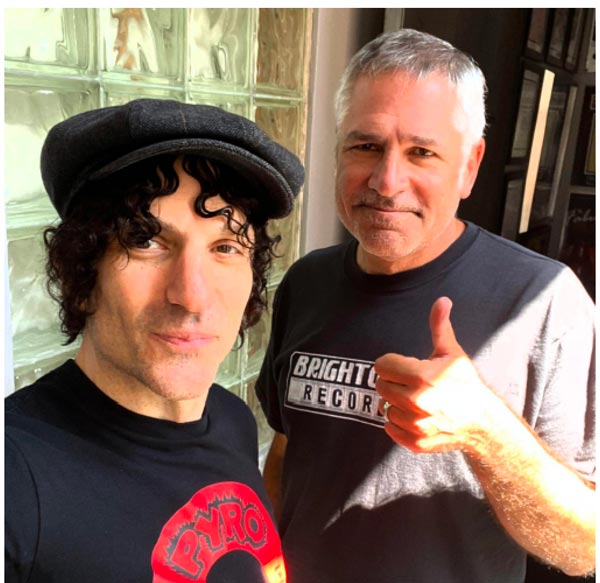 In April 2023, Jesse Malin suffered a stroke in his back and became paralyzed from the waist down.  Jon Caspi – a New Jersey artist who recorded a new version of his band's popular "Raise 'Em High" song with Malin last year – had an idea as to how to help, but wanted to run it by his band and record label first.
Here's what Jon posted on the band's Facebook page.
"It's been a little over two weeks since first hearing the awful news of Jesse Malin's health situation and sudden paralysis. I wanted to post this right then but needed to talk to my band and record label first. Not only is Jesse an incredibly talented musician, songwriter and performer, he is an incredibly nice and generous person. Quick story:
"Last summer we recorded Jesse singing on our song 'Raise 'Em High!' I joined him for the recording session at the beautiful recording studio he uses in Manhattan. Having recorded in similar studios, I know how incredibly expensive they are (particularly in NYC!) so I asked how to pay for the session. He told me not to worry about it and he would take care of it. I insisted and he refused. I was really taken aback by his generosity and will be forever appreciative of him doing that, while also appreciative for him taking the time to sing on our track with zero strings attached. He did that because he wanted to be a part of the project. Although friendly, we are not close friends which makes it an even more remarkable gesture. There are few people out there that would do that. In addition, Jesse has done MANY benefits for others over the years."
"It's time to pay it forward (or back?). Fake Chapter Records just put out a 7" vinyl of Raise 'Em High! featuring Jesse as a limited release. After speaking to my bandmates and our label, Fake Chapter Records, we have all agreed that ALL THE MONEY collected from sales of the 7" will be donated to the support fund for Jesse, to help with medical and other expenses."
Advertise with New Jersey Stage for $50-$100 per month, click here for info
---
"You can purchase the record from FakeChapter.com/Caspi or at our shows (we'll have with us tonight 6/30 at our show at Red Tank Brewing in Red Bank, NJ). Or, directly donate to Jesse at https://www.sweetrelief.org/jessemalinfund.html (get a special t-shirt there!)
"We encourage you to donate to it whether or not you get our 7" or both! Thank you for reading this and considering helping a fellow musician, awesome human, and important/incredible member of our community. Thank you!"
On Jesse Malin's Facebook page, Jesse gave an update on June 29th. "Hey everyone, I just wanted to send out this message with huge gratitude and huge love for everything, all of the support in every single way. I shot this video from my hospital room here, I'm in New York. Even though it's been 8 weeks, I'm working really hard, physically and spiritually, doing my best. I miss everybody, and I miss being outside, but I will get there. Thanks for all the prayers, and well wishes, all the messages. Every single one means the world to me."
Advertise with New Jersey Stage for $50-$100 per month, click here for info
---
ART | COMEDY | DANCE | MUSIC | THEATRE | COMMUNITY
Emily Grove's Joni Jam: A Tribute to Joni Mitchell
Saturday, July 01, 2023 @ 7:30pm
The Vogel
99 Monmouth Street, Red Bank, NJ 07701
category: music
---
Vanguard Theater presents "Spring Awakening"
Saturday, July 01, 2023 @ 8:00pm
Vanguard Theater
180 Bloomfield Avenue, Montclair, NJ 077042
category: theatre
---
Tori Amos: Ocean To Ocean Tour
Sunday, July 02, 2023 @ 7:30pm
Count Basie Center for the Arts
99 Monmouth Street, Red Bank, NJ 07701
category: music
---
Vanguard Theater presents "Spring Awakening"
Sunday, July 02, 2023 @ 2:00pm
Vanguard Theater
180 Bloomfield Avenue, Montclair, NJ 077042
category: theatre
---
Vanguard Theater presents "Spring Awakening"
Sunday, July 02, 2023 @ 7:00pm
Vanguard Theater
180 Bloomfield Avenue, Montclair, NJ 077042
category: theatre
---
Shipwrecked! An Entertainment – The Amazing Adventures of Louis de Rougemont (as Told by Himself)
Wednesday, July 05, 2023 @ 8:00pm
Shakespeare Theatre Of NJ – Outdoor Stage
2 Convent Road, Florham Park, NJ 07932
category: theatre
---
South Orange Summer Nights: Essex Funk Collective, presented by SOPAC
Wednesday, July 05, 2023 @ 7:30pm
Floods Hill in Meadowlands Park
100 N Ridgewood Rd, South Orange, NJ 07079
category: music
---
Vivid Solos: Hissy Fits by Jerico Bleu
Wednesday, July 05, 2023 @ 6:30pm
Visual Arts Center of New Jersey
68 Elm Street, Summit, NJ 07901
category: theatre
---
---
For more event listings, click here
---