originally published: 07/02/2023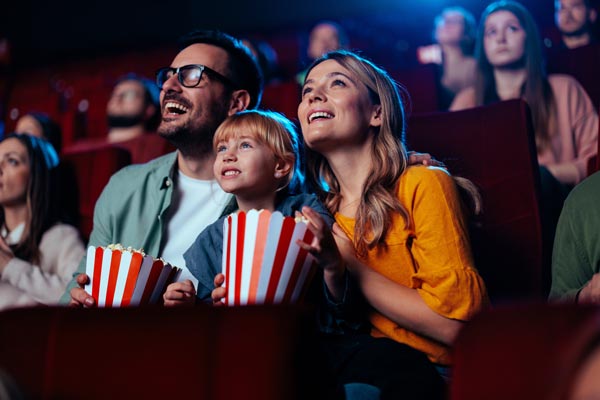 (MILLVILLE, NJ) — The Levoy Theatre has announced a summer movie pass that offers 14 films for $25 with screenings from July 9 through August 26, 2023.  The screenings are also available individually for $10 each. The summer movie pass includes screenings of The NeverEnding Story; Lyle, Lyle Crocodile; Disney's Moana; an Elvis triple feature (King Creole, Jailhouse Rock, Elvis); The Greatest Showman; and a Top Gun double feature (Top Gun and Top Gun Maverick).
They are also offering three free screenings in which they ask people to consider making a donation to a local non-profit.  These screenings include The Bad Guys on August 19th at 2:00pm (donations support Freedom Farm Animal Rescue); How to Train Your Dragon on August 26 at 4:00pm (donations support Big Brothers Big Sisters of Cumberland and Salem); and Ferris Bueller's Day Off on August 26 at 8:00pm (donations support The Big Dog Project).
Sunday, July 9 at 3:00pm – The NeverEnding Story is a 1984 fantasy film co-written and directed by Wolfgang Petersen, and based on the 1979 novel The Neverending Story by Michael Ende. It follows ten-year-old Bastian, a boy who finds a magical book. The book describes the fantasy world of Fantasia slowly being devoured by a malevolent force called "The Nothing". The Childlike Empress, who rules Fantasia, has fallen ill, and the young warrior Atreyu is tasked to discover a cure, believing that once the Empress is well, the Nothing will no longer be a threat.
Tuesday, July 25 at 10:00am – Lyle, Lyle, Crocodile is a 2022 American musical comedy film directed by Will Speck & Josh Gordon from a screenplay by William Davies. It follows the title reptile who lives in a house on East 88th Street in New York City. Lyle enjoys helping the Primm family with everyday chores and playing with the neighborhood kids, but one neighbor insists that Lyle belongs in a zoo. Mr. Grumps and his cat, Loretta, do not like crocodiles, and Lyle tries to prove that he is not as bad as others might first think. 
Tuesday, August 15 at 10:00am – Moana, the 2016 Walt Disney Animation Studios-produced film, tells the story of Moana, the strong-willed daughter of a chief of a coastal village, who is chosen by the ocean itself to reunite a mystical relic with the goddess Te Fiti. When a blight strikes her island, Moana sets sail in search of Maui, a legendary demigod, in the hope of returning the relic to Te Fiti and saving her people. The plot is original, but takes inspiration from Polynesian myths. The film introduces Auliʻi Cravalho as the voice of Moana and also features the ensemble voices of Dwayne Johnson, Rachel House, Temuera Morrison, Jemaine Clement, Nicole Scherzinger, and Alan Tudyk. It features original songs written by Lin-Manuel Miranda, Opetaia Foa'i, and Mark Mancina, and an orchestral score also composed by Mancina.
Advertise with New Jersey Stage for $50-$100 per month, click here for info
---
Wednesday, August 16 Elvis Triple Feature
1:00pm – King Creole is a 1958 American musical drama film directed by Michael Curtiz and based on the 1952 novel A Stone for Danny Fisher by Harold Robbins. Denied his high school diploma because of a schoolyard fight, Danny Fisher (Elvis Presley) is unsure how he's going to support himself and his unemployed father (Dean Jagger). He briefly flirts with a life of crime before a club owner (Paul Stewart) hears him singing and offers him a job. Things look promising until rival club owner and Danny's former boss, Maxie (Walter Matthau), tries to lure him back with threats and the charms of his sometimes-girlfriend, Ronnie (Carolyn Jones).
4:00pm – Jailhouse Rock is a 1957 American musical drama directed by Richard Thorpe and starring Elvis Presley. A young man, Vince Everett (Presley), is convicted of manslaughter after being drawn into a bar fight while trying to defend a woman. In prison, Everett finds salvation when his cellmate, a country singer named Hunk Houghton (Mickey Shaughnessy), hears him sing and pegs him as a future star. Once released, Everett gets a job in a night club and meets Peggy Van Alden (Judy Tyler), a young woman who works for a record company and who, like Houghton, also sees talent in Everett.
7:00pm – Elvis is a 2022 biopic from Warner Bros. Pictures and visionary, Oscar-nominated filmmaker Baz Luhrmann that explores the life and music of Elvis Presley, starring Austin Butler and Oscar winner Tom Hanks. Elvis's (Butler) story is seen through the prism of his complicated relationship with his enigmatic manager, Colonel Tom Parker (Hanks). As told by Parker, the film delves into the complex dynamic between the two spanning over 20 years, from Presley's rise to fame to his unprecedented stardom, against the backdrop of the evolving cultural landscape and loss of innocence in America. Central to that journey is one of the significant and influential people in Elvis's life, Priscilla Presley (Olivia DeJonge).
Friday, August 18 at 8:00pm – The Greatest Showman. Inspired by the imagination of P.T. Barnum, The Greatest Showman is an original musical that is based on the story and life of Barnum, a famous showman and entertainer, and his creation of the Barnum & Bailey Circus and the lives of its star attractions. Growing up in the early 1800s, P.T. Barnum displays a natural talent for publicity and promotion, selling lottery tickets by age 12. After trying his hands at various jobs, P.T. turns to show business to indulge his limitless imagination, rising from nothing to create the Barnum & Bailey circus. Featuring catchy musical numbers, exotic performers and daring acrobatic feats, Barnum's mesmerizing spectacle soon takes the world by storm to become the greatest show on Earth. Starring an ensemble cast led by Hugh Jackman, Zac Efron, Michelle Williams, Rebecca Ferguson, and Zendaya. Featuring nine original songs from Benj Pasek and Justin Paul and a score composed by John Debney and Joseph Trapanese.
Saturday, August 19 at 2:00pm – The Bad Guys. In this 2022 computer-animated comedy, The Bad Guys tells the story of notorious criminals Mr. Wolf, Mr. Snake, Mr. Piranha, Mr. Shark, and Ms. Tarantula who, after a lifetime of legendary heists, are finally caught. To avoid a prison sentence, the animal outlaws must pull off their most challenging con yet: becoming model citizens. Under the tutelage of their mentor, Professor Marmalade, the dubious gang sets out to fool the world that they're turning good. But could any of them be considering turning good for real? Starring the voices of Sam Rockwell, Marc Maron, Awkwafina, Craig Robinson, Anthony Ramos, Richard Ayoade, Zazie Beetz, Alex Borstein, and Lilly Singh.
Saturday, August 26 at 4:00pm – How to Train Your Dragon is a 2010 American computer-animated action/fantasy film loosely based on the 2003 book of the same name by Cressida Cowell, and produced by DreamWorks Animation. The story takes place in Berk, a mythical Viking village; Hiccup, an undersized teen wishing to become a dragon slayer like the other Vikings, injures a rare Night Fury dragon but is unable to bring himself to kill it. He instead helps and befriends the dragon, and quickly discovers that things are not exactly as they seem in the conflict between Vikings and dragons. Starring the voices of Jay Baruchel, Gerard Butler, Craig Ferguson, America Ferrera, Jonah Hill, Christopher Mintz-Plasse, T.J. Miller, and Kristen Wiig.
Saturday, August 26 at 8:00pm – Ferris Bueller's Day Off. In this 1986 American teen comedy, written, co-produced, and directed by John Hughes, a high school wise guy is determined to have a day off from school, despite what the principal thinks of it. Ferris Bueller (Matthew Broderick) has an uncanny skill at cutting classes and getting away with it. Intending to make one last duck-out before graduation, Ferris calls in sick, "borrows" a Ferrari, and embarks on a one-day journey through the streets of Chicago. On Ferris' trail is high school principal Rooney (Jeffrey Jones), determined to catch him in the act. Also starring Mia Sara and Alan Ruck with supporting roles from Jennifer Grey, Cindy Pickett, Edie McClurg, and Lyman Ward.
Sunday, August 27 – Top Gun double feature
3:00pm – Top Gun is a 1986 action/drama film directed by Tony Scott, and starring Tom Cruise, Anthony Edwards, Kelly McGillis, Val Kilmer, and Tom Skerritt. US Navy Lieutenant Pete Mitchell (Cruise), call sign Maverick–an impetuous, daredevil pilot ace–is accepted into Top Gun, Miramar's elite Fighter School. But there, the impulsive young pilot will have to compete with the best of the best, including Iceman (Kilmer), a brilliant and highly competitive fellow student. Now, Mitchell must give his all; however, his father's mysterious and untimely demise still haunts him. Can Maverick prove his worth to Charlie (McGillis), the flying school's no-nonsense astrophysics instructor? Will he be able to suppress his wild nature to win the prestigious Top Gun Trophy?
7:00pm – Top Gun: Maverick (2022), set 30 years after its predecessor, follows Maverick's return to the United States Navy Strike Fighter Tactics Instructor program (also known as U.S. Navy-Fighter Weapons School – "TOPGUN"), where he must confront his past as he trains a group of younger pilots, among them the son of Maverick's deceased best friend Lieutenant Nick "Goose" Bradshaw. Tom Cruise reprises his starring role as the naval aviator, Pete "Maverick" Mitchell. The film also stars Miles Teller, Jennifer Connelly, Jon Hamm, Glen Powell, Lewis Pullman, Ed Harris, and Val Kilmer.
The Levoy Theatre is located at 126-130 N. High Street in Millville, New Jersey.
Advertise with New Jersey Stage for $50-$100 per month, click here for info
---
ART | COMEDY | DANCE | MUSIC | THEATRE | COMMUNITY
Tori Amos: Ocean To Ocean Tour
Sunday, July 02, 2023 @ 7:30pm
Count Basie Center for the Arts
99 Monmouth Street, Red Bank, NJ 07701
category: music
Click here for full description
---
Vanguard Theater presents "Spring Awakening"
Sunday, July 02, 2023 @ 2:00pm
Vanguard Theater
180 Bloomfield Avenue, Montclair, NJ 077042
category: theatre
Click here for full description
---
Vanguard Theater presents "Spring Awakening"
Sunday, July 02, 2023 @ 7:00pm
Vanguard Theater
180 Bloomfield Avenue, Montclair, NJ 077042
category: theatre
Click here for full description
---
Shipwrecked! An Entertainment – The Amazing Adventures of Louis de Rougemont (as Told by Himself)
Wednesday, July 05, 2023 @ 8:00pm
Shakespeare Theatre Of NJ – Outdoor Stage
2 Convent Road, Florham Park, NJ 07932
category: theatre
Click here for full description
---
South Orange Summer Nights: Essex Funk Collective, presented by SOPAC
Wednesday, July 05, 2023 @ 7:30pm
Floods Hill in Meadowlands Park
100 N Ridgewood Rd, South Orange, NJ 07079
category: music
Click here for full description
---
Vivid Solos: Hissy Fits by Jerico Bleu
Wednesday, July 05, 2023 @ 6:30pm
Visual Arts Center of New Jersey
68 Elm Street, Summit, NJ 07901
category: theatre
Click here for full description
---
Tony Mart Presents Mardi Gras AC: Buckwheat Zydeco Jr. & Il Sont Partis Band
Wednesday, July 05, 2023 @ 7:00pm
Kennedy Plaza
2301 Boardwalk, Atlantic City, NJ 08401
category: music
Click here for full description
---
Shipwrecked! An Entertainment – The Amazing Adventures of Louis de Rougemont (as Told by Himself)
Thursday, July 06, 2023 @ 8:00pm
Shakespeare Theatre Of NJ – Outdoor Stage
2 Convent Road, Florham Park, NJ 07932
category: theatre
Click here for full description
---
del Amitri with special guest Renee Maskin
Thursday, July 06, 2023 @ 8:00pm
The Vogel
99 Monmouth Street, Red Bank, NJ 07701
category: music
Click here for full description
---
Vanguard Theater presents "Spring Awakening"
Thursday, July 06, 2023 @ 8:00pm
Vanguard Theater
180 Bloomfield Avenue, Montclair, NJ 077042
category: theatre
Click here for full description
---
Shipwrecked! An Entertainment – The Amazing Adventures of Louis de Rougemont (as Told by Himself)
Friday, July 07, 2023 @ 8:00pm
Shakespeare Theatre Of NJ – Outdoor Stage
2 Convent Road, Florham Park, NJ 07932
category: theatre
Click here for full description
---
Vanguard Theater presents "Spring Awakening"
Friday, July 07, 2023 @ 8:00pm
Vanguard Theater
180 Bloomfield Avenue, Montclair, NJ 077042
category: theatre
Click here for full description
---
Imperial Brass with Trombone Soloist Brett Baker
Friday, July 07, 2023 @ 7:00pm
Salvation Army Montclair Citadel
13 Trinity Place, Montclair, NJ 07042
category: music
Click here for full description
---
The Doobie Brothers
Saturday, July 08, 2023 @ 8:00pm
State Theatre New Jersey
15 Livingston Avenue, New Brunswick, NJ 08901
category: music
Click here for full description
---
Brandi Carlile
Saturday, July 08, 2023 @ 7:30pm
Count Basie Center for the Arts
99 Monmouth Street, Red Bank, NJ 07701
category: music
Click here for full description
---
Shipwrecked! An Entertainment – The Amazing Adventures of Louis de Rougemont (as Told by Himself)
Saturday, July 08, 2023 @ 8:00pm
Shakespeare Theatre Of NJ – Outdoor Stage
2 Convent Road, Florham Park, NJ 07932
category: theatre
Click here for full description
---
---
For more event listings, click here
---