originally published: 07/05/2023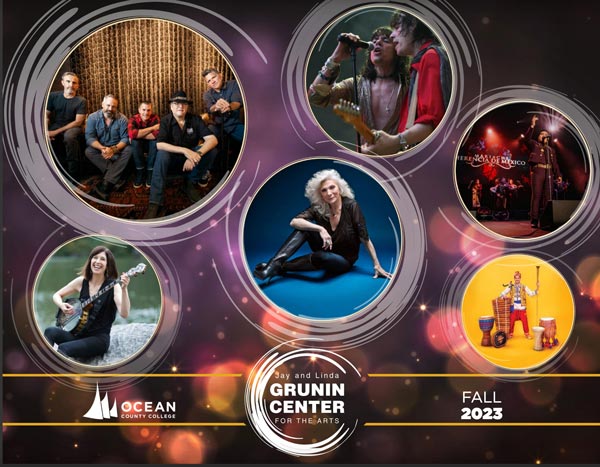 (TOMS RIVER, NJ) — The Grunin Center for the Arts at Ocean County College has announced its Fall 2023 season lineup, with a calendar packed full of exciting events through the end of the year. The new season features big-name talent and a variety of shows for audiences of all ages.
All tickets will be on sale on Wednesday, July 12, 2023 at noon, unless otherwise noted. Subscription packages, which offer benefits such as discounts and early bird purchasing, are available as of July 5, 2023 at noon. Tickets can be purchased online at grunincenter.org or by calling the box office at 732-255-0500. New this season: subscription buyers can now select their own seats when buying online!
Musical highlights from the new season include an evening with legendary singer/songwriter Judy Collins (September 10; tickets are available now), Grammy-winning band Blues Traveler (October 27), a performance by Mariachi Herencia de Mexico (November 9), a visit from the world-famous Glenn Miller Orchestra (December 10), and the swinging sounds and close harmonies of America's Sweethearts (December 15).
Jazz on a Sunday Afternoon, sponsored by the Wintrode Family Foundation, will feature Swingadelic's "Swingin' the 60's" on October 8 and Cynthia Sayer's "Joyride" on November 12. Guests who buy tickets to both events will receive 10% off a ticket to "When You Wish Upon a Star: A Jazz Tribute to 100 Years of Disney," presented by the house band from The National Jazz Museum in Harlem (November 18). 
Also this season, The Grunin Center's Afternoon Recital Series presents classical piano performances by Michael Noble (September 15), Victoria Schwartzman (October 6), Stanley DeLage (November 17) and the Rachmaninoff Piano Trio (December 8). Viewers can save 15% on a subscription that includes all four Recital Series events.
Advertise with New Jersey Stage for $50-$100 per month, click here for info
---
For the smaller set, Grunin's Family Series, sponsored by RWJBarnabas Health Community Medical Center, offers family-friendly fun all season long with "The Dinosaur Quest of Dr. T. Rex" (October 1), The Yates Musical Theatre's "A Christmas Carol" (December 2), and "The Nutcracker," presented by Ballet for Young Audiences (December 9). Viewers can save 10% when buying all three with the Family Fun Subscription.
The popular Blauvelt Speaker Series returns with appearances by author Robert Pondiscio (September 28), TV host and restaurateur Lidia Bastianich (October 4), and author/biographer Stacy Schiff (November 15). Also returning this fall is actor LeLand Gantt and his one-man show, Rhapsody in Black, in which he explores his own personal journey to transcend racism in America (October 17).
If you're a fan of musical theatre – and who isn't? – you won't want to miss the OCC Repertory Theatre's presentation of "Kiss Me, Kate" (July 14-23; tickets are available now), the toe-tapping parody, "Menopause the Musical 2" (October 11-15) or the crowd-pleasing return of "The Rocky Horror Picture Show" just in time for Halloween (October 28).
And of course, there's plenty of festive fun to be had when the holiday season arrives! Seasonal favorites abound in December, including a performance from the Westminster Concert Bell Choir (December 1), OCC Repertory's "Broadway for the Holidays 3" (December 8-17), Cherish the Ladies: A Celtic Christmas (December 17), and a celebration of "The Most Wonderful Time of the Year" by the OCC Concert Band (December 2).
For a full schedule and more information about all upcoming shows, visit grunincenter.org.
For more than 50 years, Ocean County College, a public two-year community college sponsored by Ocean County and the State of New Jersey, has provided area residents with the opportunity to benefit from higher education. OCC is an innovative academic leader offering affordable, student-centered, high-quality educational experiences that prepare and empower diverse learners to contribute to and succeed in global societies. OCC invests in and fosters academic, economic, and cultural excellence, and ensures financial strength by generating new revenue streams, engaging in national and international university and corporate partnerships, and cultivating a technologically progressive and entrepreneurial spirit.
ART | COMEDY | DANCE | MUSIC | THEATRE | COMMUNITY
Shipwrecked! An Entertainment – The Amazing Adventures of Louis de Rougemont (as Told by Himself)
Thursday, July 06, 2023 @ 8:00pm
Shakespeare Theatre Of NJ – Outdoor Stage
2 Convent Road, Florham Park, NJ 07932
category: theatre
---
del Amitri with special guest Renee Maskin
Thursday, July 06, 2023 @ 8:00pm
The Vogel
99 Monmouth Street, Red Bank, NJ 07701
category: music
---
Vanguard Theater presents "Spring Awakening"
Thursday, July 06, 2023 @ 8:00pm
Vanguard Theater
180 Bloomfield Avenue, Montclair, NJ 077042
category: theatre
---
Shipwrecked! An Entertainment – The Amazing Adventures of Louis de Rougemont (as Told by Himself)
Friday, July 07, 2023 @ 8:00pm
Shakespeare Theatre Of NJ – Outdoor Stage
2 Convent Road, Florham Park, NJ 07932
category: theatre
---
Vanguard Theater presents "Spring Awakening"
Friday, July 07, 2023 @ 8:00pm
Vanguard Theater
180 Bloomfield Avenue, Montclair, NJ 077042
category: theatre
---
Imperial Brass with Trombone Soloist Brett Baker
Friday, July 07, 2023 @ 7:00pm
Salvation Army Montclair Citadel
13 Trinity Place, Montclair, NJ 07042
category: music
---
The Doobie Brothers
Saturday, July 08, 2023 @ 8:00pm
State Theatre New Jersey
15 Livingston Avenue, New Brunswick, NJ 08901
category: music
---
Brandi Carlile
Saturday, July 08, 2023 @ 7:30pm
Count Basie Center for the Arts
99 Monmouth Street, Red Bank, NJ 07701
category: music
---
---
For more event listings, click here
---