originally published: 07/07/2023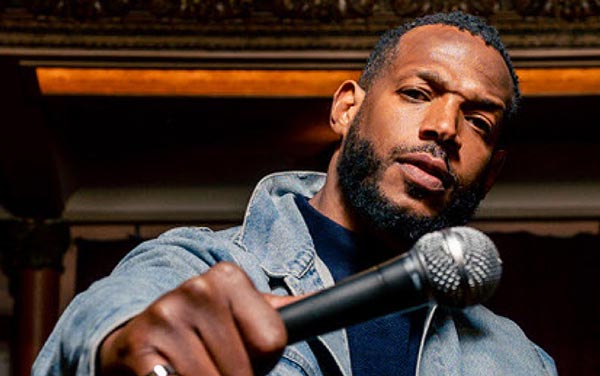 (NEWARK, NJ) — Sometimes outrageous, always audacious, stand-up comic Marlon Wayans returns to New Jersey Performing Arts Center (NJPAC) on Friday, August 11, 2023 for performances at 7:00pm & 9:30pm.  Wayans has had a long career, from the small screen, notably In Living Color and The Wayans Bros., to the big screen with Requiem for a Dream, White Chicks, and the first installments of the Scary Movie series.
Wayans has established quite a career. He can be seen on the hit series Bel-Air, a dramatic take based on the '90s comedy series The Fresh Prince. He appears in the critically acclaimed film Air as Michael Jordan's Olympics coach, George Raveling, alongside Matt Damon, Ben Affleck, Viola Davis, and Chris Tucker.
Following his 2018 Netflix special Marlon Wayans: Woke-ish, he's back on the comedy circuit with his "Microphone Fiend" tour.
Tickets for Marlon Wayans are on sale now and can be purchased by visiting NJPAC.org or calling 888. GO.NJPAC (888.466.5722) or by visiting the NJPAC Box Office.
New Jersey Performing Arts Center (NJPAC), located at One Center Street in downtown Newark, N.J., is America's most diverse performing arts center, and the artistic, cultural, educational and civic center of New Jersey – where great performances and events enhance and transform lives every day. NJPAC brings diverse communities together, providing access to all and showcasing the state's and the world's best artists while acting as a leading catalyst in the revitalization of its home city. Through its extensive Arts Education programs, which have reached almost 2 million children, NJPAC is shaping the next generation of artists and arts enthusiasts. NJPAC has attracted more than 10 million visitors since opening its doors in 1997, and nurtures meaningful and lasting relationships with each of its constituents.
Advertise with New Jersey Stage for $50-$100 per month, click here for info
---
Advertise with New Jersey Stage for $50-$100 per month, click here for info
---
ART | COMEDY | DANCE | MUSIC | THEATRE | COMMUNITY
The Doobie Brothers
Saturday, July 08, 2023 @ 8:00pm
State Theatre New Jersey
15 Livingston Avenue, New Brunswick, NJ 08901
category: music
---
Brandi Carlile
Saturday, July 08, 2023 @ 7:30pm
Count Basie Center for the Arts
99 Monmouth Street, Red Bank, NJ 07701
category: music
---
Shipwrecked! An Entertainment – The Amazing Adventures of Louis de Rougemont (as Told by Himself)
Saturday, July 08, 2023 @ 8:00pm
Shakespeare Theatre Of NJ – Outdoor Stage
2 Convent Road, Florham Park, NJ 07932
category: theatre
---
Vanguard Theater presents "Spring Awakening"
Saturday, July 08, 2023 @ 8:00pm
Vanguard Theater
180 Bloomfield Avenue, Montclair, NJ 077042
category: theatre
---
Orange Township Food Truck and Jazz Festival
Saturday, July 08, 2023 @ 12:00pm
Monte Irvin / Orange Park
S Center Street & South Harrison Street, Orange, NJ 07050
category: music
---
The Doobie Brothers
Sunday, July 09, 2023 @ 7:30pm
State Theatre New Jersey
15 Livingston Avenue, New Brunswick, NJ 08901
category: music
---
Shipwrecked! An Entertainment – The Amazing Adventures of Louis de Rougemont (as Told by Himself)
Sunday, July 09, 2023 @ 4:00pm
Shakespeare Theatre Of NJ – Outdoor Stage
2 Convent Road, Florham Park, NJ 07932
category: theatre
---
Shipwrecked! An Entertainment – The Amazing Adventures of Louis de Rougemont (as Told by Himself)
Sunday, July 09, 2023 @ 8:00pm
Shakespeare Theatre Of NJ – Outdoor Stage
2 Convent Road, Florham Park, NJ 07932
category: theatre
---
---
For more event listings, click here
---