originally published: 07/09/2023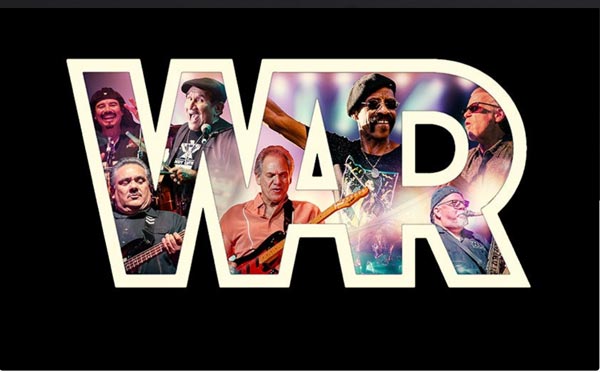 (ENGLEWOOD, NJ) — Bergen Performing Arts Center (bergenPAC) presents WAR on Tuesday, July 18, 2023 at 8:00pm. New Jersey blues legend, Billy Hector, will open the night. Tickets range from $45-$105.
Multi-platinum-selling WAR, the original street band, has been sharing its timeless music and message of brotherhood and harmony for 5 decades before millions across the globe. WAR has sold more than 50 million records since its formation to include ten Billboard Top 10 hits. Top 40 hits include the timeless classics "Why Can't We Be Friends," "Low Rider," "The World Is A Ghetto," "The Cisco Kid," and many more.
Fifteen of WAR's albums have achieved Gold Status in the US and many of them have gone multi-platinum, including "Eric Burdon Declares War" (1970), "Black Man's Burdon" (1971), "All Day Music" (1971), "WAR Live" (1972), "The World Is A Ghetto" (1972), "Deliver The Word" (1973), "Why Can't We Be Friends" (1975), "Greatest Hits" (1976), "Platinum Jazz" (1976), "Galaxy" (1977), "The Music Band" (1979), and "Best of WAR and More" (1986).
Tickets range from $45-$105 and are available for purchase online. Bergen Performing Arts Center (bergenPAC) is located at 30 North Van Brunt Street in Englewood, New Jersey.
Former President, Barack Obama, placed "All Day Music" on his 2020 summer playlist, just the latest example of WAR's influence being felt in modern times. With samples and nods by artists such as Kendrick Lamar, Flo-Rida, Thomas Rhett, Tupac, Smash Mouth, Janet Jackson, Dave Matthews, Korn, and countless others, it is evident that WAR remains a household name.
Advertise with New Jersey Stage for $50-$100 per month, click here for info
---
More recently, LA Weekly declared WAR in the top 10 concerts of 2018. The group has been honored numerous times by the City of Los Angeles for its community involvement, as well as many other communities throughout the world. WAR has not only sealed their status as a household name but has also proven that their music and messages continue to be as relevant as ever today as they have always been.
Whether Billy Hector is teasing you with his sultry slidework, picking through delta blues or flat-out cranking it up and crunching out the electric blues/rock on his beloved vintage Fender Stratocaster, his music reflects the true soul and origins ofthe blues; always passionate, engaging and dedicated to making the audience move and sweat.  Having honed his chops and style through three decades of performances, Hector is critically recognized as one of the hottest and most interesting guitarist/songwriters on the original circuit and has even been called "A New Jersey state treasure" by music writers.
Early in his career, Billy Hector identified himself as a deeply-grounded and versatile player drawing his influences from important predecessors including T-Bone Walker, Freddie King, Jimi Hendrix, Roy Buchanan and a host of others across musical style and genre. But, as with all truly great musicians, recognizable influences are interesting only insofar as they provide a departure point for the musician's spirit. It falls on the musician to shape his predecessor's ideas into music that does not simply replicate but engagingly adds to the whole. Most can only aspire to this level of creation; Billy Hector generates it in spades and it happens every night.
Founded in 2003, the 1,367-seat Bergen Performing Arts Center, or bergenPAC, is the area's cultural mecca. Housed in a historic Art Deco-style theater boasting one of the finest acoustic halls in the United States, bergenPAC attracts a stellar roster of world-class entertainment. The jewel in our crown is The Performing Arts School at bergenPAC – the innovative, educational performing arts initiative that, through programs, classes, outreach, school shows, and main theater presented shows, reach more than 30,000 students and community youth annually. The Performing Arts School provides community youth, age 2 months to 21 years, with unique, "hands-on" training in music, dance and theater by industry professionals. It is through the ongoing generosity of sponsors, donors, members, and patrons that the not-for-profit 501 (c)(3) corporation bergenPAC and The Performing Arts School are able to thrive and enrich our community. 
ART | COMEDY | DANCE | MUSIC | THEATRE | COMMUNITY
The Doobie Brothers
Sunday, July 09, 2023 @ 7:30pm
State Theatre New Jersey
15 Livingston Avenue, New Brunswick, NJ 08901
category: music
---
Shipwrecked! An Entertainment – The Amazing Adventures of Louis de Rougemont (as Told by Himself)
Sunday, July 09, 2023 @ 4:00pm
Shakespeare Theatre Of NJ – Outdoor Stage
2 Convent Road, Florham Park, NJ 07932
category: theatre
---
Shipwrecked! An Entertainment – The Amazing Adventures of Louis de Rougemont (as Told by Himself)
Sunday, July 09, 2023 @ 8:00pm
Shakespeare Theatre Of NJ – Outdoor Stage
2 Convent Road, Florham Park, NJ 07932
category: theatre
---
Vanguard Theater presents "Spring Awakening"
Sunday, July 09, 2023 @ 2:00pm
Vanguard Theater
180 Bloomfield Avenue, Montclair, NJ 077042
category: theatre
---
Vanguard Theater presents "Spring Awakening"
Sunday, July 09, 2023 @ 7:00pm
Vanguard Theater
180 Bloomfield Avenue, Montclair, NJ 077042
category: theatre
---
Rain – A Tribute to The Beatles
Tuesday, July 11, 2023 @ 8:00pm
Bergen Performing Arts Center (bergenPAC)
30 North Van Brunt Street, Englewood, NJ 07631
category: music
---
THE DOOBIE BROTHERS
Tuesday, July 11, 2023 @ 7:30pm
Mayo Performing Arts Center (MPAC)
100 South Street, Morristown, NJ 07960
category: music
---
free summer movie: Moana
Tuesday, July 11, 2023 @ 10:30am
State Theatre New Jersey
15 Livingston Avenue, New Brunswick, NJ 08901
category: film
---
---
For more event listings, click here
---