originally published: 07/13/2023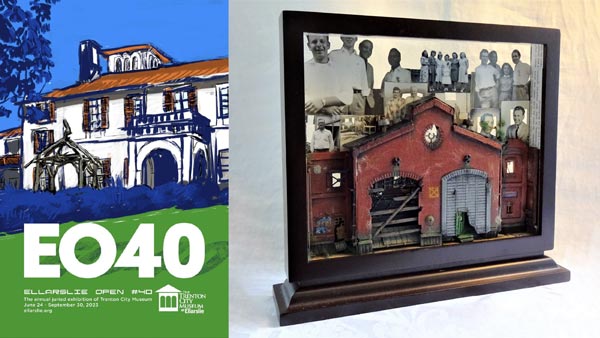 Margaret Miccio, "Ghosts of Factories Past," 2023. Assemblage, 12.5x11x3." Winner of the Carolyn Stetson Risk-Takers Award, chosen by Trenton Museum Society Board President Joan Perkes, because Miccio, a painter, is venturing into new genres and mediums.
Forty years – it can seem like a very long time if, say, you're waiting for a bus or Uber Eats delivery. On the other hand, if you're watching something grow – like the Ellarslie Open, the annual signature event at the Trenton City Museum that draws accomplished artists from the greater New Jersey region, you may be wondering: where did the time go?
Artist David Orban has been around for those years – in fact, his wife, the artist Mary Yess, organized the very first Ellarslie Open. Orban has been submitting his work to the exhibition – its jurors are known for having rigorous standards – with hits and misses. This year, his hit included the top prize – his painting, "The Work Party: Biplane and Blue Truck in Green," earned Best in Show. To put that in perspective, there are 150 works of art, selected from a total of 600 submitted.
The juror, Reginald M. Browne, vice chair of the board of trustees at the prestigious Pennsylvania Academy of the Fine Arts who is also a grant maker and a collector, was selected by Trenton Museum Society board member Jane Malloy, whose uncle, Tom Malloy, was a noted 20th century Trenton artist – the museum's front gallery was named for Malloy.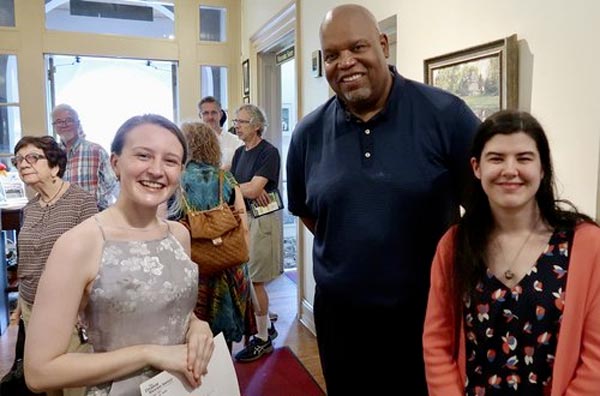 Juror Reg Browne, center, with digital art award winner Abigail Johnson and watercolor award winner Laura Beard.


---
Browne says the criteria he used, to avoid personal bias, were creative approach, composition, technique and craftsmanship. "I am a fan of a wide range of objects of art," he writes in the exhibition brochure. "My interest spans the range of abstraction, figurative, landscapes and sculpture. I was impressed by the large number of landscapes… Clearly, some artists are as moved as I am by the beauty of Central New Jersey."
Among other award winners were Marge Miccio, who received the Carolyn Stetson Risk-Takers Award, and Laura Beard, who received the Watercolor Award in memory of Robert Sakson.
"I didn't know Robert personally, but I knew that he was an incredible artist and a beloved friend to so many people in the greater Trenton arts community, so I was thrilled and honored to win in his memory," says Beard. The icing on the cake was when Juror Browne purchased her piece, "Stick in the Mud," an ox in pasture painted photo-realistically, for his own collection.
Miccio's award "was a much-appreciated confirmation that I am going down a path that interests other people besides me," she says. "I see fellow artists achieve a level of success with a certain technique or look, and then they continue to produce the same type of work that succeeded for them, maybe fearful of changing things up and possibly losing a market. So I guess I'm fortunate that I feel free to do whatever interests me."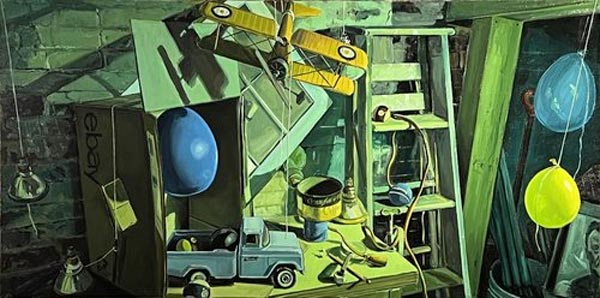 David Orban, "The Work Party: Biplane and Blue Truck in Green," 2023. Oil on linen, 20×24". Best in Show.
Orban's "The Work Party," is a series of still lifes, painted in oil and filled with colorful antique toys, balloons, bowling pins, pool balls, light bulbs, vintage fixtures, tools, Chock Full O' Nuts coffee cans, twine, a can of linseed oil, old windows and ornate furniture parts – the kind of stuff you'd find in a basement. In fact Orban's studio is in the basement of his house, and its brick wall often serves as a backdrop.
"I spend a great deal of time setting up the arrangements, moving objects and lights here and there until I'm satisfied with the overall composition," he says. "For years I've been fascinated with the juxtaposition of objects that aren't normally seen together."
Orban studied under Mercer County Community College professor and legendary Trenton artist Mel Leipzig, to whom he credits a deep interest in composition. At Brooklyn College, Orban studied under Lois Dodd and Philip Pearlstein, among others, earning his Master of Fine Arts. Over the years, Orban has taught at Artworks Trenton, Mercer County Community College, and Rider University. "One of the bigger challenges was teaching students how to see with their eyes, and not with their brains," he says. "For example, a student sees a chair and renders all four legs squarely on a horizontal floor, regardless of whether or not they are actually all on the same plain… or even visible, for that matter."
To illustrate this, Orban continues, "I began setting up very elaborate still life arrangements, even suspending objects from the ceiling with fishing line, in order to (get) students to consider these objects solely on the basis of their spatial relationships with each other. Then, by adding theatrical lighting and colored gels, I was able to literally change the color of objects, forcing the students to learn how to see the objects' color relative to the rest of this now artificially colored arrangement. Over time, I became so interested in this process that I began to incorporate it into my own work."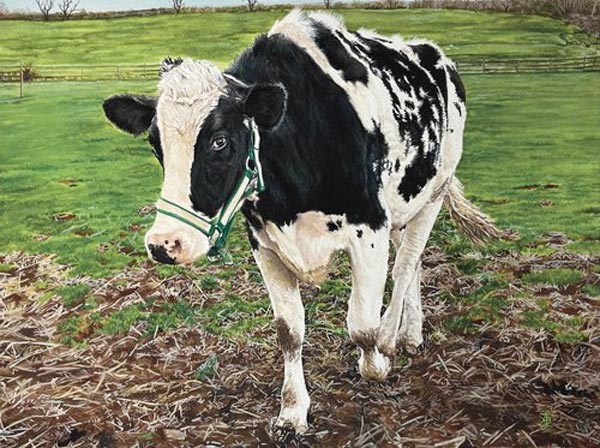 Laura Beard, "Stick in the Mud," 2022. Watercolor and gouache on watercolor paper, 16×20." Watercolor Award in Memory of Robert Sakson.
"The Work Party" series began in the 1980s. He has sourced the objects from his parents' attic, flea markets, eBay and Etsy.
Advertise with New Jersey Stage for $50-$100 per month, click here for info
---
In his earlier years, Orban's artwork stirred controversy. In fact, in 1986 an exhibition with his work at the Trenton City Museum had to be shut down. "My paintings from that period were large-scale narrative paintings, with near life-sized nudes, some of which depicted sexual situations. Others depicted violence, including gun violence. There was quite an uproar from a small but vocal contingent, one going as far to label me a Nazi in a letter that was published in the Trentonian."
Mel Leipzig and arts advocate Molly Merlino, among others, fought to get the exhibition re-opened, albeit with a privacy screen over Orban's works and an advisory, warning viewers of the disturbing nature of the work. "I suspect that in today's political climate, the work might well provoke a similar response," he says.
A Renaissance man, Orban juggles a day job in technology marketing for an enterprise software company and is the frontman for Dave Orban & the Mojo Gypsies, a contemporary blues quartet. The guitarist and vocalist was inducted into the International Blues Hall of Fame in 2014.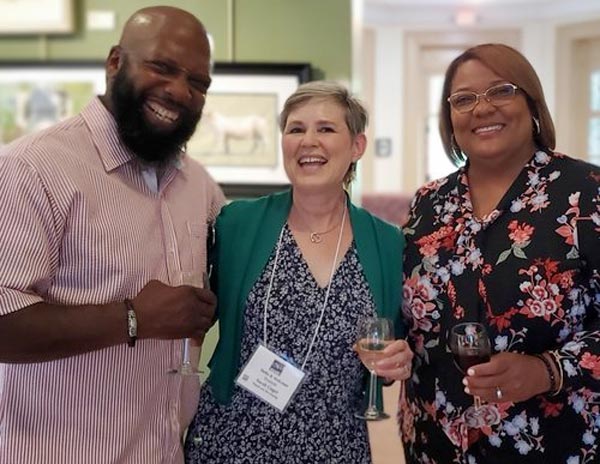 EO40 co-organizer and Trenton Museum Society trustee Sarah K. Unger, center, with Stan and Jocelyn Tucker, EO40 business supporters.
"The Ellarslie Open is highly anticipated by many artists and art lovers every year, and it is exciting to share in the joy," says Sarah Unger who, with Debbie Gorczycki, coordinated EO40. They were responsible for "keeping all the parts moving smoothly and on schedule" – and those parts included everything from coordinating volunteers and artists, making sure it is properly lit, and producing the exhibition catalog as well as the online gallery.
Hanging a show of disparate artists comes with its set of challenges. Unger notes that the show's curator, Deborah Oliver, "saw connections and visual themes emerge as she laid out the artwork around the museum's galleries and worked with art hangers to attain balance and cohesiveness."
Since joining the Trenton Museum Society in 2019, Unger has handled marketing and social media, serves on the art exhibitions and development committees, and can frequently be seen at the museum, handling behind-the-scenes details such as running video programming. "It's very much a working board," she says; the museum is run entirely by devoted volunteers.
"I consider the museum my second home, not only because of the time spent there but also because of the comfort that, for me, comes with being surrounded by art and artifacts – and the people who love them," she says. "The Cadwalader Park setting isn't too shabby either!"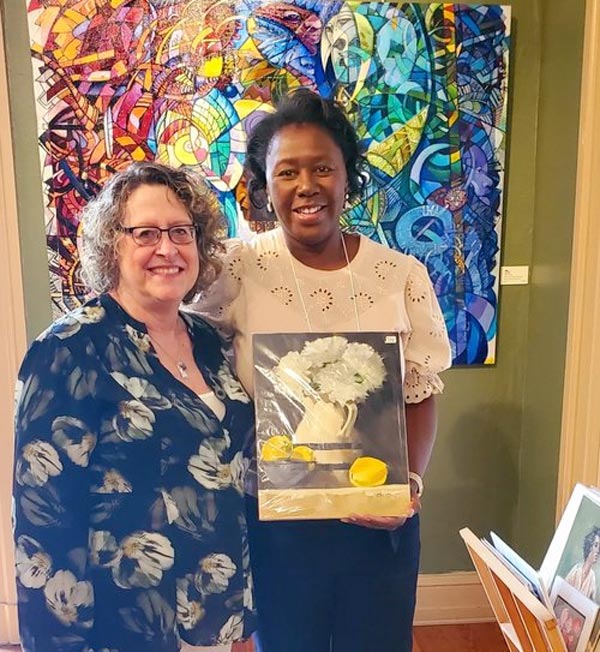 EO40 co-organizer Debbie Gorczycki, left, and Trenton Museum Society trustee Deniece Johnson. Artwork behind them: James Dupree, "Valley of the Gods, Self Portrait," 2020. Acrylic, oil and mixed media on panel, 48×64." Abstract Art Award sponsored by Phoenix Art Supplies.
Unger grew up in Binghamton, New York, exposed to art and books. She took art classes in a former mansion that housed a museum, The Roberson Center of Arts and Sciences. "Decades later, it means a lot to me to be a part of Trenton City Museum, where people of all ages can feel welcome and uplifted when they walk through the doors."
In addition to its dedicated volunteers, another aspect that is part of the lifeblood of the Trenton City Museum is TAWA (Trenton Artists Workshop Association), and both Orban and Yess were among the group's founders. "Those early days were crazy," reflects Orban. "We were young, full of energy, and had not yet been beaten down by politics and the harsh reality of the challenges that went with trying to revitalize a city that had been on the ropes since the exodus to the suburbs in the 50s and 60s. We spent countless hours organizing and installing exhibitions, printing and assembling catalogs, planning museum trips, hosting fundraising events, having riotous parties and making wonderful friendships. We eventually found a home at Ellarslie, which hosted many TAWA exhibits.
"I remember one of the very first organizational meetings," Orban continues. "I saw this stunning young woman who would eventually become my bride, and when the time came for volunteers to raise their hands, mine went up in a flash. Which is how I became TAWA's first secretary… because I knew it would give me an excuse to work closely with Mary, one of my finest life choices, to be sure!"
Awardees:
David Orban, The Work Party: Biplane and Blue Truck in Green, Best in Show.
Laura Beard, Stick in the Mud, Watercolor Award in Memory of Robert Sakson.
James Dupree, Valley of the Gods, Self-Portrait, Abstract Art Award sponsored by @phoenixartstuff.
Asya Dodina and Slava Polishchuk, Dark Sky Over the Parking Lot, President's Award
Ellarslie Open 40 is on view in the museum through September 30, 2023.

---
About the author: Driven by her love of the arts, and how it can make us better human beings, Ilene Dube has written for JerseyArts, Hyperallergic, WHYY Philadelphia, Sculpture Magazine, Princeton Magazine, U.S. 1, Huffington Post, the Princeton Packet, and many others. She has produced short documentaries on the arts of central New Jersey, as well as segments for State of the Arts, and has curated exhibitions at the Trenton City Museum at Ellarslie and Morven Museum in Princeton, among others. Her own artwork has garnered awards in regional exhibitions and her short stories have appeared in dozens of literary journals. A life-long practitioner of plant-based eating, she can be found stocking up on fresh veggies at the West Windsor Farmers Market.
Content provided by
Discover Jersey Arts
, a project of the ArtPride New Jersey Foundation and New Jersey State Council on the Arts.
ART | COMEDY | DANCE | MUSIC | THEATRE | COMMUNITY
Comedian Kevin Herrera
Thursday, July 13, 2023 @ 8:00pm
Avenel Performing Arts Center
150 Avenel Street, Avenel, NJ 07001
category: comedy
Click here for full description
---
Shipwrecked! An Entertainment – The Amazing Adventures of Louis de Rougemont (as Told by Himself)
Thursday, July 13, 2023 @ 8:00pm
Shakespeare Theatre Of NJ – Outdoor Stage
2 Convent Road, Florham Park, NJ 07932
category: theatre
Click here for full description
---
And A Nightingale Sang…
Thursday, July 13, 2023 @ 8:00pm
Shakespeare Theatre Of NJ – F.M. Kirby Shakespeare Theatre
36 Madison Avenue, Madison, NJ 07940
category: theatre
Click here for full description
---
Vanguard Theater presents "Spring Awakening"
Thursday, July 13, 2023 @ 8:00pm
Vanguard Theater
180 Bloomfield Avenue, Montclair, NJ 077042
category: theatre
Click here for full description
---
Satellites
Thursday, July 13, 2023 @ 8:00pm
Premiere Stages – Bauer Boucher Theatre Center
1000 Morris Avenue, Union, NJ 07083
category: theatre
Click here for full description
---
Get The Led Out
Friday, July 14, 2023 @ 8:00pm
Bergen Performing Arts Center (bergenPAC)
30 North Van Brunt Street, Englewood, NJ 07631
category: music
Click here for full description
---
Kiss Me, Kate
Friday, July 14, 2023 @ 7:30pm
Grunin Center
1 College Drive, Toms River, NJ 08754
category: theatre
Click here for full description
---
Shipwrecked! An Entertainment – The Amazing Adventures of Louis de Rougemont (as Told by Himself)
Friday, July 14, 2023 @ 8:00pm
Shakespeare Theatre Of NJ – Outdoor Stage
2 Convent Road, Florham Park, NJ 07932
category: theatre
Click here for full description
---
And A Nightingale Sang…
Friday, July 14, 2023 @ 8:00pm
Shakespeare Theatre Of NJ – F.M. Kirby Shakespeare Theatre
36 Madison Avenue, Madison, NJ 07940
category: theatre
Click here for full description
---
The Wag's Beatles Spectacular
Friday, July 14, 2023 @ 7:30pm
The Vogel
99 Monmouth Street, Red Bank, NJ 07701
category: music
Click here for full description
---
Vanguard Theater presents "Spring Awakening"
Friday, July 14, 2023 @ 8:00pm
Vanguard Theater
180 Bloomfield Avenue, Montclair, NJ 077042
category: theatre
Click here for full description
---
Satellites
Friday, July 14, 2023 @ 8:00pm
Premiere Stages – Bauer Boucher Theatre Center
1000 Morris Avenue, Union, NJ 07083
category: theatre
Click here for full description
---
The MAC Players present "The SpongeBob Musical"
Friday, July 14, 2023 @ 7:00pm
Middletown Arts Center
36 Church Street, Middletown, NJ 07748
category: theatre
Click here for full description
---
Brick City Comedy Revue (Newark Pride Edition)
Friday, July 14, 2023 @ 8:00pm
Kilkenny Alehouse
27 Central Avenue, Newark, NJ 07102
category: comedy
Click here for full description
---
The Sound of Music
Saturday, July 15, 2023 @ 7:30pm
Algonquin Arts Theatre
60 Abe Voorhees, Manasquan, NJ 08736
category: theatre
Click here for full description
---
A Gentleman's Guide to Love and Murder
Saturday, July 15, 2023 @ 8:00pm
South Orange Performing Arts Center (SOPAC)
One Sopac Way, South Orange, NJ 07079
category: theatre
Click here for full description
---
---
For more event listings, click here
---