originally published: 07/16/2023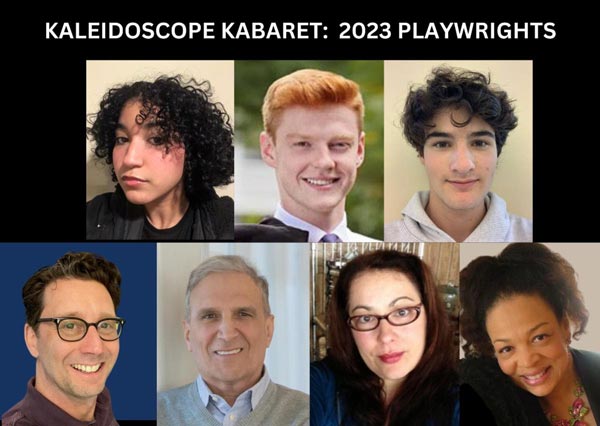 Young playwrights Nicole Beltre, Brennan Columbia-Walsh, Ben Glickman. Adult authors Nick DeMarco, Joseph Vitale, Lynn Marie Macy, Gail Lou
(MAPLEWOOD, NJ) — The Theater Project presents Kaleidoscope Kabaret, its annual showcase of new work, July 28-30, 2023 at The Burgdorff Center. Audiences are invited to see a variety of short plays by members of the company's Playwrights Workshop whose work has been performed in Canada, Great Britain, New York and around the US. This year's event also includes three plays by high school/college playwrights, past honorees of The Theater Project's annual Young Playwrights Competition. The Kabaret includes music performed by guest musicians, including playwright/recording artist Gail Lou.
A live playwrights forum will cap each evening, where audiences can dialogue with some of the published/frequently produced TTP member playwrights represented in the Kabaret: Nick DeMarco of Toms River, Gail Lou of Teaneck, Lynn Marie Macy of Cranford, and Joseph Vitale of Randolph. Vitale is a recent recipient of a fellowship from the New Jersey State Council on the Arts.
Three student playwrights will also see their work showcased: Brennan Columbia-Walsh of Nutley, (Montclair Kimberly Academy/Yale University) Nicole Beltre of Teaneck (Teaneck High School), and Ben Glickman of Livingston (Newark Academy).
Performances take place Friday, July 28 at 8:00pm; Saturday, July 29 at 8:00pm; and Sunday, July 30 at 2:00pm. Tickets are $32 with discounts for students and seniors. Tickets are available for purchase online.


---
"The Kabaret is a terrific way to experience the work of several different playwrights and 16 actors and singers in a single evening," says Theater Project artistic director Mark Spina. "We are proud of all our writers, and it is great to see how well our young playwrights are doing here and in their subsequent careers – the Young Playwrights program, like the Kabaret, is more than 20 years old, so we've been able to watch writers develop and move on to bigger stages."
The Burgdorff Center is located at 10 Durand Road in Maplewood, New Jersey.
Gaining regional recognition as an incubator for new work and as a showcase for NJ artists, The Theater Project is known for its ongoing projects during the pandemic and beyond, including its annual Young Playwrights Competition, ARK (Actors Reading with Kids) program and its podcast, "The Theater Project Thinks About…" which provides backstage insights from practitioners to patrons. Information about all these programs is available on the website.
The Theater Project has been introducing NJ audiences to new plays and supporting rising playwrights and theater artists for nearly 30 years. They develop new audiences for theater by service to the community, providing programs for children and using theater as a forum to address the issues of our time.
ART | COMEDY | DANCE | MUSIC | THEATRE | COMMUNITY
The Sound of Music
Sunday, July 16, 2023 @ 3:00pm
Algonquin Arts Theatre
60 Abe Voorhees, Manasquan, NJ 08736
category: theatre
---
A Gentleman's Guide to Love and Murder
Sunday, July 16, 2023 @ 2:00pm
South Orange Performing Arts Center (SOPAC)
One Sopac Way, South Orange, NJ 07079
category: theatre
---
Kiss Me, Kate
Sunday, July 16, 2023 @ 2:00pm
Grunin Center
1 College Drive, Toms River, NJ 08754
category: theatre
---
Shipwrecked! An Entertainment – The Amazing Adventures of Louis de Rougemont (as Told by Himself)
Sunday, July 16, 2023 @ 4:00pm
Shakespeare Theatre Of NJ – Outdoor Stage
2 Convent Road, Florham Park, NJ 07932
category: theatre
---
Shipwrecked! An Entertainment – The Amazing Adventures of Louis de Rougemont (as Told by Himself)
Sunday, July 16, 2023 @ 8:00pm
Shakespeare Theatre Of NJ – Outdoor Stage
2 Convent Road, Florham Park, NJ 07932
category: theatre
---
And A Nightingale Sang…
Sunday, July 16, 2023 @ 2:00pm
Shakespeare Theatre Of NJ – F.M. Kirby Shakespeare Theatre
36 Madison Avenue, Madison, NJ 07940
category: theatre
---
And A Nightingale Sang…
Sunday, July 16, 2023 @ 7:30pm
Shakespeare Theatre Of NJ – F.M. Kirby Shakespeare Theatre
36 Madison Avenue, Madison, NJ 07940
category: theatre
---
Vanguard Theater presents "Spring Awakening"
Sunday, July 16, 2023 @ 2:00pm
Vanguard Theater
180 Bloomfield Avenue, Montclair, NJ 077042
category: theatre
---
---
For more event listings, click here
---