Loved ones came together to honor fallen Philadelphia police officer Lynneice Hill after she suddenly passed away on the job last Friday.
A fundraiser was held Thursday night at the Fraternal Order of Police in Northeast Philadelphia to raise money for Hill's family.
Among those who attended was Hill's husband Dennis Smith. He was surrounded by family, friends, and fellow officers.
"She's like a celebrity. She was my celebrity. She was our family celebrity. That was just her. Her heart. She has a heart of gold," said Smith.
Hill had served in the police department for more than two decades. Her most recent assignment was as a Community Relations Officer.
Last Friday night while working an overtime assignment in South Philadelphia, Hill suffered a medical emergency and was found unresponsive in her patrol car.
Hill was 44 years old.
"She was the rock of our district. She was the heart of our district. She made everyone smile," said Philadelphia police officer Juan Delgado.
During the fundraiser, a portrait was given to Hill's husband for her honor, integrity, and service.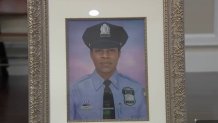 "We pray for Officer Hill's family, friends, and colleagues with the Philadelphia police department," said Philadelphia police union president John McNesby in a statement. "Our friend and colleague, Lynneice Hill served with humility, distinction, and integrity. The FOP will never forget her dedication and contributions to her community and the Philadelphia police department."