originally published: 07/22/2023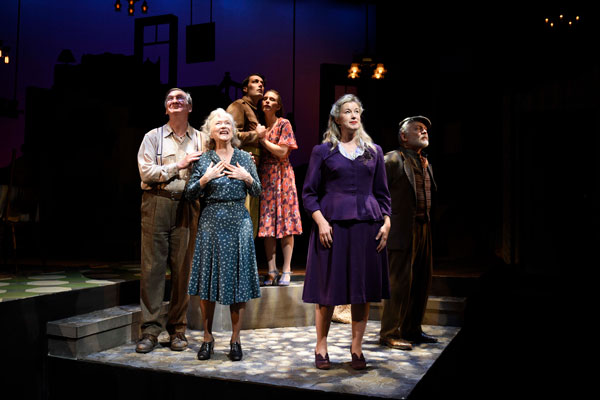 The cast of And a Nightingale Sang… Photo by Sarah Haley
Now playing at the Shakespeare Theatre Of New Jersey (STNJ) is the play And a Nightingale Sang. Written in 1977 by British playwright C.P. Taylor, it has been seen both as a play and a film. The play is about a family living in Newcastle-upon-Tyne, England during World War II. It has some humor to help balance out some very intense scenes about the war and what it is doing to the Scott family. This production includes songs from that era played by a family member on the home piano.
Bonnie J. Monte provides direction of a fine cast and outstanding staging. Monte writes in her Director's Notes, that this play had been on her list of shows she wanted to do for quite awhile. As this is her last season as the STNJ's Artistic Director, she knew that time arrived. Audiences will be pleased with the results of her efforts. This production provides a rare look at how war affects everyday people rather than the military as they take action or even politicians. I agree with what Monte wrote in those Notes that the larger powers have the power to bring horrific events to the world. Strength is needed to cope with these actions and it falls to the every day person trying to live their own lives to deal with that the best they can.
A Story of Survival and Growth
By design, And a Nightingale Sings provides a microcosm of personalities in one family representative of a society of the time. The characters in the play are a part of the Scott family who live in the Newcastle, England area.
The story is told in two acts starting with Scene 1 in September 1939 and additional scenes at key times during the war from 1940, 1942, 1944, and finally 1945 as the war ends. Significant events such as D-Day and VE Day are mentioned.


---
The play has a narrator who is one of the Scott daughters, Helen (Monette Macgrath), She is the older of the two sisters and she walks with limp This slight imperfection leaves a mark on her in that she does not feel any man would want her. So when she meets an officer in the British armed forces, Norman (Benjamin Eakeley), she enters into a love affair and eventually leaves the family home to go to live with him. Her persona is gentle and warm and she wins the audience over immediately.
However, it is a little different with the other sister, Joyce (Sarah Deaver). Initially, she turns one off by the nature of her selfish and somewhat reckless behavior. Looking to have a good time, she meets soldier Eric (Christian Frost). After a great deal of pondering, she accepts his proposal of marriage and some of the difficulties of a couple not being able to see other come through in their relationship.
Both of these sisters' relationships say volumes about wartime romances. Some survive, some do not. And in this play, that is exactly what happens. However, the sisters learn and grow from all of these experiences and come out different people at the War's end.
Three Generations of the Scott Family
Anchoring the household are the elder members including the grandfather, Andie (Sam Tsoutsouvas). His role adds some humor to the play especially as he seeks out a room and he recounts some of experiences in finding one.
Finally, Peggy Scott (Marion Adler) is the mother. Hard to determine her level of stability because she is constantly dashing off to the local church for comforting and to check on the safety of the pastor. George Scott (John Little) offers a settled image as he plays the piano with songs of the era. In many ways, the music becomes a grounding source of comfort for all.
Special Effects and Staging Assist the Story Being Told
Major cities in England were constant targets of Nazi bombing raids so this is written into the play. Civilians needed to deal with air raid warning sirens, staying in bomb shelters, and finally hearing the all clear sound. Also shown are the gas masks needed at various times which members of the family have and use at times. These were difficult times and the play brings that out.
George serves as a volunteer in the Civil Defence Service helping people as needed especially when air raid sirens go off. The sound is frightening and the reactions of the players takes different forms. STNJ does an excellent job with the sounds of the sirens and bombs dropping. One can feel the fear hearing the overhead planes coming in and bombs dropping all around them. It is distressing to watch people hoping they will come out alive.
The stage is designed to be a two story house but also some steps down for the bomb shelter. Lighting is also used to enhance some events taking place.
Highly Recommend Going to see And a Nightingale Sang
Advertise with New Jersey Stage for $50-$100 per month, click here for info
---
This play by C.P. Taylor is well written and the STNJ does a superb job presenting it on stage. You will experience some of the anxiety people of this time felt while they lived through it. Additionally, these are characters who represent the every day people who lived in English at the time.
I have purposely left out the full description of who ends up with whom and what happens to the characters because some of it needs to unfold to you, as an audience member. Some might surprise. But if you are a student of history of World War II, some will not. However, the experience seeing this play is well worth it.
And a Nightingale Sang Tickets and Special Offerings
Ticket prices range from $34 to $65. The Theatre offers various cost-saving opportunities:
$15 student rush tickets, which are available 30 minutes prior to each performance, with a valid student ID.

A limited number of Pay What You Can tickets for every performance on a first-come, first-serve basis.
A $30 Under 30 ticket option, which offers $30 tickets for patrons aged 30 and under, with valid ID. 

Other discounts are available including subscription discounts, a 10% discount for members of PBS/Thirteen and AAA members. 

For tickets, call the Box Office at 973-408-5600 or visit ShakespeareNJ.org.
And a Nightingale Sang Audience Enrichment & Accessible Performances
For the same price as a regular ticket, the Symposium Series performances offer a post-show discussion with the cast and artistic staff. For And a Nightingale Sang…, Symposium performances are on Tuesday, July 18 at 7:30 PM, Saturday, July 22  at 2:00 PM, and Saturday, July 29 at 2:00 PM.
The Know-the-Show pre-show talks are available free of cost with the purchase of a performance ticket. Prior to the Thursday, July 20th performance, at 7:00 PM, Ms. Monte will conduct a pre-show talk and Q&A for interested patrons. The performance that night follows at 8:00 PM.
The Shakespeare Theatre also offers Closed-Caption performances and Audio-Described performances throughout the season. The captioned performance for And a Nightingale Sang… will be on Thursday, July 20th at 8:00 PM. The Audio-Described performance will be on Thursday, July 27th at 8:00 PM. For more information, please contact the Box Office.
---
Let's Go to the Theater helps people learn more about about live theater and develop appreciation for this art form. Karen M. Nowosad is the founder of the site. The enjoyment Karen gets from going to the theater is something she wants to share with others.
---
ART | COMEDY | DANCE | MUSIC | THEATRE | COMMUNITY
The Sound of Music
Sunday, July 23, 2023 @ 3:00pm
Algonquin Arts Theatre
60 Abe Voorhees, Manasquan, NJ 08736
category: theatre
---
Phoenix Productions Presents:The Music Man
Sunday, July 23, 2023 @ 2:00pm
Count Basie Center for the Arts
99 Monmouth Street, Red Bank, NJ 07701
category: theatre
---
A Gentleman's Guide to Love and Murder
Sunday, July 23, 2023 @ 2:00pm
South Orange Performing Arts Center (SOPAC)
One Sopac Way, South Orange, NJ 07079
category: theatre
---
Kiss Me, Kate
Sunday, July 23, 2023 @ 2:00pm
Grunin Center
1 College Drive, Toms River, NJ 08754
category: theatre
---
Reggie Rice: Adult DayCare
Sunday, July 23, 2023 @ 3:00pm
Avenel Performing Arts Center
150 Avenel Street, Avenel, NJ 07001
category: comedy
---
Shipwrecked! An Entertainment – The Amazing Adventures of Louis de Rougemont (as Told by Himself)
Sunday, July 23, 2023 @ 4:00pm
Shakespeare Theatre Of NJ – Outdoor Stage
2 Convent Road, Florham Park, NJ 07932
category: theatre
---
Shipwrecked! An Entertainment – The Amazing Adventures of Louis de Rougemont (as Told by Himself)
Sunday, July 23, 2023 @ 8:00pm
Shakespeare Theatre Of NJ – Outdoor Stage
2 Convent Road, Florham Park, NJ 07932
category: theatre
---
And A Nightingale Sang…
Sunday, July 23, 2023 @ 2:00pm
Shakespeare Theatre Of NJ – F.M. Kirby Shakespeare Theatre
36 Madison Avenue, Madison, NJ 07940
category: theatre
---
And A Nightingale Sang…
Sunday, July 23, 2023 @ 7:30pm
Shakespeare Theatre Of NJ – F.M. Kirby Shakespeare Theatre
36 Madison Avenue, Madison, NJ 07940
category: theatre
---
Rhett Miller Acoustic with Special Guest Salim Nourallah
Sunday, July 23, 2023 @ 7:30pm
The Vogel
99 Monmouth Street, Red Bank, NJ 07701
category: music
---
Satellites
Sunday, July 23, 2023 @ 3:00pm
Premiere Stages – Bauer Boucher Theatre Center
1000 Morris Avenue, Union, NJ 07083
category: theatre
---
The MAC Players present "The SpongeBob Musical"
Sunday, July 23, 2023 @ 2:00pm
Middletown Arts Center
36 Church Street, Middletown, NJ 07748
category: theatre
---
---
For more event listings, click here
---