originally published: 07/23/2023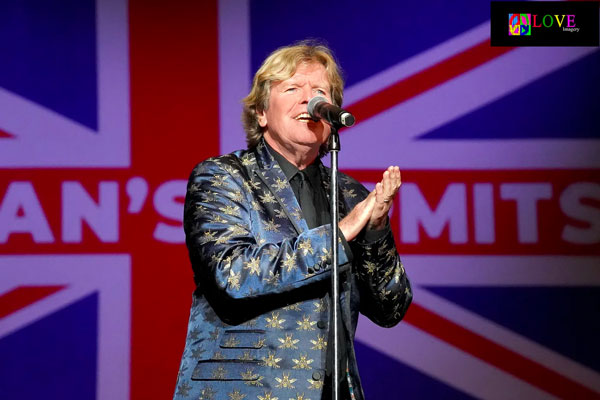 Even though it's hot and humid this Thursday, July 13, 2023 evening, MusicRadio 77-WABC DJ Bruce "Cousin Brucie" Morrow has a cool line up of performers ready to entertain the crowd of '60s and '70s music lovers at the PNC Bank Arts Center in Holmdel, NJ. Sponsored by the Garden State Arts Foundation, tonight's free event presents Herman's Hermits featuring Peter Noone along with Jay Siegel's Tokens and The Soundtrack of our Lives starring Al Sapienza and Deborah Rennard.
Before the show starts, we chat backstage with Deborah Rennard, best known for her work on TV's Dallas, who reveals, "My partner, Al Sapienza, and I have been looking forward to performing here at PNC Bank Arts Center — it's thrilling for us!" Explaining, "Along with some Broadway tunes, we'll be doing hits by such '60s and '70s artists as Neil Diamond, Petula Clark, The Supremes, and The Beatles," Rennard further exclaims, "We want to get people up and dancing!"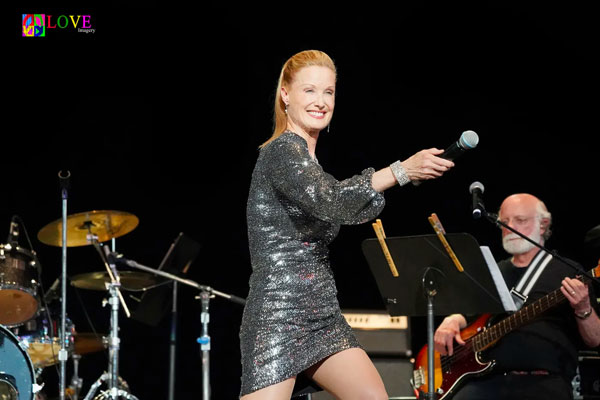 When asked how the idea for the Soundtrack of Our Lives music duo came about, Rennard recalls, "We just took our favorite songs and put them into a show where we could also talk a bit about our lives," noting, "We love it, which is exactly why we're doing it!" In addition to her work performing onstage with The Soundtrack of Our Lives, Rennard reports that she will also appear in the upcoming film, Appendage, on Hulu, and that her stagemate, Al Sapienza — whom many recognize for his work on television on House of Cards and The Sopranos — can be seen in NCIS on CBS, Reacher on Netflix, and in the 2023 film, Big George Forman.
Outside in the PNC Bank Arts Center amphitheater, Garden State Arts Foundation Vice President Ron Gravino greets tonight's crowd stating, "The heat is high, but the air quality is good!" Gravino pays tribute to beloved local DJ Jerry "The Geater with the Heater" Blavat by playing Blavat's theme song, "Heatwave," in honor of his recent passing, stating as the song fades, "Thank you, Jerry Blavat, for all of the great years entertaining New Jersey."
After thanking the sponsors and volunteers who support The Garden State Arts Foundation — including Live Nation Entertainment, the PNC Bank Arts Center production staff, GSAF executive director Cookie Santiago, and Bob O'Brian and the GSAF volunteers — Gravino introduces tonight's host, Bruce "Cousin Brucie" Morrow, who takes the stage in his 77-WABC letterman jacket.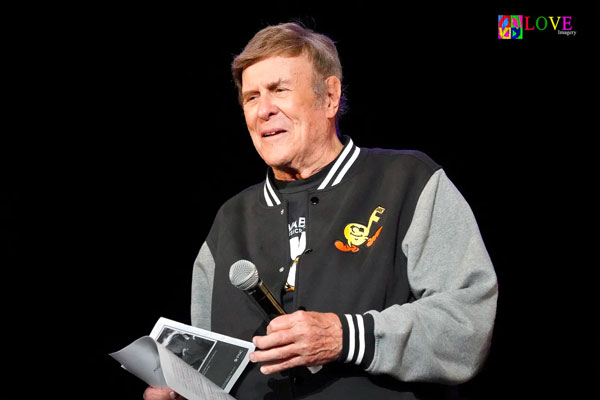 ---
"Good evening, my cousins!" exclaims Brucie to the crowd, acknowledging, "You guys — the New York/New Jersey people — are my people. I thank you so much for all the loyalty all these years."
Brucie introduces The Soundtrack of Our Lives' Deborah Rennard and Al Sapienza who open tonight's show with their rendition of Barbra Streisand and Neil Diamond's "You Don't Bring Me Flowers." Accompanied by musicians on piano, guitar, bass, and drums, Rennard's sweet soprano and Sapienza's smooth baritone delight the crowd as the couple sings while gazing into one another's eyes.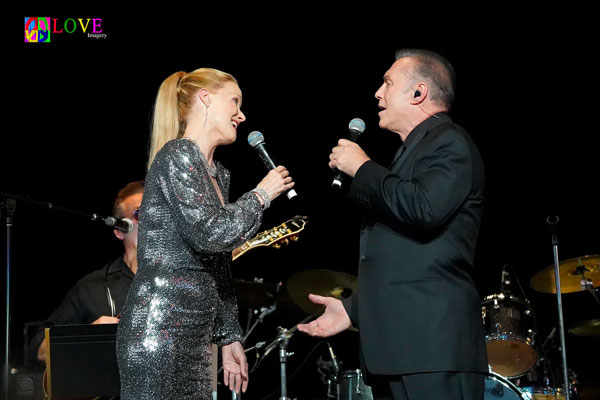 Sapienza croons Neil Diamond's "Sweet Caroline" with style, energy, and dynamics and Rennard sings harmony to Sapienza's vocal as the crowd adds the popular "So good, so good, so good" refrain to the arrangement.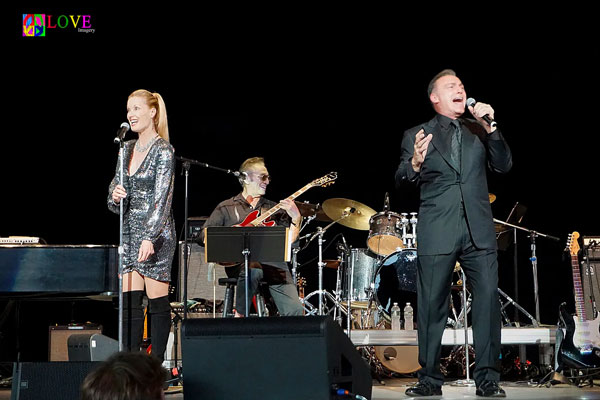 Rennard follows up with a highlight of the duo's set — her interpretation of Petula Clark's "Downtown," where the audience happily joins her on the catchy "Downtown" refrain.
The crowd cheers, and Sapienza says, "Thank you, New Jersey! The Sopranos, Springsteen, Bon Jovi — New Jersey is the greatest state!" before launching into an upbeat rendition of The Beatles' "She Loves You" where Sapienza plays guitar and the crowd joins in on the infectious "She loves you/Yeah, yeah, yeah" chorus.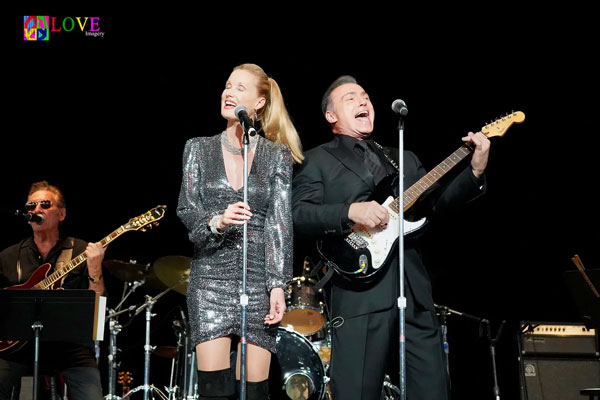 Following Rennard's performance of the title song from Cabaret, Sapienza is featured on "Brandy," a '70s song by the New Jersey group, Looking Glass. The duo performs a haunting rendition of Simon and Garfunkel's "The Sound of Silence" and follows up with another highlight performance of today's set — Al Sapienza's soulful and powerful rendition of Neil Diamond's "Holly Holy" — which brings avid cheers from the crowd.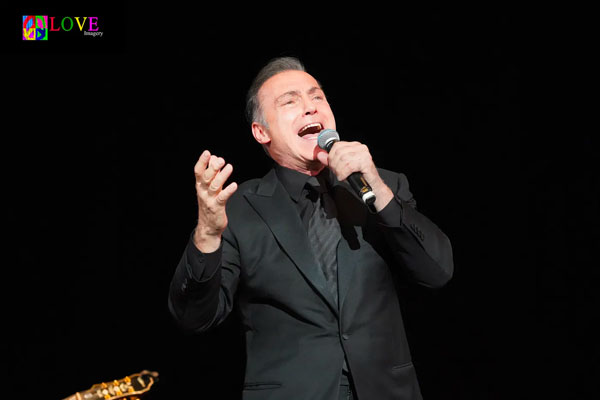 Rennard dedicates her next song, "People," to the incomparable Barbra Streisand and, holding hands, the couple sings directly to one another on "All I Ask of You" from Phantom of the Opera.
Concertgoers stand and dance to the duo's interpretation of The Supremes' "Stop! In the Name of Love," and Sapienza and Rennard conclude their set with an upbeat rendition of The Beatles' "Twist and Shout" which has audience members standing and twisting along at their seats.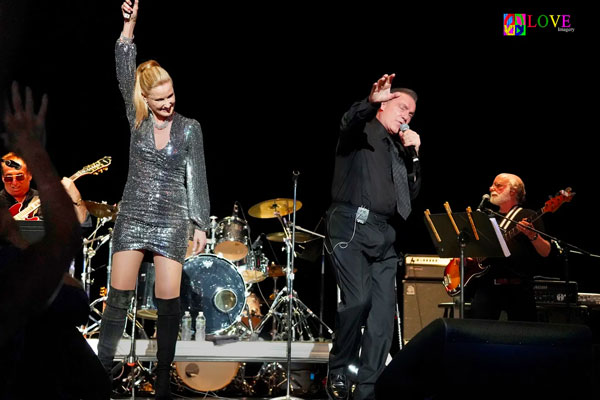 Following the duo's performance, Cousin Brucie returns to the stage to joke with Sapienza who takes on the persona of his Sopranos character, Mikey P., and the two have a mock confrontation, about which Morrow insists, "I always wanted to take on a Soprano!"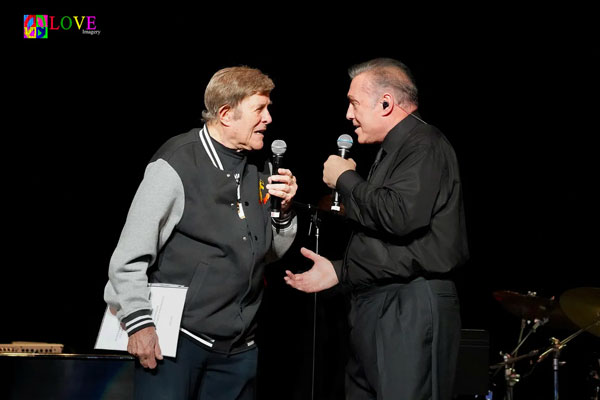 Brucie introduces Jay Siegel and The Tokens — Kurt "Frenchy" Yaghjian, and Gabe Dassa — who enter the stage accompanied by musicians on keyboards, bass, drums, and guitar.
The audience claps along to The Tokens' 1961 hit, "Tonight I Fell in Love."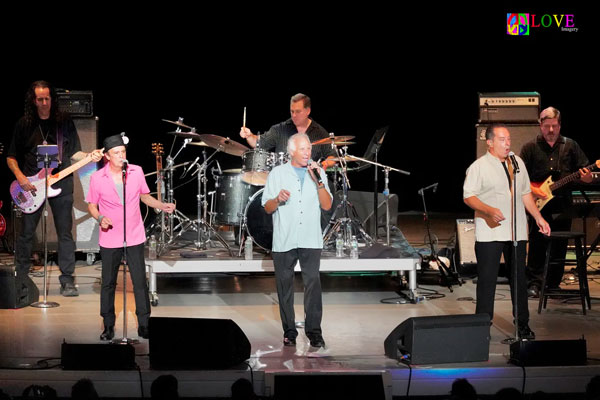 Advertise with New Jersey Stage for $50-$100 per month, click here for info
---
Crooning with style and ease, Siegel and Co. make the years melt away for many in the crowd who fall in love all over again with the music of their youth.
Siegel talks about the "B-side" of "Tonight I Fell in Love" before performing "I'll Always Love You." On this doo-wop ballad, his stagemates' rich, lush harmonies float out over the audience as they accompany Siegel's trademark falsetto voice.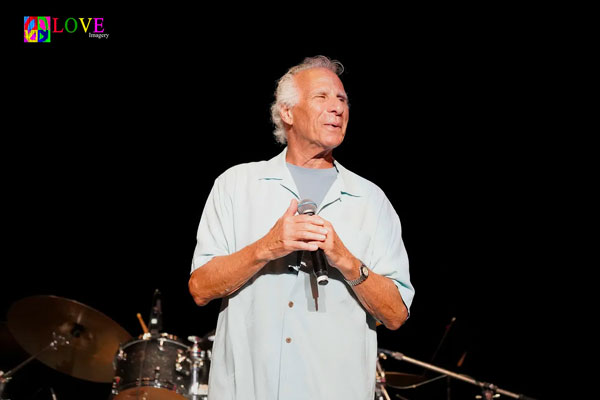 Singing, "There could never be/A portrait of my love/For nobody can paint a dream," Siegel and his Tokens provide a top-notch rendition of the group's 1967 Top 40 hit, "Portrait of My Love," which brings avid cheers and applause from the crowd.
Kurt "Frenchy" Yaghjian is featured on an upbeat interpretation of The Temptations' "My Girl."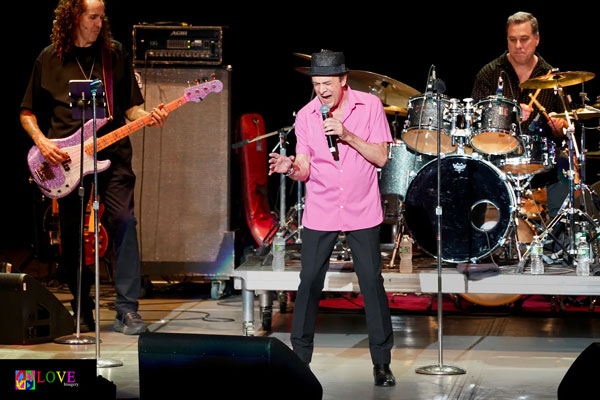 His soulful vocal impresses concertgoers, and Siegel gets everyone to sing on the song's "Hey, hey, hey" lyric.
Siegel formally introduces the audience to Yaghjian, who, as he explains, hails from Hoboken, New Jersey. According to Siegel, "Frenchy" did not only perform in the original Broadway cast of Jesus Christ Superstar and appear in the movie, Hair, but also sang with such artists as Cyndi Lauper, Carly Simon, and John Lennon.
The trio follows up with two hits which Jay Siegel worked on as a record producer — The Happenings' "See You in September" and The Chiffons' "One Fine Day."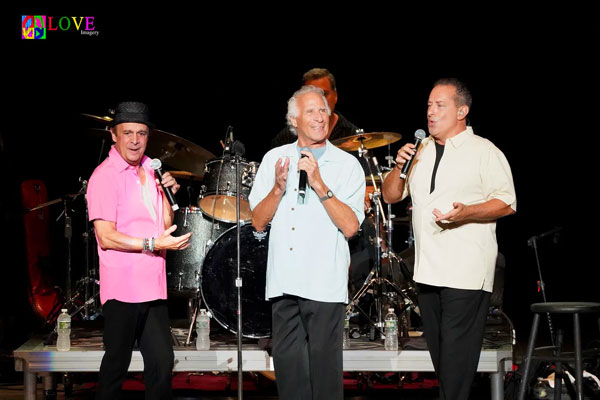 After introducing the group's newest member — Gabe Dassa, an orthopedic surgeon — Siegel sings lead on the poignant, "Please Write." Then, Yaghjian handles the lead as the audience joyfully joins him in singing Dion's "The Wanderer."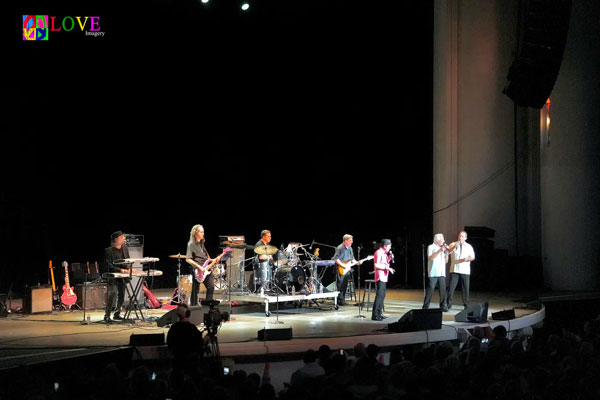 Seigel tells a story about growing up in Brooklyn and singing songs on the beach with his high school friends. Then, he and the Tokens perform one of those early songs which went on to become the group's biggest hit, "The Lion Sleeps Tonight." Their extended live version of the song has music lovers throughout the PNC Bank Arts Center on their feet singing and clapping along.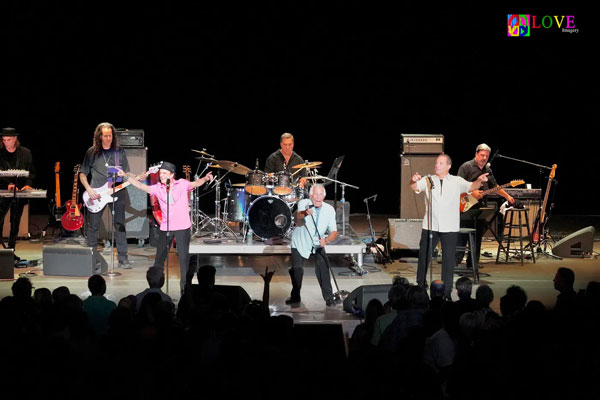 People stand and cheer at the end, inspiring Jay Siegel to respond, "I can't tell you how good that feels! Thank you, New Jersey!"
During intermission, music lovers share their thoughts on tonight's performance thus far. Declares Mona from East Windsor, "This show is so full of talent! Deborah Rennard and Al Sapienza sounded wonderful — their song selection included a variety of tunes that anyone could like. Plus, The Tokens put their hearts and souls into their performance, and when they sang 'The Lion Sleeps Tonight,' that was the highlight for me!"
Joe from Brick agrees, noting, "Deborah Rennard has a tremendous voice, and I really liked The Tokens, too. Jay Siegel's musical history is impressive! He's a very interesting man who could be the subject of a movie. He had a front row seat to that great bastion that was Brooklyn in the '50s and '60s with such creative musicians as Carole King and Neil Sedaka — a generation of talent that turned out to be such a creative storm."
Whereas Dee from Queens contends, "I'm loving this concert — all of the singers are great and I just love all the old songs!" Yvonne from Rumson exclaims, "I'm having so much fun going back in time — these performances are amazing!" Recalling, "I grew up in Holland so I really liked the British Invasion groups," Yvonne acknowledges, "As a youngster, I had the artists' pictures above my bed — and I liked American songs, too — but I'm a huge fan of Peter Noone and Herman's Hermits so I can't wait to hear them tonight!"
Following intermission, Cousin Brucie retakes the stage to introduce Herman's Hermits starring Peter Noone. Drumbeats call as fans in the crowd wave colored glow sticks and the musicians of Herman's Hermits — Billy Sullivan and Wayne Avers on guitars, Rich Spina on keyboards, and Dave Ferrara on drums — enter the stage to avid applause.
As a backdrop featuring an enormous British flag lowers from the ceiling, Peter Noone runs to the center of the stage and the group launches into their first number — Herman's Hermits' 1964 smash, "I'm into Something Good."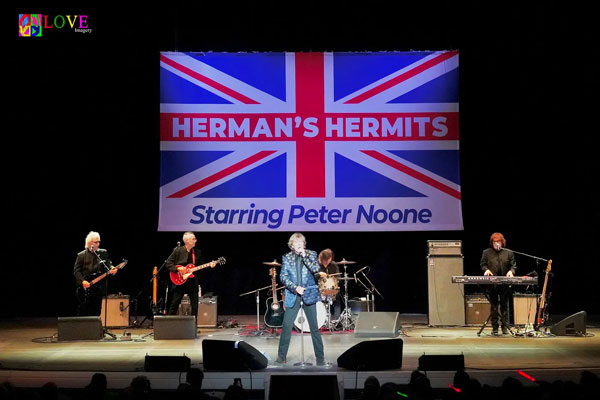 Sounding as youthful as ever, Noone sings, "Woke up this morning feeling fine," before segueing into his 1965 remake of Sam Cooke's 1960 tune, "Wonderful World," and following up with a rockin' cover version of the Clovers' 1959 Leiber/Stoller classic, "Love Potion № 9."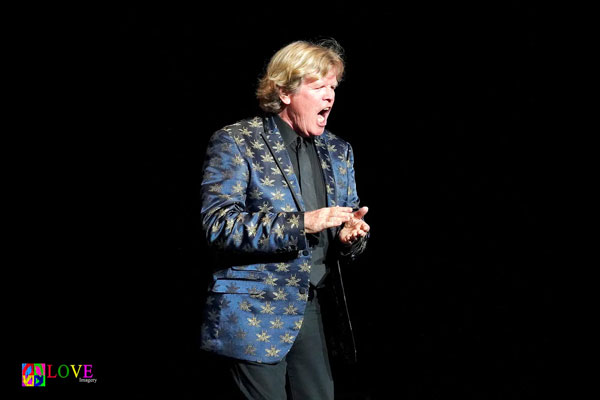 Addressing the audience on this sweltering night, Noone jokes, "There's no wimps in Jersey! They don't care if it's 130 degrees. Wherever Cousin Brucie goes, they'll follow!"
After a jaunty version of "A Must to Avoid," Noone and the band perform his 1966 hit, "Dandy." Noone does a comical imitation of Johnny Cash singing "Ring of Fire" prior to coming out into the audience to perform snippets of songs including a humorous twist on "Ferry Cross the Mersey" which has music lovers singing "Ferry Cross New Jersey" along with Manfred Mann's "Doo Wah Diddy Diddy."
Glow sticks sway in the audience on Noone's cover version of The Monkees' "Daydream Believer," and Peter and the band follow up by performing an upbeat rendition of Frankie Ford's "Sea Cruise" and The Beatles' "All My Loving."
The crowd cheers, and the group performs the Hermits' rockin' 1965 hit, "A Little Bit Better" where Noone sings and moves to the music while standing in between guitarists Billy Sullivan and Wayne Avers.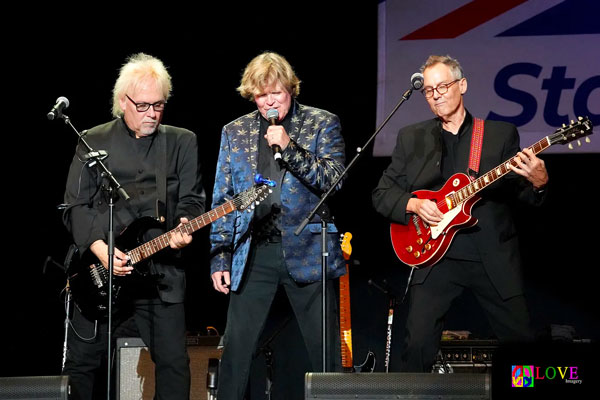 Glow sticks sway on "Silhouettes." Then, Noone gets the crowd's attention as he delivers a poignant rendition of his 1966 ballad, "Listen People" which has the entire audience cheering at the end.
Joking that his dad is Mick Jagger, Noone dances around on a short comedic rendition of The Rolling Stones' "Start Me Up."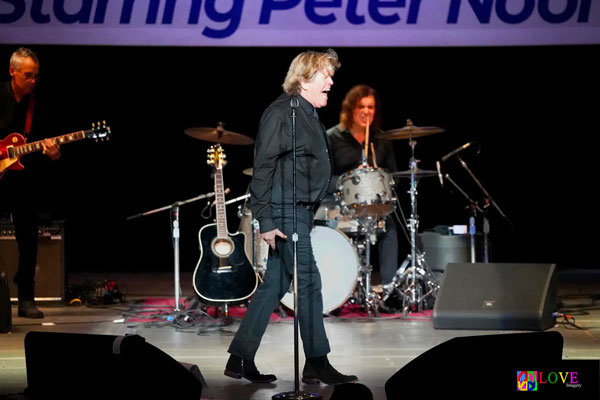 After Noone honors a request from Garden State Arts Foundation VP Gravino to perform his 1967 hit, "No Milk Today," he takes a seat on the stairs leading up the stage. Joking, "This one's a downer — I hope you like it!" the spotlight focuses on Peter as he performs a heartfelt and poignant rendition of his 1965 ballad, "End of the World."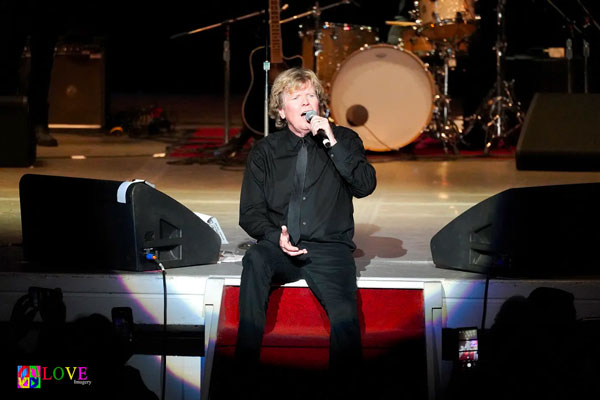 Next, he segues into a spirited version of the Hermits' 1965 hit, "Can't You Hear My Heartbeat" where the audience claps in time to the rhythm. Music lovers sing along on the group's 1965 #1 smash, "Mrs. Brown You've Got a Lovely Daughter," and also join in on another 1965 chart-topper, "I'm Henry the VIII, I Am." Creating a singing competition among various sections of the amphitheater, Noone has the audience cheering by the end of this number and rewards the crowd by showing that one of his socks is adorned with a British flag and the other an American flag.
To conclude the evening's festivities, Noone and the Hermits entertain the audience with their final number, a nostalgic rendition of their classic 1967 recording, "There's a Kind of Hush."
"Good night, everybody!" exclaims Noone as he takes a bow and Cousin Brucie wraps up tonight's event by telling the audience, "We love you!"
As concertgoers make their way out of the amphitheater, several comment on tonight's presentation. Remarks Pam from Ocean Gate, "I loved this show! Peter Noone is the best! He's so funny — I never laughed so much at a concert!" Judy from Edison agrees, adding, "His comedy is great, but I have a lot of his albums and his musical performance was terrific, too!"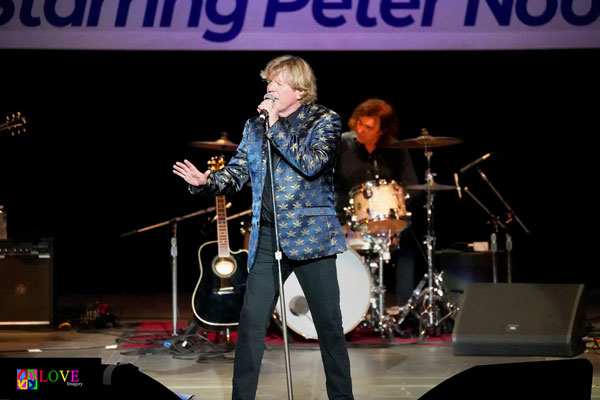 Mona from East Windsor wonders, "What can I say about Peter Noone other than I love his show more and more each time I see it?" adding, "Even though I've heard his stories time and time again, I laugh like it's the first time, and it's always great hearing and singing along to so many songs from my youth."
Carol from Old Bridge contends, "Peter Noone has so much energy — he really gets around — and he is such a perfect entertainer!" prior to noting, "but I also enjoyed 'Listen People,' too, as it was very poignant." Mark from Old Bridge agrees, adding, "He was so good! I can't tell you how many hits Peter Noone did — he was changing gears all the time — but I can tell you I loved every one of them!"
Lastly, we chat with Cousin Brucie who acknowledges, "Peter Noone is very special! He has everything you could want — energy, talent, and humor — plus he loves what he's doing. He's really got it all together," prior to concluding, "That was one of the finest live performances you'll see anywhere!"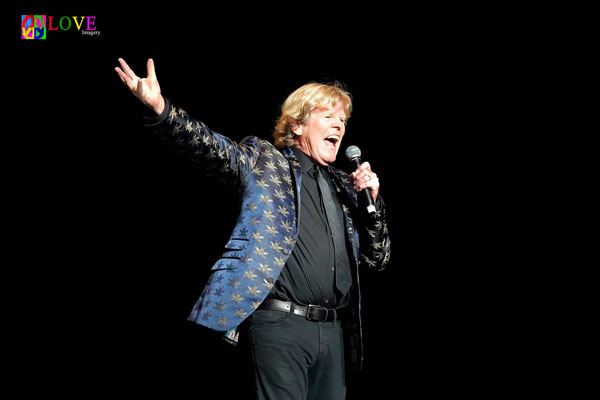 For more information on The Soundtrack of Our Lives starring Deborah Rennard and Al Sapienza, please go to facebook.com/SapienzaRennard. To learn more about Jay Siegel's Tokens, please click on jaysiegelstokens.com. For further information on Herman's Hermits starring Peter Noone, please navigate to peternoone.com.
For info on future Garden State Arts Foundation concerts at the PNC Bank Arts Center — including Malt Shop Memories Live starring The Happenings, The Coasters, Charlie Thomas' Drifters, Bobby Wilson, The Tymes, and Johnny Farina, and hosted by 77-WABC DJ Vinnie Medugno on September 14 — please click on gsafoundation.org.
Photos by Love Imagery
Spotlight Central. Your source for Jersey entertainment news and reviews
Love Imagery Fine Art Photography. all you need. peace/love/flower/power
Advertise with New Jersey Stage for $50-$100 per month, click here for info
---
ART | COMEDY | DANCE | MUSIC | THEATRE | COMMUNITY
The Sound of Music
Sunday, July 23, 2023 @ 3:00pm
Algonquin Arts Theatre
60 Abe Voorhees, Manasquan, NJ 08736
category: theatre
Click here for full description
---
Phoenix Productions Presents:The Music Man
Sunday, July 23, 2023 @ 2:00pm
Count Basie Center for the Arts
99 Monmouth Street, Red Bank, NJ 07701
category: theatre
Click here for full description
---
A Gentleman's Guide to Love and Murder
Sunday, July 23, 2023 @ 2:00pm
South Orange Performing Arts Center (SOPAC)
One Sopac Way, South Orange, NJ 07079
category: theatre
Click here for full description
---
Kiss Me, Kate
Sunday, July 23, 2023 @ 2:00pm
Grunin Center
1 College Drive, Toms River, NJ 08754
category: theatre
Click here for full description
---
Reggie Rice: Adult DayCare
Sunday, July 23, 2023 @ 3:00pm
Avenel Performing Arts Center
150 Avenel Street, Avenel, NJ 07001
category: comedy
Click here for full description
---
Shipwrecked! An Entertainment – The Amazing Adventures of Louis de Rougemont (as Told by Himself)
Sunday, July 23, 2023 @ 4:00pm
Shakespeare Theatre Of NJ – Outdoor Stage
2 Convent Road, Florham Park, NJ 07932
category: theatre
Click here for full description
---
Shipwrecked! An Entertainment – The Amazing Adventures of Louis de Rougemont (as Told by Himself)
Sunday, July 23, 2023 @ 8:00pm
Shakespeare Theatre Of NJ – Outdoor Stage
2 Convent Road, Florham Park, NJ 07932
category: theatre
Click here for full description
---
And A Nightingale Sang…
Sunday, July 23, 2023 @ 2:00pm
Shakespeare Theatre Of NJ – F.M. Kirby Shakespeare Theatre
36 Madison Avenue, Madison, NJ 07940
category: theatre
Click here for full description
---
And A Nightingale Sang…
Sunday, July 23, 2023 @ 7:30pm
Shakespeare Theatre Of NJ – F.M. Kirby Shakespeare Theatre
36 Madison Avenue, Madison, NJ 07940
category: theatre
Click here for full description
---
Rhett Miller Acoustic with Special Guest Salim Nourallah
Sunday, July 23, 2023 @ 7:30pm
The Vogel
99 Monmouth Street, Red Bank, NJ 07701
category: music
Click here for full description
---
Satellites
Sunday, July 23, 2023 @ 3:00pm
Premiere Stages – Bauer Boucher Theatre Center
1000 Morris Avenue, Union, NJ 07083
category: theatre
Click here for full description
---
The MAC Players present "The SpongeBob Musical"
Sunday, July 23, 2023 @ 2:00pm
Middletown Arts Center
36 Church Street, Middletown, NJ 07748
category: theatre
Click here for full description
---
Hasan Minhaj: Experiment Time
Sunday, July 23, 2023 @ 8:30pm
McCarter Theatre Center (Berlind Theater)
91 University Place, Princeton, NJ 08540
category: comedy
Click here for full description
---
Hasan Minhaj: Experiment Time
Sunday, July 23, 2023 @ 6:00pm
McCarter Theatre Center (Berlind Theater)
91 University Place, Princeton, NJ 08540
category: comedy
Click here for full description
---
Pat Benatar & Neil Giraldo
Tuesday, July 25, 2023 @ 7:30pm
Mayo Performing Arts Center (MPAC)
100 South Street, Morristown, NJ 07960
category: music
Click here for full description
---
free summer movie: Soul
Tuesday, July 25, 2023 @ 10:30am
State Theatre New Jersey
15 Livingston Avenue, New Brunswick, NJ 08901
category: film
Click here for full description
---
---
For more event listings, click here
---