originally published: 07/24/2023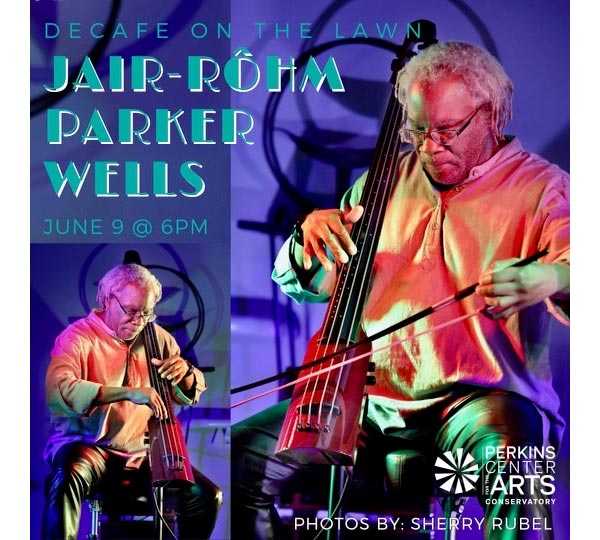 (MOORESTOWN, NJ) — Perkins Center for the Arts presents an outdoor jazz concert on Friday, July 28, 2023 from 6:00pm to 7:00pm. Celebrated jazz bassist Jair-Rohm Parker Wells will perform on their picturesque lawn.
Come celebrate the 30th anniversary of Eberhard Weber's remarkable album "Pendulum" with Jair-Rohm Parker Wells on his solo bass tour 'Resonance: Jair-Rohm Parker Wells Plays Eberhard Weber's "Pendulum"'! He will be performing this amazing album in its entirety live on the lawn.
This DeCafe concert is part of Perkins' summer-long Gather on the Green concert series, which serves the community's need for accessible, diverse, and impactful arts based programs that promote gathering and healing. Tickets are $20 and available for purchase online.
These events are family-friendly, pet-friendly, BYOC "Bring Your Own Chair," and support emerging and established artists. Concerts will be held rain or shine, thanks to the covered stage.
Perkins Center for the Arts is a regional, multi-disciplinary arts education center with locations in Moorestown and Collingswood, New Jersey. With a mission to enrich lives, inspire life-long learning, and cultivate intercultural experiences, Perkins Center for the Arts offers a music conservatory, visual and performing arts classes, exhibitions, concerts, artist-led school residency programs, summer camp, Folklife Center, and community enrichment projects.


---
Advertise with New Jersey Stage for $50-$100 per month, click here for info
---
ART | COMEDY | DANCE | MUSIC | THEATRE | COMMUNITY
Pat Benatar & Neil Giraldo
Tuesday, July 25, 2023 @ 7:30pm
Mayo Performing Arts Center (MPAC)
100 South Street, Morristown, NJ 07960
category: music
---
free summer movie: Soul
Tuesday, July 25, 2023 @ 10:30am
State Theatre New Jersey
15 Livingston Avenue, New Brunswick, NJ 08901
category: film
---
free summer movie: Soul
Tuesday, July 25, 2023 @ 7:00pm
State Theatre New Jersey
15 Livingston Avenue, New Brunswick, NJ 08901
category: film
---
Shipwrecked! An Entertainment – The Amazing Adventures of Louis de Rougemont (as Told by Himself)
Tuesday, July 25, 2023 @ 8:00pm
Shakespeare Theatre Of NJ – Outdoor Stage
2 Convent Road, Florham Park, NJ 07932
category: theatre
---
And A Nightingale Sang…
Tuesday, July 25, 2023 @ 7:30pm
Shakespeare Theatre Of NJ – F.M. Kirby Shakespeare Theatre
36 Madison Avenue, Madison, NJ 07940
category: theatre
---
Shipwrecked! An Entertainment – The Amazing Adventures of Louis de Rougemont (as Told by Himself)
Wednesday, July 26, 2023 @ 8:00pm
Shakespeare Theatre Of NJ – Outdoor Stage
2 Convent Road, Florham Park, NJ 07932
category: theatre
---
And A Nightingale Sang…
Wednesday, July 26, 2023 @ 7:30pm
Shakespeare Theatre Of NJ – F.M. Kirby Shakespeare Theatre
36 Madison Avenue, Madison, NJ 07940
category: theatre
---
South Orange Summer Nights: Blues People, presented by SOPAC
Wednesday, July 26, 2023 @ 7:30pm
Floods Hill in Meadowlands Park
100 N Ridgewood Rd, South Orange, NJ 07079
category: music
---
---
For more event listings, click here
---