originally published: 07/26/2023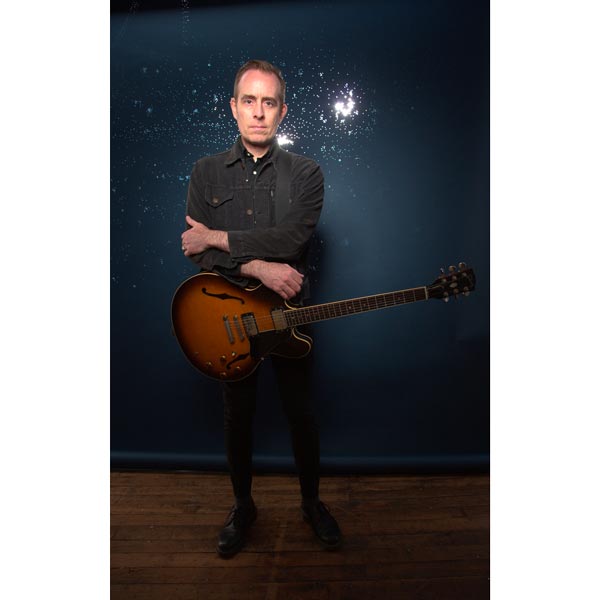 Photo by Mindy Tucker
(MONTCLAIR, NJ) — Outpost in the Burbs presents Ted Leo on Friday, December 1st at 8:00pm. The concert will take place at the First Congregational church, 40 South Fullerton Avenue, Montclair. Opening the show will be the band Elk City. 
Ted Leo is one of the finest songwriters of our generation, even if it's not entirely clear what generation that is. Starting in New York Hardcore with Citizen's Arrest, making the '90s safe for power-pop and Weller-esque hair with Chisel, then singing our turbulent lives like we were smarter than we were with The Pharmacists, and most recently providing equal parts sweetness and solace with Aimee Mann as The Both, Ted never let us down. Seven years after The Brutalist Bricks, he has a released, The Hanged Man. Another wonderful record.
The songs on The Hanged Man, recorded at a home-studio-in-transition in Wakefield, RI, with Ted playing almost all the instruments, are some of the finest and most finely wrought of Ted Leo's career. Ted describes the time working on the album as one of "personal desolation that felt fallow but was actually very fertile" and, indeed, lyrically, The Hanged Man is suffused with hope of sorts but crushingly heavy. The concerns addressed, whether personal trauma or the national disaster we're all currently existing in, matched with the range and vitality of the songcraft is inspiring, even uplifting.
The Hanged Man offers the sharp bursts of skinny tie pop-punk fury one would expect from Ted—and even these feel streamlined like never before—but they are offset with an adventurousness in both tone and structure. The intention was to upend expectations but, on songs like the bookends of "Moon Out of Phase" and "Let's Stay On The Moon," the intention never gets in the way of the result. There's no strain of effort in songs that are unlike anything Ted has done previously. The Hanged Man is a career high, born through industry soul sickness, nausea-inducing crisis, and a talent that feels like secular grace.
Tickets are $33 (plus fees) and are available for purchase online. Tickets can also be purchased at Watchung Booksellers in Montclair, 54 Fairfield Street, Montclair, New Jersey. Covid Policy: Masks are optional for this concert; proof of vaccination is not required.  Please note that Covid Policy is subject to change at all times. 


---
Even after seven albums, psych-rockers Elk City are still deliberately hard to define, still seekers, unafraid to shed this life and lead the listener on a journey to new sounds and feelings. And as long as they remain curious, they will report back what they have found, with albums like Undertow, packed with siren songs to lure you in and fill you with a devout ecstasy, body and soul.
Outpost in the Burbs is a nonprofit outreach organization in Montclair dedicated to building community through music and volunteerism.   For over 35 years, the Outpost has presented more than 450 concerts by internationally known artists such as Judy Collins, Roger McGuinn,, Jorma Kaukonen, Jimmy Webb, Richie Havens,  The Jayhawks, Nick Lowe,  and Dar Williams.  In addition to presenting concerts, Outpost volunteers have donated many hours of their time through programs affiliated with Toys for Tots, the Human Needs Food Pantry of Montclair, the Community Food Bank of N.J., Dress for Success, MESH (Montclair Emergency Services for Hope), and a Community Food Program run by Outpost volunteers in Orange, NJ.
Advertise with New Jersey Stage for $50-$100 per month, click here for info
---
ART | COMEDY | DANCE | MUSIC | THEATRE | COMMUNITY
Shipwrecked! An Entertainment – The Amazing Adventures of Louis de Rougemont (as Told by Himself)
Wednesday, July 26, 2023 @ 8:00pm
Shakespeare Theatre Of NJ – Outdoor Stage
2 Convent Road, Florham Park, NJ 07932
category: theatre
---
And A Nightingale Sang…
Wednesday, July 26, 2023 @ 7:30pm
Shakespeare Theatre Of NJ – F.M. Kirby Shakespeare Theatre
36 Madison Avenue, Madison, NJ 07940
category: theatre
---
South Orange Summer Nights: Blues People, presented by SOPAC
Wednesday, July 26, 2023 @ 7:30pm
Floods Hill in Meadowlands Park
100 N Ridgewood Rd, South Orange, NJ 07079
category: music
---
FREE SUMMER EVENT: SALSA UNDER THE STARS FEATURING DAVID CEDEÑO AND HIS ORCHESTRA
Wednesday, July 26, 2023 @ 6:00pm
Mayo Performing Arts Center (MPAC) – Pioneer Park at Headquarter's Plaza
3 Speedwell Ave, Morristown, NJ 07960
category: music
---
Vivid Solos: Brisé by Ian August
Wednesday, July 26, 2023 @ 6:30pm
Visual Arts Center of New Jersey
68 Elm Street, Summit, NJ 07901
category: theatre
---
Tony Mart Presents Mardi Gras AC: Gary US Bonds & the Roadhouse Rockers
Wednesday, July 26, 2023 @ 7:00pm
Kennedy Plaza
2301 Boardwalk, Atlantic City, NJ 08401
category: music
---
Herman's Hermits Starring Peter Noone and The Grass Roots
Thursday, July 27, 2023 @ 7:30pm
Mayo Performing Arts Center (MPAC)
100 South Street, Morristown, NJ 07960
category: music
---
Happy Together Tour
Thursday, July 27, 2023 @ 7:30pm
Count Basie Center for the Arts
99 Monmouth Street, Red Bank, NJ 07701
category: music
---
---
For more event listings, click here
---